The Internet is full of advice for entrepreneurs, whether you're thinking about starting a business, need capital to get going, or are seeking assistance with a particular business problem. Here's a list of useful sites for news, business advice and administrative resources. Can't find what you're seeking here? Then check out the list of small business portals.
NEWS, ADVICE AND SUPPORT
These sites offer news, business case studies, office equipment reviews, computer technical support, discussion forums for small-business issues, legal advice, interactive guides for everything from getting financing to writing a marketing plan to finding an executive and more. Some cater to specific communities, such as DIV2000, which focuses on women and minority-owned businesses.
Bankrate.com
Bizjournals.com
DIV2000.com
Entrepreneur.com
HomeBusinessResearch.com
iBizResources
Idea Café
Inc.com
Nolo.com
PC Support Center
Power Homebiz Guides
Smallbiztechnology.com
Smalloffice.com
Read MSNBC.com's small business news
COMMERCE CONNECTIONS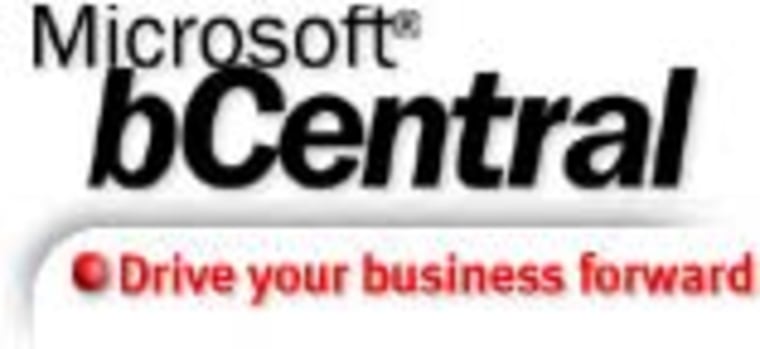 ADP's Emerging Business Services offers packages for a wide range of business services such as background checks on job candidates, time and expense reporting, payroll processing and more. It also has an online library of tools, tips and links to additional services.
America's Small Business Center contains links to online credit checks, loan applications, insurance quotes, office equipment suppliers and other essential business services.
AtYourBusiness.com provides Web-based tools and forms for employee management, payroll and benefits administration and other services. Along with its online utilities, it offers news and case studies on human resources and administrative issues.
bCentral provides services for small businesses to increase online visibility. These include search-engine registration, turnkey e-commerce solutions and a banner network that lets businesses advertise on other Web sites. (bCentral is owned by Microsoft, a partner in MSNBC.)
BizBuyer.com has a free service that lets small businesses put out bids on the Web for goods and services. It also maintains buying guides about computers, legal services, phone systems and more.
BusinessFinance.com
has tools for finding capital, leases and other forms of financing and credit. It also has resources for matching venture capital firms with companies that need funding.
BusinessThinkers offers Web-based applications for project management, time and expense tracking, e-commerce, finding clients or employees and more.
CCH Business Owner's Toolkit includes search tools for trademarks, patents, copyrights, company profiles, business-related government policies and international trade regulations. It also sells finance, marketing, personnel and information technology services.
Centerbeam provides information technology infrastructure — computer hardware and software, networking, Internet access, 24x7 support and more — all for a fixed monthly price. Its services are available in certain cities in Arizona, California, Colorado, Michigan, Texas and Washington, D.C.
eLance matches buyers and sellers of services that can be delivered over the Web, by mail, fax, phone or email — from marketing to computer consulting to engineering and more. Buyers can choose from fixed-price offers from service providers that have registered with eLance, or they put their proposals out for competitive bid.
eScout.com is a Web marketplace where small businesses can buy and sell goods and services.
GE Small Business Solutions has a comprehensive range of offerings from loans, leases and credit cards to information technology products to group insurance coverage. (GE is a partner in MSNBC.)
InsWeb is a comparative insurance quote and shopping service. Auto, term life, individual health, homeowners, renters, condominium insurance, and home warranty compose the insurance products available on the site from more than 30 nationally known companies.
Onvia targets the small-businesses market — offering everything from long-distance phone plans, e-commerce services, office supplies, computers and more. It also has advice columns about marketing, finance and technology.
QuoteSmith.com is a comparative insurance quote service that works with more than 300 insurance companies. Medical- and dental-policy quotes for small businesses are among the available offerings.
SmartAge helps businesses start and promote their Web sites. Services include site-building and e-commerce software recommendations, special advertising packages and tutorials on doing business online.
WebSiteforFREE.com helps businesses get online by hosting free starter Web pages — built with an on-site setup wizard — that can be developed through the firm's pay-per-use modules into robust, e-commerce sites.
Works.com allows online ordering of office products including furniture, computers, business machines, appliances, supplies and reference materials. The site also has purchasing-management features for companies that lack their own internal procurement systems.
CREDIT CARD CORNER
These sites have free articles and tutorials for all small-business owners and additional financial and travel services for cardholders.
American Express
MasterCard
Visa
GOVERNMENT RESOURCES
The Small Business Administration is the U.S. government agency that offers financial, technical and management assistance to small businesses. Through its Web site, the SBA provides access to its programs for starting and running a business, regulatory information, tutorials, SBA office locations and links to more sites.
The Minority Business Development Agency is part of the U.S. Department of Commerce and is charged with encouraging the creation and growth of minority-owned businesses. Its Web site contains searchable databases of existing minority-owned businesses, new business opportunities, business resources and MBDA office locations.
The Office of Women's Business Ownership in the Small Business Administration works to encourage and support women entrepreneurs. It maintains a set of links to sites for prospective and current small business owners.
STAWRS
stands for Simplified Tax and Wage Reporting System and is a joint effort among government agencies, states and businesses to reduce the tax and wage reporting burden of the employers.
U.S. Business Advisor is a clearinghouse of links to business-related governmental agencies and policies.
SMALL BUSINESS PORTALS
Still looking for more small business advice? Check out these sites that collect links to more resources.
AllBusiness.com
Business.com
SmallBizManager.com
Small Biz Planet.com