On a spotless concrete floor, seven huge molding machines sit in a row, pressing out little nubs into pallet-sized cardboard boxes. Each box contains some 50,000 of these synthetic doodads, just wide enough to fit the neck of a wine bottle. And that's precisely where they end up.
This factory floor at Supreme Corq Inc., in this burgeoning Seattle suburb, remains largely unnoticed despite its role in keeping fresh some of the more refined beverages served at dinner tables around the world. The company is arguably the world's largest maker of synthetic corks — or "closures," as they call them to distinguish from the organic original.
Synthetics are a small but growing part of the wine industry, and now seal about 9 percent of the 17 billion bottles of wine produced each year. That amounts to some 1 billion synthetic corks a year, and Supreme Corq lays claim to 40 percent of the market, selling to over 1,000 wineries and distillers on several continents.
Supreme Corq's executives are immensely proud of their rigorous production standards and the quality of their corks, made from "biomedical grade thermoplastic elastomer." (Don't ask.) But they acknowledge their product — that all corks, actually — shouldn't distract drinkers from their wine. "Corks are pretty low-involvement," says CEO Robert Anderson. "If the cork comes out easily, it's a nonevent. People don't care."
When corks go bad
Wine drinkers do notice corks, of course, and often not in a good way. Traditional corks, carved from the bark of a type of oak tree found mostly in Portugal and the Mediterranean, have been left largely at fault. The real villain, though, is 2,4,6-trichloroanisole, or TCA, a fungus-produced compound that grows in cork fiber. TCA causes cork taint, the musty or moldy odor that can spoil an otherwise fine wine.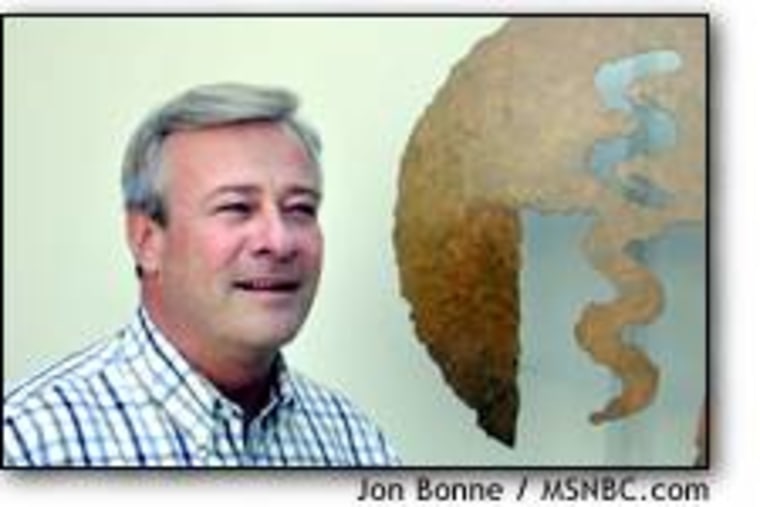 This all may sound a tad esoteric, but cork taint has become a topic of fierce debate in the wine industry. Wine producers continue to fight over exact numbers, but somewhere between one and 12 percent of all wine bottles sealed with organic cork are found to be tainted.
That can lead to frustration at the dinner table and outrage if the fine Bordeaux you just ordered in a restaurant is flawed. And needless to say, it frustrates wine makers who want their product to show up at the table just as it was intended.
"We spent a lot of time and energy trying to find good cork," says Co Dinn, winemaker at Hogue Cellars, which uses Supreme Corq stoppers in as many as a half-million cases each year, "but we still have the same problems that everyone else does with natural corks."
Cork taint concerns have also gained traction among wine drinkers, alerted by a proliferation of articles and wine-store gossip. And the traditional cork industry, whose market share has dropped below 50 percent by some estimates, has taken huge strides to fight back; U.S. cork importers have created a rigorous testing system to winnow out tainted cork supplies while Portuguese cork producers have launched an extensive $8 million campaign to extol the virtues of natural cork.
Most in the industry say it's time to resolve the cork taint problem for good. Supreme Corq's Anderson, who previously worked for Proctor & Gamble and beverage giant Diageo, draws an analogy; he suggests that Coca-Cola or Pepsi would never allow 5 percent spoilage in their products. "It's unacceptable for the wine industry as well," he insists.
Plenty of options
The concept of sealing wine is relatively basic. Wine should stay in the bottle; oxygen, which eventually turns wine to vinegar, should mostly be kept out. Corks and other closures must do both without changing wine quality, and bottles should be easy to open.
As such, there's no one way to solve cork taint. Natural and synthetic corks share the market with glued cork products — the cork equivalent of particle board — as well as metal screw tops. But synthetics largely reflect the wine industry's economic priorities, at least in wine's New World: North and South America, South Africa, Australia and New Zealand.
Conoisseurs collect the highest quality wines, which often must be laid down to age for years after bottling. But U.S. wine drinkers consumed over 530 million gallons last year, up nearly 30 percent in a decade. The vast majority of wine is meant to be drunk soon after bottling, with 70 percent consumed within three days of purchase, according to the Wine Institute. Wine makers who produce those short-duration wines — and that includes many top-quality wineries — are the biggest users of synthetic corks. Even those who otherwise dismiss synthetics admit they work well on wines drunk by most U.S. consumers.
Synthetics also provide a branding tool. Supreme Corq offers more than a dozen colors and can print custom designs. Many wineries add a logo or a Web site address, but one requested a yellow cork with bright red flames; another commissioned a white cork with black spots to play off the cows pictured on its label. That strategy isn't limited to just wine, either. Makers of premium whiskeys and vodkas have started to use synthetics.
Retaining tradition
Synthetics' allure mostly resides in their similarity to standard corks: They fit the same bottles and can be removed the same way. There are obvious differences, and Supreme Corq acknowledges some corkscrews don't work as well with their corks, but for the average U.S. wine buyer, the difference is minimal. "The issue of synthetic corks is not really that much of a problem," says Michael Aaron, chairman of wine retailer Sherry-Lehmann, "because the synthetic corks are used in relatively inexpensive wines that are consumed in a couple of years."
Yet wine drinking still involves a certain amount of fetishism: the flourish of sinking in a corkscrew, the pop of the cork, the first splash in the glass. Those gestures take on even more significance when wine drinkers dine out, and many who serve wine worry about the impact.
"As a sommelier, I'm probably a little bit old school," says Virginia Phillip, who presides over a 22,000-bottle cellar at The Breakers in Palm Beach, Fla., one of the nation's ritziest hotels. "There's something about that mystique around it."
Phillip appreciates synthetics' ability to preserve wines, especially those meant for quick consumption, but finds the bright colors puzzle some of her well-heeled customers — the very opposite of Supreme Corq's low-impact philosophy. "It can be a bit distracting at the table," she says.
Consumers' choice
It's not just Phillips and her customers. Traditional corks, dating back to the late 17th century when champagne maker Dom Pérignon realized their potential, have history on their side.
Many European wine makers point out that natural corks have proven themselves over hundreds of years, but that cultural resonance extends even to novice wine drinkers who've never heard of TCA. The Wall Street Journal recently noted that the Charles Shaw label — the ubiquitous "two-buck Chuck," produced from surplus California grapes — consciously chose traditional corks as a way to drive home a premium-wine image. And Americans have a sketchy history with nontraditional wine containers; jokes about boxes and vacuum-packed carafes of low-grade wine made popular in the 1970s have haunted many U.S. wine makers ever since.
Thus big hurdles remain in separating the look of wine packaging from the quality of the wine inside it. That presents a bit of a dilemma for wine makers ready to make a change. "It's not that they want the cork because it's elegant and traditional, period. It's because the consumer thinks it's elegant and traditional," says Robert Smiley, who teaches wine economics at the University of California, Davis. "The consumer needs to declare that, in fact, they are indifferent to whether there's cork in the bottle."
Whether most wine drinkers are ready for that choice is hard to say, but some premium wine makers hope to nudge them along. Several have even more radical notions — bottles with metal caps and resealable closures. For the rest, firms like Supreme Corq offer a solution that mostly preserves both the wine and the tradition. "What we're selling," Anderson suggests, "is reliability and peace of mind."
Next: How wineries are telling customers to go screw.