Homeland security officials say the nation's 361 deep water ports are vulnerable to terrorist attack, and they're pushing new technology and new regulations to address the threat. But increasing security on the waterfront is an expensive and complicated challenge.
Each year, nearly 8 million shipping containers pass through U.S. ports. This stream of cargo is the lifeline of the American economy, connecting companies with customers and suppliers. But after Sept. 11, it's also a potential conduit for terrorists.
"It's only going to take one incident in one container in one ship in any port in the world to disrupt the entire global shipping industry," said Vera Adams, the U.S. Customs Service port director for the Los Angeles/Long Beach Seaport, the biggest container facility in the country.
Authorities here used to be mainly concerned with stopping drug smugglers. Now, they're focused on stopping terrorists, who could use a shipping container as a Trojan horse to smuggle anything from a dirty bomb to a nuclear weapon into the U.S.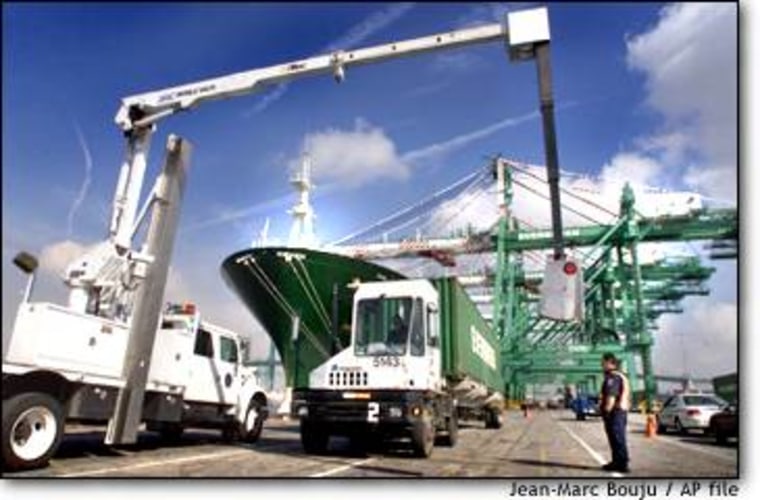 "The ports have historically not been terribly concerned about acts of terrorism," said Craig Cummings, an executive with Science Applications International, which makes X-ray scanners for trucks and shipping containers. "There is a new realization that we are very, very vulnerable there."
The company's system, called the VACIS, or vehicle and cargo inspection system, is just one of dozens of currently available technologies seeing a spike in demand as ports across the country take steps to beef up security.
The government is also trying to help push new technologies like a neutron beam scanner developed by the Ancore division of OSI Systems, Inc. It can detect the presence of specific dangerous materials in cargo, using a technology called Pulse Fast Neutron Analysis, or PFNA.
"The PFNA image gives you a picture of just the explosives that are hidden inside of this container — we've made everything transparent that isn't a threat," said Patrick Shea, Ancore's chief operating officer. "It's a three-dimensional image. You get a very good idea of where the explosives are inside of the container."
But with more than two billion metric tons of cargo entering U.S. ports each year, the Customs Service is only able to inspect about 2 percent of inbound containers. That's why the agency has just instituted a rule requiring shippers in foreign ports to file a manifest, or list of cargo contents, 24 hours before steaming for the U.S..
"If the manifest description is insufficient," said Adams, "we will send a 'Do Not Load' message to that carrier. If that carrier puts that container on board the ship anyway, and it sails over here, when it gets here, we will refuse to allow that container to get off in any U.S. port."
Before the new 24-hour rule took effect, shipping firms could wait until days after their vessels set sail for the U.S. before declaring the contents of their cargo. The new rule calls for a precise description of what's inside each container.
Now, shippers are relying on new software to manage detailed information about their cargo to comply with the closer scrutiny from customs. One of those systems is made by GT Nexus, based in Alameda, Calif.
"The GTN Portal allows people to input easily and conveniently all of that information (and) have that directly sent into the carrier's legacy system for processing, ensuring that that information is available to be processed and filed with customs immediately," said GT Nexus president John Urban.
Shipping lines are also starting to track individual containers with transmitters that beam their exact location to global positioning satellites.
"It's installed permanently on the shipping container," said Matthew Schor, president of Skybitz, a Dulles, Virginia company that makes the technology. "It has everything it needs: internal antennas, internal power, the batteries. It's able to either on a set schedule, once a day or once an hour, send a transmission in and say where it is. Or it can respond to local alerts."
But all this technology costs money. Securing the nation's seaports against a potential terrorist attack could cost as much as $10 billion dollars, according to some estimates. And it will be paid by both the private and public sectors.
The hope is that new technology and new regulations will help change the old mindset on the nation's waterfronts of "ship first, and ask questions later."