With gasoline prices zooming past $2 a gallon in some parts of the country, consumers — and some politicians — are already crying foul about price gouging. The recent run-up in oil prices on war worries certainly provides an easy excuse for dealers to raise pump prices. But it turns out there are a host of other reasons behind the recent spike in the cost of filling up your tank. So fasten your seat belts, say analysts, because prices are likely headed even higher.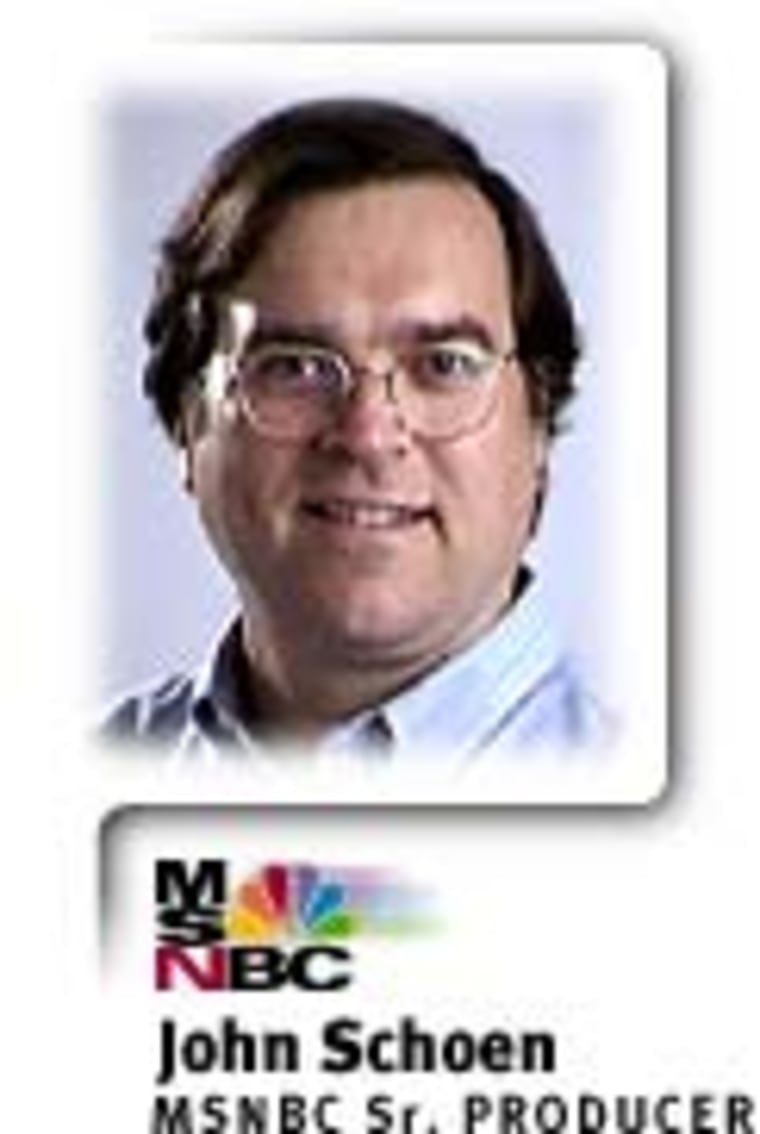 AFTER WATCHING pump prices jump 50 percent in the past year, consumer groups and politicians are calling for regulators to keep a close eye out for price gouging. Earlier this month, the American Automobile Association warned that conditions were "perilous" for U.S. gasoline consumers. On Monday, presidential candidate Sen. Joseph Lieberman (D-Conn.) called on the Bush administration to investigate whether oil companies are gouging consumers. Other Senators have called on the Federal Trade commission to open an investigation into pump prices.
But while consumers may believe it's easy to spot price gouging, it turns out to be much harder for prosecutors to prove. Indiana, for example, recently enacted a law designed to combat gasoline price gouging which requires that the governor first declare an energy emergency.
While the state's attorney general's office is monitoring pump prices and inviting consumer complaints, no such emergency has yet been declared.
Meanwhile, tight supplies of gasoline will likely keep prices high for months to come, say analysts.
"There's still momentum in gasoline prices," said Dave Costello, an economist with the Energy Department's Energy Information Institute, who predicted earlier this week that the national pump price for regular gasoline will rise above the record $1.71 a gallon set in May of 2001.
"We think we're going to break that record," he said.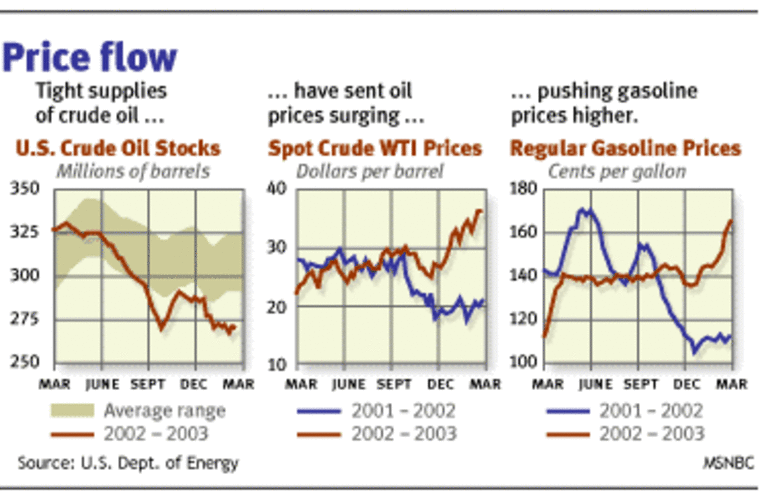 Gasoline prices are especially tight for this time of year. One big reason is that refineries are switching much more slowly from making heating oil to gasoline, thanks to an unusually cold winter that has sent heating oil demand soaring. The government on Wednesday reported that heating oil demand has been running 20 percent higher than last year, and supplies are 33 percent lower.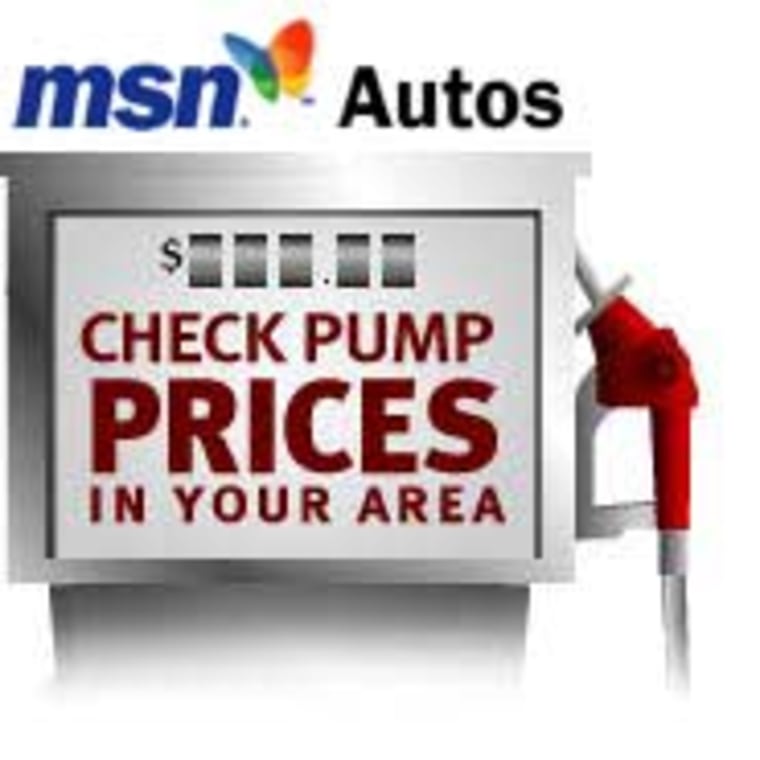 That shortage is delaying the usual build-up of gasoline supplies needed to prepare for peak gasoline demand during the summer driving season, according to Greg Haas, an oil refining and marketing analyst at Sanders, Morris and Harris.
"The country needs both gasoline and heating fuels," he said. "With only a certain amount of refining capacity in the country, there's a real balancing act."
VENEZUELAN CRUDE
Gasoline supplies have also been hurt by the prolonged general strike in Venezuela that temporarily shut down production of crude oil, cutting off a key supplier to North American gasoline producers. Several refineries in the U.S. and Caribbean have had to cut production because they are set up to refine oil with chemical characteristics that are special to Venezuelan crude, according to Haas.
"Refineries that had been configured for running Venezuelan 'sour' crude were having trouble getting supplies at any price," he said.
Pump prices are also rising because of increases in the three biggest components in the cost of a gallon of gasoline — crude oil, taxes, and refining costs.
U.S. crude oil prices have risen to 12-year highs, just short of $40 a barrel on Thursday, on continued worries about interruptions in crude oil supplies if the U.S. goes to war with Iraq. The price of crude oil represents about half the cost of making a gallon of gasoline, according to the Dept. of Energy.
The second biggest component in the price of gasoline is taxes, which varies widely from state to state but typically represents between 40 and 50 cents of the posted pump price. And believe it or not, those taxes are also headed higher.
"Virtually every state that has a deficit right now is thinking about (raising gasoline taxes) because of their severe budget problems," said John Felmy, chief economist at the at the American Petroleum Institute. Though consumers may not like them, gasoline taxes are an effective way to raise money quickly, he said.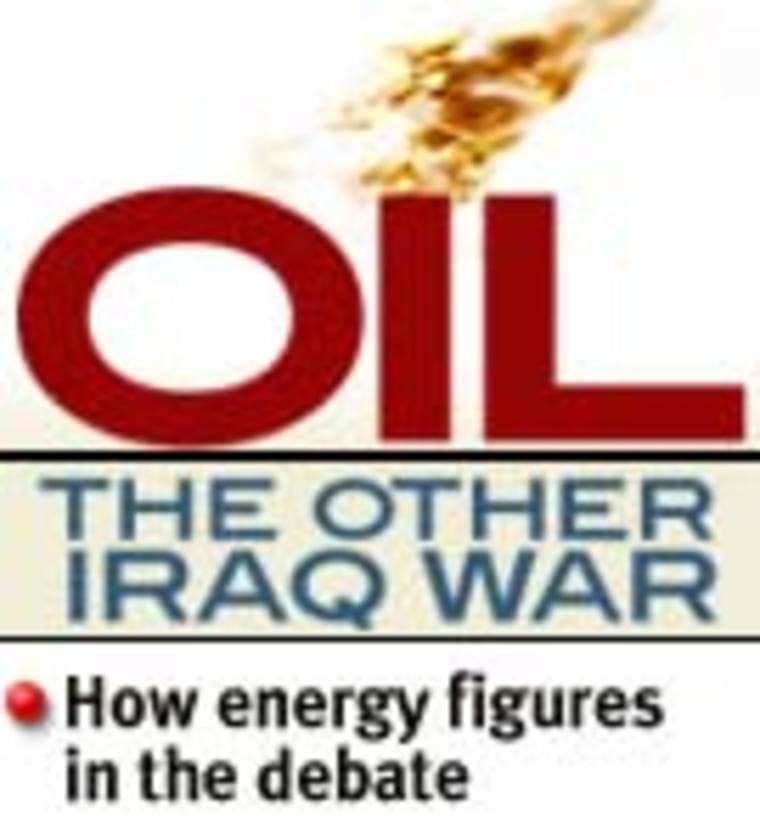 And while some members of Congress say they're worried about price gouging at the pump, others are looking at the idea of raising the 18.4-cent-a-gallon federal gasoline tax. House Transportation Committee Chairman Don Young (R-Alaska) wants to see the value of the tax indexed to inflation, which the Bush administration opposes. Congress raised gas taxes a nickel a gallon in 1990 and 4.3 cents a gallon in 1993.
UNNATURAL GAS PRICES
The third biggest cost — refining gasoline — is also going up, thanks to a dramatic surge in natural gas prices. Driven by tight supplies and unusually cold weather, natural gas prices were quoted Wednesday at $10.75 per million British Thermal Units (BTU), more than quadruple the price of $2.46 a year ago.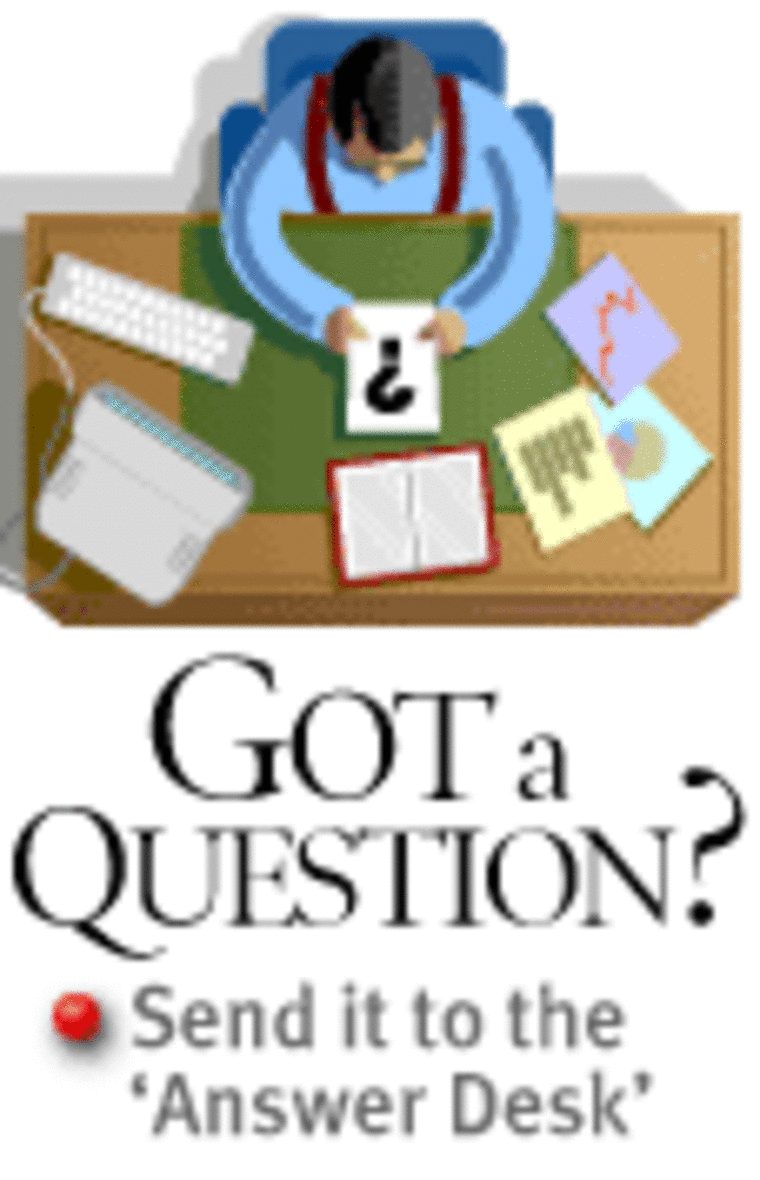 Higher natural gas prices pump up gasoline prices three ways. First, they raise the cost of refining gas because natural gas is commonly used to run refineries, which use heat at various stages of the distillation process.
Natural gas is also key a raw material for the additives that are used to make gasoline burn more cleanly. Those additives become critical to the production of various blends of so-called "reformulated" gas that are required during the summer months in many parts of the U.S. Shortages of these additives in recent years have been a factor in summer gas price spikes. "Natural gas represents a significant cost for refiners," said Haas.
Lastly, higher natural gas prices often force manufacturers and power utilities to switch lower-cost oil distillates, adding to the demand for crude.
FUEL SURCHARGES ON SHIPMENTS
The surge in gasoline prices is already beginning to ripple through the economy. Shipping costs are going up as transportation companies add fuel surcharges. That will raise everything from the cost of shopping on line to the price of the food you put on the table, most of which is shipped by truck.
Reuters contributed to this story.