Treasury Secretary Paul O'Neill and White House economic adviser Larry Lindsey resigned at the request of President Bush on Friday amid fresh evidence that the economy is performing poorly. The sudden resignations leave a gaping hole in the White House policy team that Bush is expected to fill soon as he works on rolling out an economic plan that his advisers hope will bolster his re-election prospects.
While the resignations were not a complete surprise, the timing caught many off-guard. O'Neill's terse, four-sentence resignation letter was released just an hour after the government reported the unemployment rate jumped to 6 percent last month, matching its highest level in nearly nine years. The economy lost another 40,000 jobs in November, according to the report, surprising most economists, who thought the economy had added jobs. Lindsey's resignation was announced shortly after O'Neill's.
Administration officials said Friday that former Goldman Sachs Chairman Stephen Friedman is likely to replace Lindsey as Bush's top economic adviser. An announcement could come as early as Monday, though officials cautioned that no final decision has been made. While the White House did not blame O'Neill for the nation's economic problems, the outspoken treasury secretary was not well-liked either on Capitol Hill or Wall Street, and his views were seen as increasingly out of step with an administration eager to push another tax-cut package through the Republican-controlled Congress.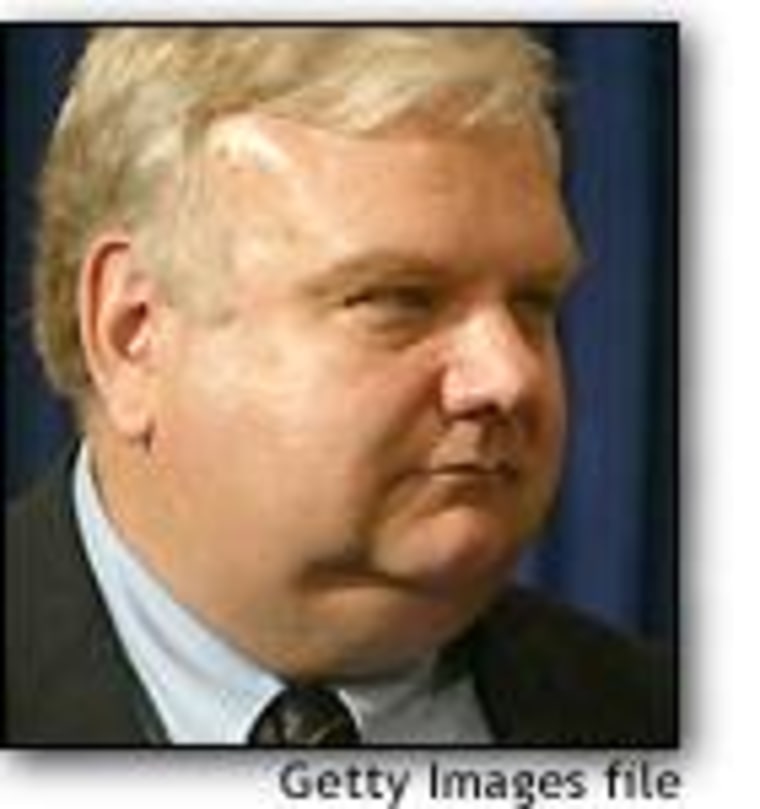 "My sense is that a lot of this change is simply reflective of the Bush administration attempting to show the marketplace they really are in control of economic policy and intend to move forward in the face of disappointing economic data," said John Silvia, chief economist at Wachovia Securities.
O'Neill had supported "revenue-neutral" tax simplification but had expressed concern that new tax cuts would worsen the federal budget deficit without stimulating the economy.
"(Bush) is for fiscal stimulus in the form of tax cuts, and he believes the time to get fiscal stimulus passed by Congress is now, after the elections," said Hugh Johnson, chief investment officer for First Albany. "What he wants and needs are leaders of his economic team who are going to go up on the Hill and push it, and O'Neill was reluctant to do that."
Positions vacant

In addition to filling two top positions on his economic policy team, Bush faces the task of appointing leaders who might help restore confidence in Wall Street after the resignations last month of Harvey Pitt, chairman of the Securities and Exchange Commission, and William Webster, who was to have headed a new accounting oversight board.
Among the names quickly raised as a possible successor to O'Neill were outgoing Sen. Phil Gramm, R-Texas; retired House Ways and Means Committee Chairman Bill Archer, R-Texas; and discount brokerage founder Charles Schwab, who was highly visible at Bush's economic forum in Waco, Texas, last summer.
Despite the resounding Republican victory in recent midterm elections, the president is seen as vulnerable on economic issues. A recession began in March 2001 — just a few months after the Bush administration took office — and a period of anemic growth and weak financial market performance has persisted ever since.
Friedman is the internal favorite to replace Lindsey, whose departure came as little surprise. "Stephen Friedman has been approached," one Republican source said.
A spokesperson for Friedman would neither confirm nor deny any contact with the administration, and the White House declined to comment.
Friedman is currently a senior principal at Marsh & McLennan Capital Inc. and a limited partner of Goldman. He was senior chairman of Goldman from 1994 to 1997 and co-chairman or sole chairman from 1990 to 1994. He served as co-chairman with former Treasury Secretary Robert Rubin.
He was a major contributor to the Republican coffers during the 2000 presidential campaign.
Senate Democratic leader Tom Daschle of South Dakota, who has frequently criticized Bush's handling of the economy, said Friday's resignations did not go far enough.
"Firing its economic team is an overdue admission by the Bush administration that its economic policies have failed," Daschle said in a statement. "However, the fundamental problem is that this administration has no comprehensive plan to get the economy back on track."
Bush, for his part, issued a brief statement thanking O'Neill and Lindsey for helping to craft and implement a policy "that helped to lead the nation out of recession and back into a period of growth."
Stocks steady

Despite the grim news on employment, stocks ended with modest gains Friday as Wall Street welcomed the prospect of new economic leadership.
"Wall Street is looking forward to a new team that will have a coordinated implementation of a policy and maybe a renewed focus in the administration overall on economic issues," said Dick Rippe, chief economist at Prudential Securities. "Obviously the last year has been dominated by homeland security and defense initiatives. Now Wall Street is looking forward to economic issues taking the forefront, and hopefully better economic news going forward."
Greg Valliere, chief strategist for Schwab Washington Research Group, said the shake-up makes it more likely that Bush will propose an aggressive stimulus package that could cost $100 billion or more in its first year, including extended unemployment benefits, accelerated tax cuts and a new, lower rate on stock dividends.
Valliere said the ouster of the two economic aides in all likelihood was orchestrated by political adviser Karl Rove, whom he called "the dominant economic player in the White House today."
"Justifiably he's got to worry that what could bring Bush down is what brought his father down — the perception that he is not engaged on the economy," Valliere said. "The Rove view would be to stimulate aggressively."
O'Neill's blunt style

O'Neill, the first member of Bush's Cabinet to depart, had a blunt-speaking style that served as a lightning rod for detractors and sometimes made even his supporters wince.
O'Neill left his job as chairman of Alcoa, the world's biggest aluminum maker, to take the Cabinet post and quickly touched off a furor when he said he would keep nearly $100 million worth of stock in the company. Under fire by critics about potential conflicts of interest, he eventually reversed course and sold the stock.
As the president's chief economic spokesman, he frequently was criticized as being either too enthusiastic about the economy's prospects and the stock market or too ho-hum.
When Wall Street reopened after the Sept. 11, 2001, terrorist attacks, O'Neill turned into an economic cheerleader, predicting on Sept. 17 that the Dow Jones industrial average could be approaching all-time highs within 12 to 18 months.
As the stock market melted down that day, O'Neill declared that "the people who sold will be sorry that they did it." He also pooh-poohed the notion that the economy could be headed into a recession. It soon became clear that a recession already had begun.
Early in his term, O'Neill's mixed comments on the U.S. dollar rattled currency markets and perplexed currency traders. He dismissively described traders as people who "sit in front of a flickering green screen" all day, who were "not the sort of people you would want to help you think about complex questions."
Still, Bush and his aides defended O'Neill's salty style.
"The president enjoys his blunt, plain spoken approach," Fleischer said last year. Despite the controversies around O'Neill, he said, "the president has never had a moment of concern."
O'Neill also tilted against administration dogma - initially questioning the short-term benefits of the Bush tax cut and advocating an aggressive battle to combat global warming.
"I would say that I am not troubled by ruffling some feathers because I think I have been true to what I believe and what I think is right," O'Neill once said.
O'Neill started his professional life as a systems analyst with the Veterans Administration in 1961.
He climbed the ranks, taking a year off to acquire a master's degree in public administration at Indiana University. He became deputy director of the Office of Management and Budget in 1974 in the Ford administration.
That's where he met Dick Cheney, who as Bush's vice president suggested O'Neill for the Treasury post, and Alan Greenspan, with whom he forged a lasting friendship.
He joined International Paper Co. as a vice president in 1977 and by 1985 he was president. O'Neill left the company to become chairman and CEO of Alcoa in 1987. His turnaround of the aluminum giant was studied in business schools across the country.
The Associated Press and Reuters contributed to this report.