/ Source: Forbes Traveler.com
The year was 1916, and a hot July had delivered thousands of beachgoers to the Jersey Shore. Waves shrugged on the sand, and swimmers bobbed in their bloomers and caps, escaping the heat in the surf and swells of tepid Atlantic waters.
What happened next — beginning with a death on Long Beach Island — would forever alter America's collective consciousness toward swimming in the sea: In an unprecedented 11 days, five major shark attacks took place along the Jersey Shore, four of which were fatal.
Reports cited blood turning the water red and sharks following victims toward the beach. Dorsal fins spiked from placid water. Appropriately, a media frenzy ensued. Patrol boats were deployed to kill sharks offshore. Some beaches installed wire mesh to sequester swimmers from anything big and toothy out beyond the break.
America has never recovered. Indeed, the Jersey Shore attacks of 1916 — though an anomaly never seen before or since — branded an image of sharks as monsters that has trickled now through several generations.
"The common public perception today of a shark is that of a man-eater," said George Burgess, an ichthyologist at the University of Florida who maintains a database called the International Shark Attack File. "We have an innate fear for big predators and natural forces we can't control." But as Burgess and others point out, death by shark bite is extremely rare. Shark experts cite statistics to show you can swim and surf with nary a worry at almost any beach on the planet. You are not a seal. Sharks do not want to eat you.
Or do they?
The International Shark Attack File (ISAF), which relies on decades of data, cites more than 2,000 fatal encounters. At beaches like New Smyrna, the cold statistics can become frighteningly real. To date, 210 attacks have been reported there, and in 2007, three swimmers were bitten by sharks and hospitalized.
Despite the paranoia, millions of people each year surf and swim — literally — with the sharks.
A top example is New Smyrna Beach in Volusia County, Fla., where Burgess said tiger and black-tip sharks thrive. "Most people who have swum in and around New Smyrna have been within 10 feet of a shark in their lifetime," he said.
In Northern California — where deep waters and seal populations draw great white sharks — surfers suit up at places like Stinson Beach to catch waves in a potentially deadly habitat. Patric Douglas, owner of Shark Diver, an ocean guiding outfit in San Francisco, calls Stinson "the granddaddy of all shark beaches." He said, "It's common to see 18-footers buzz by surfers bobbing in the waves."
North America is home to dozens of beaches like New Smyrna where swimmers and sharks intermix, even though the humans may never know it. When the rare attack happens, Burgess said, it's usually a predatory mistake. "In the surf zone, where many attacks happen, sharks need to make quick decisions," he said. "Humans on surfboards — hands splashing, feet kicking — can trigger a shark to think there's trouble or a wounded animal, and it looks like an easy meal."
With its thousands of miles of coastlines and millions of beachgoers, the United States sees more shark-human interaction than any other country. Search the ISAF database and you'll find incidents at beaches from South Carolina to Oregon. There are so many reports, in fact, that California, Florida, Hawaii, North Carolina and Texas each have dedicated sections in the ISAF.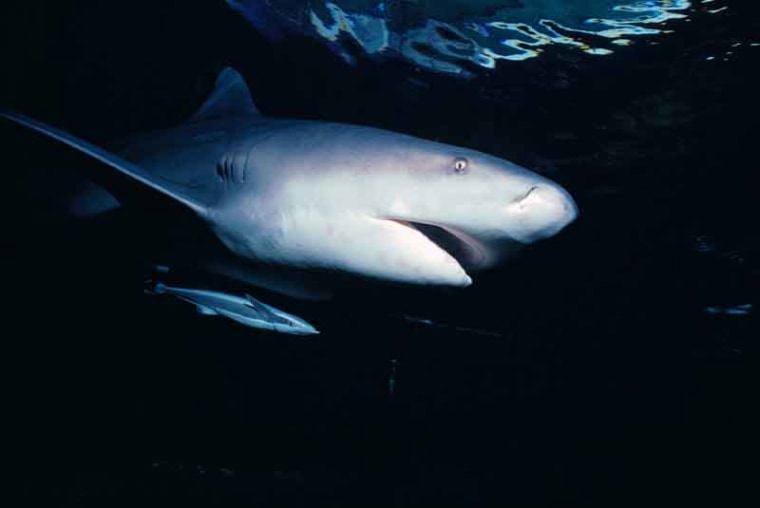 On the North Shore of Oahu, Hawaii, tiger and hammerhead sharks mix with dolphins and humpback whales. There are dozens of popular surf beaches there, including Velzyland Beach and the Leftovers Break, to name two. Though untold thousands surf and swim there each year without incident, attacks do occur.
But according to Laleh Mohajerani, executive director of the shark conservation organization Iemanya Oceanica, sharks are not looking to interfere with humans in the water. Our shark-attack fears are irrational, she said. "You are more likely to be hit by lightning."
Indeed, there's no arguing the numbers. Of the millions of people who enter the ocean each year, almost none are touched.
But for most people, fiery emotions override even the coldest numbers. A single scary story — be it on the news or in an effects-heavy Hollywood production — will destroy the efforts of hundreds of scientists trying to communicate on research and logic.
From Hawaii to the Caribbean, there are 10 beaches among the most infamous for sharks on the planet. Take a dip if you dare.