SILVERDALE, Wash., Feb. 26, 2002 - You could call it the "Antique DNA Road Show."
For two years, a lab team from Brigham Young University has been traveling around the country, drawing blood samples at genealogy fairs and conventions to develop one of the world's biggest and most detailed DNA ancestry databases. Now, for the first time, the 25,000-sample database is being put to commercial use.
The first payoffs from the Molecular Genealogy Research Project follow the pattern of other ventures in the infant field of genetic genealogy: For a little more than $200, Ancestry.com will send out a kit that you can use to swab a sample from the inside of your cheek. When you send the sample back, DNA from your sample will be checked against the BYU database for potential matches in your direct paternal or maternal line.
Scott Woodward, a BYU microbiology professor and the project's director, says Ancestry.com's GenetiKit just the start.
"That's helpful, but if we go back to four generations, that's only two-sixteenths," he said, "so there's fourteen-sixteenths of a person's genealogy that it really doesn't say anything about."
Woodward looks forward to the day when he can tell where each of your 16 great-great-grandparents came from, in what time frame, just by looking at 250 chemical markers in a genetic sample.
"What we have inside each one of us is a history of who we are, and where our genes have been in our DNA," he told MSNBC.com.
Already, the database is contributing to the development of another service that aims to match up long-lost brothers and sisters, parents and children, grandparents and grandchildren, even first-cousins.
In data simulations, the technique "works quite well" going back several generations, Woodward said.
On the road
If the BYU experiment succeeds, it will be in part because of genetic volunteers like Lea Arthur, a 72-year-old from Bremerton, Wash.
On a recent Saturday, he and about 500 others added their genetic code to the database at a genealogy conference at the Church of Jesus Christ of the Latter-day Saints' Silverdale Stake.
First, Arthur signed a release form and handed in a sheet that listed his ancestors, going back at least to his great-grandparents. Then he was given a labeled glass vial, about the size of a finger, and sent down to a classroom where two nurses were drawing blood.
The more squeamish of the contributors would lie down to have the sample taken, but Arthur simply sat on a folding chair and bantered with the nurse while the needle was slipped through his skin. The nurse drew about a tablespoon of blood into the vial, and within hours, that vial and hundreds of others were on their way to Utah for analysis.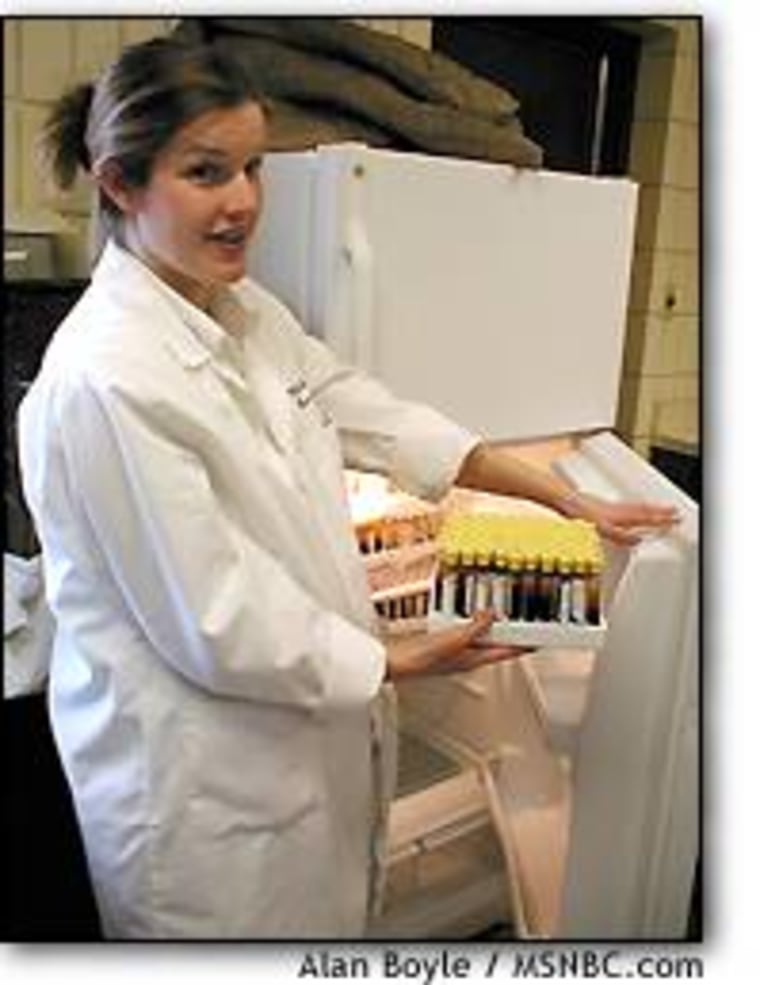 In return for their contributions, Arthur and his fellow donors get little more than the knowledge that their genetic signatures will be preserved for generations to come.
"It'll never help me," Arthur said. "But it might help some of my grandchildren and great-grandchildren. I'm trying to find my great-grandfather, and I have no idea where he lived. (The DNA database) could help, down the line."
Arthur, a Mormon, pursues genealogy as a religious imperative. Church members believe that even long-dead ancestors can be "sealed" in ceremonies that ensure they will be reunited with loved ones in the afterlife.
The research project capitalizes on Mormon connections, but it's not funded by the church itself. Instead, it's backed by the church-owned university and the Sorenson Molecular Genealogy Foundation, which is headed by Salt Lake philanthropist James Sorenson. The project's operating costs amount to about $1.5 million a year, in addition to in-kind contributions of office space and lab equipment, said spokesman Ugo Perego.
Perego, the chief organizer for the road tours, estimates that he logs about 100,000 airline miles and uncounted highway miles in the course of a year. Silverdale was the last event in a three-day whirlwind trip that took him across Washington state, from Spokane to Moses Lake to Othello, then to Silverdale and Seattle.
Perego and his colleagues — including his wife, Jenna — are willing to go to any event that can bring in at least 200 blood donors with the requisite family information. Over the next three months, they're scheduled to visit Oregon, Arizona, Louisiana, Oklahoma, California, Ohio, Pennsylvania, British Columbia, even Britain and Chile.
"Right now it's cheaper for us to get 200 people, pay for a plane ticket, go there and take the samples back with us on the plane ... than to have individual samples sent to our lab," Perego explained. That may change if the project decides to switch to cheek-swab samples rather than blood samples, he said.
More about BYU's Molecular Genealogy
In the lab
Once the samples are back in Utah, the DNA is extracted from the whole blood and stored in a secure laboratory. Researchers check the DNA for pieces of chemical code that can be linked to locations and dates described on the family information sheets.
"From that, we're able to determine where these genes were a generation ago, or two or three generations ago," Woodward said.
Unlike other ancestry projects, the BYU researchers look for clues within the entire range of the genetic code, rather than focusing just on the Y-chromosome or mitochondria. That makes the task harder — like looking for needles in a genetic haystack.
Woodward expects the patterns to come into clearer focus once there are 100,000 entries in the database.
"We're only a quarter of the way there," he said. "We expect it to be a five- to six-year project, so we feel like we're close to where we need to be at this point."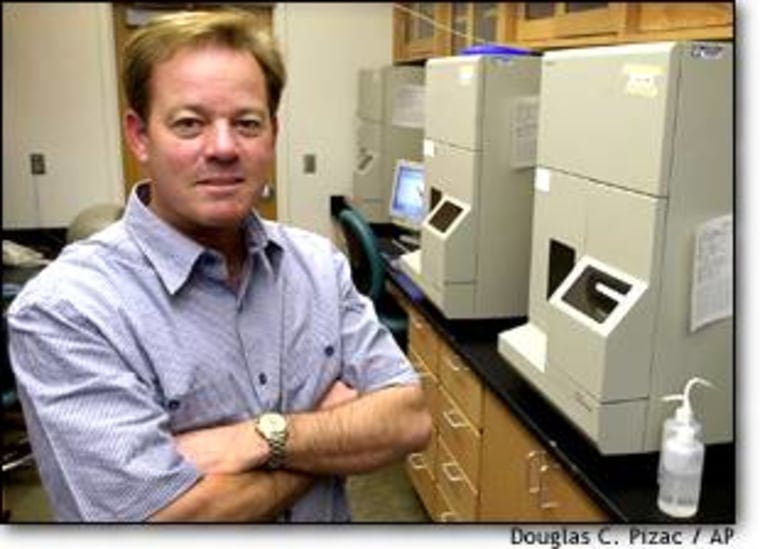 In some cases, Woodward can already figure out which regions of the world a person's ancestors came from on the basis of the DNA readings, and he said that service may become commercially available within eight months. He's also hoping to have a research paper on the project published sometime this spring.
In the meantime, there are spin-offs like Ancestry GenetiKit. "It's not the purpose (for which) our database was built, but it's something that you can use the database for," Perego said.
If the paternal-ancestry test turns up a match in the BYU database, the customer could get genealogical information from that match — for example, the fact that the family tree included a Michael Boyle who was born in Ireland's County Clare and lived from 1820 to 1888.
Woodward and Perego explained that the information would only relate to ancestors who were born before 1902 — a 100-year limitation that was consistent with U.S., Canadian and British records law. Even though that kind of information is available from other sources, the Molecular Genealogy Research Project's original consent form didn't specify that the DNA database would be used in such a way. So Perego said letters would be going out to the thousands of people who have already contributed to the database, seeking their consent to release ancestral surnames.
"It's important that the person who participates knows exactly what's going on," he said.