Ocean explorer Robert Ballard has used underwater robot technology to find the wreck of the Titanic as well as a mystery of biblical proportions on the bottom of the Black Sea. Now he wants to use the Internet to help bring the world with him on a Black Sea sequel this summer.
The 45-day expedition, which would stop at archaeological ports of call in Israel and Egypt as well as the Black Sea, would represent one of the world's most ambitious experiments in from-the-field telepresence — if Ballard and his colleagues can pull it off the way they describe.
A new breed of remotely operated underwater vehicle, dubbed Hercules, would delicately dig at depths of hundreds of feet, sending up real-time, high-definition video of ancient shipwrecks, and perhaps even Scythian gold or the preserved remains of doomed sailors. The video and scientific data would be beamed via satellite to Maine, then relayed to researchers and educators via ultra-high-bandwidth Internet2 connections.
Scientists and students wouldn't be restricted to watching the adventure from afar: They could actually take the controls from half a world away, said Gray Thompson of Seattle-based Media Arts, a partner in Ballard's Jason Project educational venture.
"They could do remote manipulation and actual science remotely," he said. "It's analogous to the Hubble Space Telescope. Hubble is a remote-sensing device, but scientists are able to use Hubble over Internet2."
EDS, a Texas-based information services company, is taking the lead role in putting together the technology that will make Ballard's latest dream a reality, and Thompson is consulting with EDS on that technology.
Ballard joked that the telepresence project was part of his "exit strategy."
"I'd love to be able to conduct expeditions from my house in rural Connecticut," he said.
Titanic discoveries
Somehow it's hard to imagine Ballard holing up in his rural retreat. The marine scientist is best-known for his starring role in the discovery of the RMS Titanic in 1985, more than seven decades after the luxury liner sank to the bottom of the Atlantic.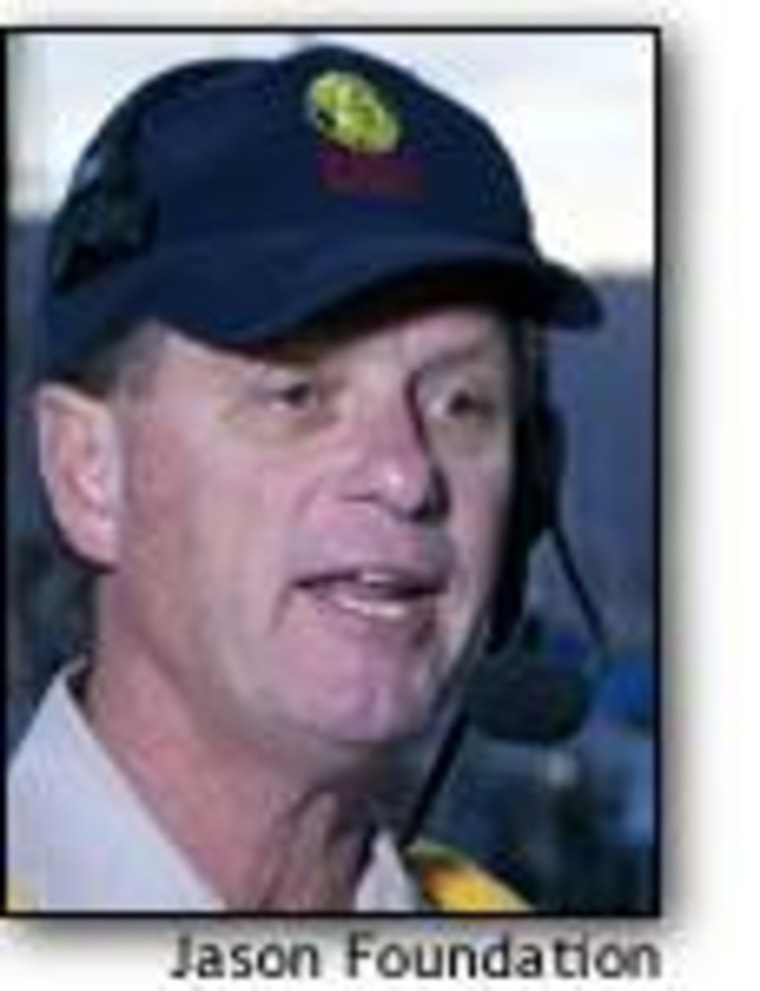 More recently, he's focused on the Black Sea as a National Geographic explorer-in-residence: One expedition found evidence of submerged settlements that could have inspired the ancient stories of a Great Flood. Just last month, Ballard and his fellow researchers announced yet another Black Sea find, the remains of a 2,300-year-old trading vessel.
The Black Sea is particularly intriguing to marine archaeologists because once you get several hundred feet beneath the surface, you reach depths of water that are devoid of oxygen. Once flora and fauna settle down to the anoxic zone, there are no creatures to consume them, as there would be in most marine environments. That means organic material like wood — and yes, even flesh — could endure even after thousands of years.
Ballard said this summer's expedition could find sunken ships from ancient times, "perfectly preserved, and probably the crew inside."
Centuries after the ancient Greeks plied the wine-dark waters, the Black Sea is finally emerging as a fertile field for archaeology, thanks to post-Cold War politics as well as technological advances in underwater robotics.
"We think there's more history in the Black Sea than in all the museums of the world combined," he said, "and right now we're unlocking the door of that museum."
Setting the stage
This summer's expedition would build on Ballard's experience with the Jason Project, an educational effort he founded in 1989. Each year, three dozen students and teachers converge on a site of scientific interest to work alongside research specialists, beaming two weeks' worth of real-time video reports to thousands of kids watching in classrooms and auditoriums across America and beyond.
This year, the Jason expedition focused on Santa Barbara and the rich ecosystem of the nearby Channel Islands.
"We want to move Jason from once a year to multiple expeditions," Ballard said at the Santa Barbara Maritime Museum during a break in the action.
In his vision, Internet-enabled science centers and classroom labs could hook into the real-time adventure as well as online educational activities. Ballard said at least four of the interactive network sites involved in the Jason Project are already planning to follow his Black Sea adventure.
Ballard is also involved in a marine telepresence project known as the Immersion Institute, which has already hooked up underwater cameras at California's Monterey Bay National Marine Sanctuary in such a way that they can be monitored and controlled on the other side of the country, at Connecticut's Mystic Aquarium & Institute for Exploration.
The Channel Islands National Marine Sanctuary is next on the list for an Internet2-based video hookup, to be followed by Thunder Bay in Michigan and the Florida Keys, said Chris Mobley, manager of the Channel Island sanctuary.
Mobley said the aim of the project is to bring the beauties of the marine sanctuaries to inlanders living far away from the East and the West Coast.
"This is a way that they can be more connected," he explained.
Making it happen
Ballard's expedition in July and August would take real-time marine exploration to the next level, building on EDS' technology and the aquarium's Immersion Institute. The Black Sea voyage aboard the research vessel Knorr is the centerpiece of the trip, but Ballard is also planning to study the ancient Israeli seaport of Ashkelon in cooperation with Harvard researchers, and the eastern Nile Delta in league with Egyptian archaeologist Zahi Hawass, a fellow National Geographic explorer-in-residence.
Ballard said the estimated $2.5 million cost of the expedition is already covered, thanks to support from National Geographic, the National Oceanic and Atmospheric Administration and the U.S. Navy.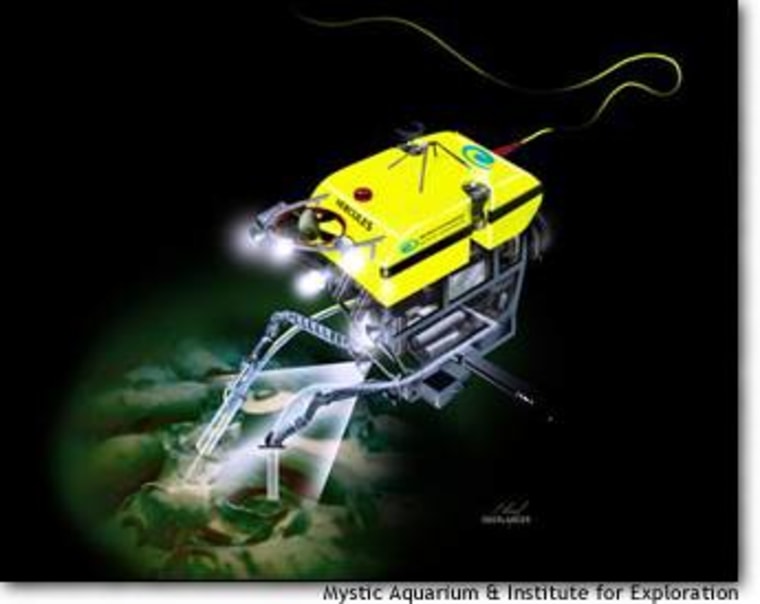 Meanwhile, an engineering team at the Mystic Aquarium & Institute for Exploration is developing Hercules, the $2 million remotely operated vehicle equipped with mechanical arms for underwater archaeological excavation.
Setting up the network for the telepresence aspect of the expedition could call for expenses of a similar scale. EDS and other technological partners are already sketching out plans for a containerized control van that could be hoisted onto a ship, with a satellite uplink platform that could send signals reliably from a rolling sea.
The system will require HDTV and standard TV cameras, encoders designed to interface with Internet2, and a store-and-forward system for detailed scientific data.
Media Arts' Thompson hoped that the system could be used on scientific expeditions beyond the Black Sea, such as next year's Jason Project trip to Panama.
"We can take it anywhere in the world, do deep-water, shallow-water exploration anywhere in the world, and have scientists do science," Media Arts' Thompson said. "It's way out on the edge."
Clarification: An earlier version of this story may have left an incorrect impression about Media Arts' technological role.