Megan Wade looked herself up and down in the mirror, twisting from side to side to catch a glimpse of her gold-and-fern-green strapless gown from every angle. She made sure that her hair, pinned back in soft curls, had just enough bounce.
"I want to look like a princess," the 17-year-old Elkhart Memorial High School junior declared.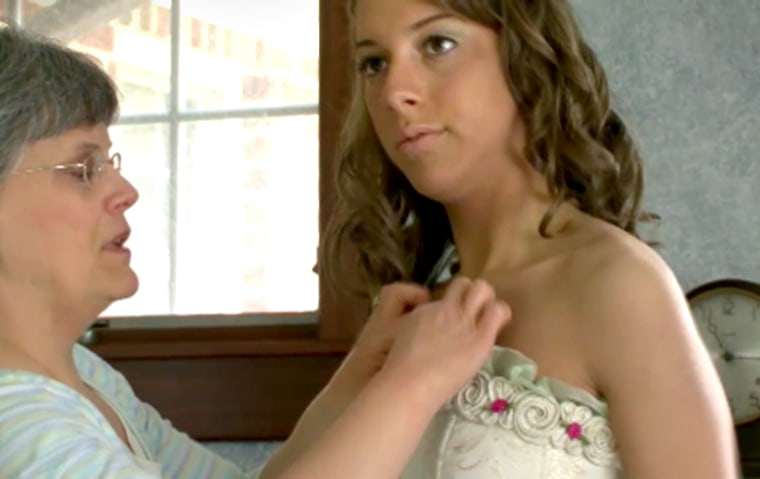 It was five hours before her school's May 16 prom, and Wade, with six of her friends, would soon be shuttling from house to house to take group photos as moms fretted about their kids growing up.
She slipped on her gold lame peep-toe heels, tugged at the bodice of her dress and nodded at her reflection, satisfied with her look.
Until recently, Wade wasn't sure she'd have a dress to wear to prom. For her family, as well as many others in Elkhart, Ind., and across the United States, tough economic times mean that money for prom attire — or any other extras — is sparse.
Wade's mother, Teresa Brouillette, was laid off last year from her job in a printing company that counted some of Elkhart's leading RV manufacturers among its clients, as the recreational vehicle industry tanked. In Elkhart County, the unemployment rate hit 18.8 percent as of March, up from 5.8 percent a year earlier. That was the largest jobless rate increase of any metropolitan area in the country. (Msnbc.com is focusing long-term coverage on Elkhart to provide perspective on the national recession.)
"Of course I want Megan to be happy and have a great time," said Brouillette. "If the economy was in great shape and I was working, I'd have to get her a new dress and pay a lot more for everything."
Instead, Wade waited in line for nearly three hours along with more than 500 other girls from Elkhart and surrounding areas to receive a free used dress from Princess for a Night, a prom dress donation event held annually in March at the College Football Hall of Fame in South Bend.
For $50, Brouillette was able to revitalize the dress, adding extra fabric and a trim of fuchsia satin ribbon roses. Wade spent $5 on shoes from Goodwill, $20 on a prom ticket, $20 on dinner and $7 on a boutonniere for her date. She polished her own nails and had a friend fix her hair and help with her makeup. Her date wore his choir uniform, black dress pants and a black jacket, so that he wouldn't have to spend money on a tuxedo. Her grand total for prom? $102.
That's far less than the $566 most teens spend on prom, according to a 2008 national survey conducted by Hearst, which publishes Seventeen magazine and mypromstyle.com, among others.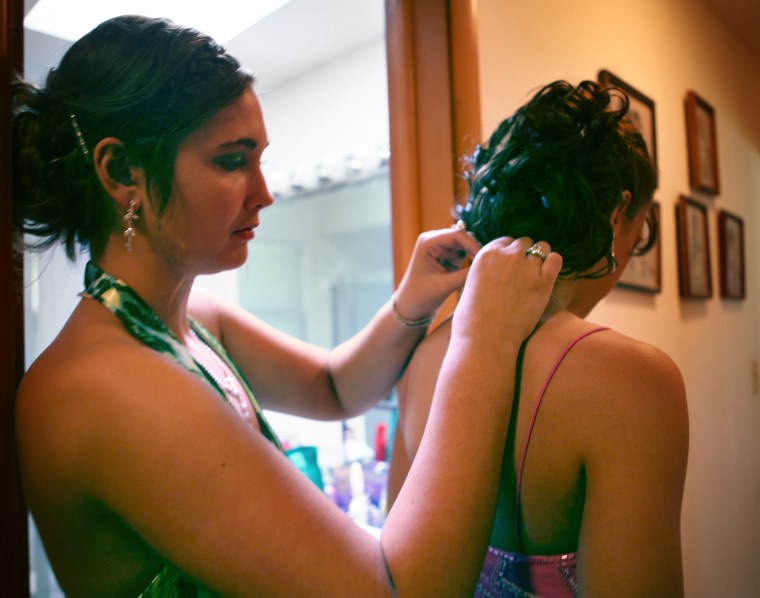 Of the 2,811 girls surveyed, one in three expected to have to cut back on prom costs for economic reasons. Some said they'd scale back by not getting their hair and make-up done professionally. Others said they'd forgo renting limousines, a hit limo companies say they are feeling.
Limousine rentals across the country have dwindled 25 percent to 30 percent over the past two years, said Ron Sorci, president of the National Limousine Association.
"Parents are usually the ones footing the bill for these things, and this year, many of them just can't do it," he said. "A lot of kids are also choosing to consolidate and go together in larger numbers in buses or vans."
Libby Borchert, an 18-year-old senior at Andover High School in Andover, Minn., said she and 31 of her friends skipped the limo and party bus in favor of a classic yellow school bus to chauffer them to their prom.
"Many of our parents have been laid off," she said. "So we couldn't ask them for more after we'd already spent a lot on our dresses and prom tickets."
Borchert's mother works as a school administrator and proposed the idea as a joke. After weighing their options, Borchert and her friends decided to take the bus.
For pick-up and drop-off, each student paid $8 total, and left the prom with great memories.
"A lot of people laughed at us, and we thought it was funny too," she said. "We made signs that said, 'Honk if you like our yellow limo.'"
Something borrowed
Some teens around the country cut costs by borrowing dresses from friends and siblings, wearing suits instead of renting or buying tuxedos, and using resources they already had to make prom special. [Click here for user images from their prom night. You can also send your own.)
When 18-year-old Scarlett O'Brien's parents told her she had to choose between getting her hair and nails done and getting a new dress, she decided to wear something borrowed.
"I wanted a new dress, but then my friend suggested I try hers, and I just fell in love with it," said O'Brien, a senior at Cambridge Rindge & Latin School in Cambridge, Mass. "Why should I spend money on a dress when I don't have to?"
Daniel Reynolds, owner of Stephenson's dress shop in Elkhart, Ind., said customers are spending less on prom dresses this year. In past years, $300 dresses sold well. This year, there's a bigger demand for prom dresses in the $90 to $150 range.
"We ordered a lot of dresses at the higher price point," Reynolds said. "If we had known what was going to happen with the economy, we would have done things differently."
From upscale hall to senior center
The economic downturn is also affecting how some schools around the country planned for prom this year, with some resorting to less costly venues to keep ticket prices down, all the while striving to keep the celebratory atmosphere of the event.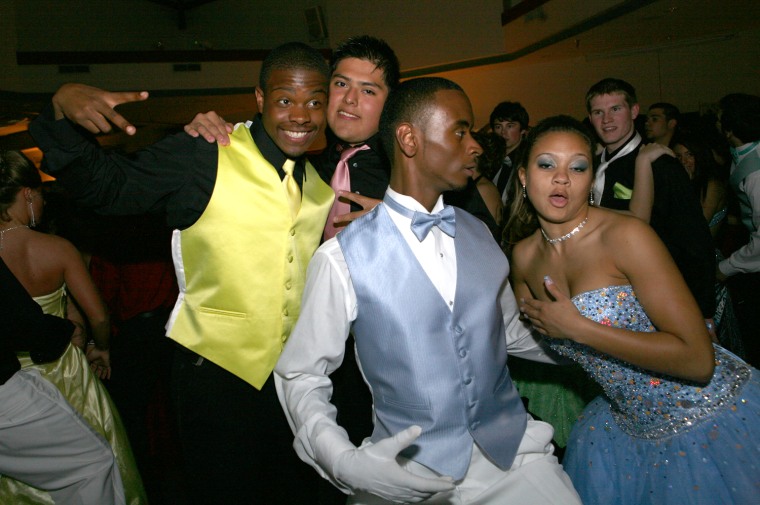 Elkhart Memorial High School, which usually holds its prom in a fancy hall in nearby South Bend, instead held its event at a senior center. While the move was motivated more by scheduling than by financial issues, according to the school's prom co-coordinator Erin Hartman, the senior center stood out as a choice venue because the cost allowed for prom tickets to be kept at a low price.
"We're a diverse school system and we have very needy kids and very wealthy kids," she said. "We've always tried to keep prom very affordable for everyone, so we've always been fiscally conservative. This year as the economy turned so we purposely kept our budget a little bit lower just to accommodate students."
With the venue switch and a few cuts to catering, the school spent $8,000 on prom, $2,000 less than what was budgeted.
Vanessa Steffen, prom co-coordinator for Fairfield High School, also located in Elkhart County, said prom attendance was down from 220 students last year to 186 students this year, likely because many students couldn't afford to go.
"We kept our budget at $7,000 and did everything we could like making many of the decorations ourselves, to keep the ticket prices at $30," she said. "We also included dinner so that kids wouldn't have to go out and spend extra money."
After five years of heading off campus for prom, students at Brunswick High School in Brunswick, Md., were back in the gymnasium on Saturday night.
Escalating expenses in a spiraling economy forced the move, said Bev Shaffer, the junior class adviser who coordinated the event. Fees for hosting the event offsite would have boosted ticket prices far above the $30 per-student fee, which was unacceptable in a difficult year, she said.
"We probably saved about $5,000 by holding it here," Shaffer said.
Cutting costs for students without sacrificing style was on the minds of organizers at Niagara Falls High School in Niagara Falls, N.Y., said James Spanbauer, the school's chief educational administrator.
"It's a big concern," said Spanbauer, who for years has overseen projects such as a prom closet, where girls can choose from donated dresses. "We've explored a lot of options."
This year, the school hopes to spare students the cost of expensive limousines by chartering large coach buses to take kids to and from the May 30 prom and to the after-prom party at the school. Next year, organizers plan to choose a different site for the prom, trading a lavish hotel with an expensive prime-rib menu for a site closer to the school where kids can dine elegantly, but more cheaply, Spanbauer said.
But schools in wealthier districts say they haven't had to make many concessions yet. Westport High School in Westport, Conn., held prom at the Greenwich Hyatt hotel. Since fundraising and planning for the prom was done last year, the school kept its $50,000 prom budget and tickets, which include a full sit-down dinner, were sold for $100. The number of students who bought tickets didn't significantly change, either, said prom coordinator Heather Morley.
"The students have worked really hard for 12 years, they've earned this," she said. "There have always been kids who were struggling financially, and those we handle on a case by case basis to help them out."
'Opting out of conspicuous consumption'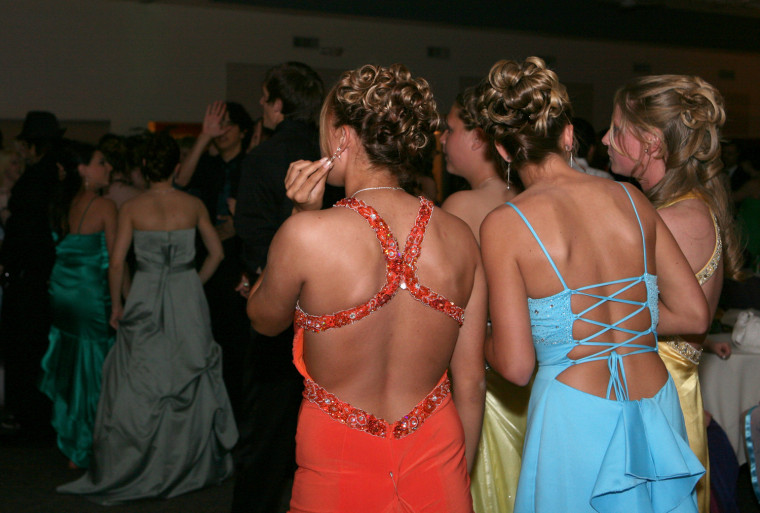 Even teens whose families who aren't feeling the pinch are aware of the country's collective belt-tightening, says Amy Best, associate professor of sociology at George Mason University and author of "Prom Night: Youth, Schools and Popular Culture." "Many teens are opting out of conspicuous consumption, including in how they prepare for prom," she said.
Eddie Miller, president of PromTime.com, which connects prom goers to limos, deejays, dresses and specializes in prom after-parties in New York, also noted that this year, even affluent kids are cutting back — sort of.
"The truth is, they are looking to spend less and shopping around more," he said. "Where they used to rent the extravagant super stretch limos with hot tubs, they're now scaling back to a regular Lincoln stretch."
In Elkhart, students arrived at the prom in more modest modes of transportations. Buses, borrowed cars, a tractor, farm semi and even a fire truck were among the rides students took to Fairfield High School's prom.
"Students have always been good at contacting people they know to get rides without spending money," said prom co-coordinator Steffen. "This year, they had to get much more creative than ever before."
The number of limousines that pulled up for Elkhart Memorial's prom could be counted on one hand.
Within the first hour of the event, heels were flung around the periphery of room and designer and no-name bags were left abandoned at the tables. The dance floor was packed. Some boys wore tuxedos while others wore suits and creatively mismatched outfits.
"It was great," said Wade at the end of the night. "I just wanted to be here with my friends, see everyone and have a good time, and that's what I did."