/ Source: NBC, msnbc.com and news services
As the nation mourned, NASA proceeded with the gut-wrenching process Sunday of trying to find out why the space shuttle Columbia plummeted to Earth in flames in central Texas, taking the lives of all seven astronauts aboard. Officials said the first indication of trouble was the loss of temperature sensors in the left wing and all but ruled out terrorism almost immediately.
THE CRASH was the first fatal accident in America's space program since the 1986 explosion of the Challenger, which also claimed seven lives. That disaster grounded the shuttle fleet for almost three years and raised deep questions about the risks of space flight.
"The Columbia's lost," President Bush told the nation in a brief, emotional address he delivered after rushing back to Washington from Camp David, Md. "There are no survivors."
Although "our entire nation grieves," said the president, who ordered that flags be flown at half-staff through Wednesday, the astronauts' deaths will not spell an end to space exploration.
"The cause in which they died will continue," he said. "Our journey into space will go on."
FIERY DESCENT
NASA Administrator Sean O'Keefe said Columbia broke up in flames as it re-entered the Earth's atmosphere, spreading debris over hundreds of miles of Texas, just 16 minutes before the 100-ton shuttle was to have landed at Kennedy Space Center in Florida.
It is possible the seven astronauts on board were alive through much of the shuttle's descent and breakup and is unlikely they were killed instantly, a NASA official told NBC News.
Columbia's crew members completed more than 80 scientific research experiments during their time in orbit. O'Keefe described them as having performed their mission brilliantly and said in a broken voice, "The loss of this valued crew is something we will never be able to get over."
As investigations began, an official of the Department of Homeland Security told NBC News on condition of anonymity there was no indication that terrorism was involved.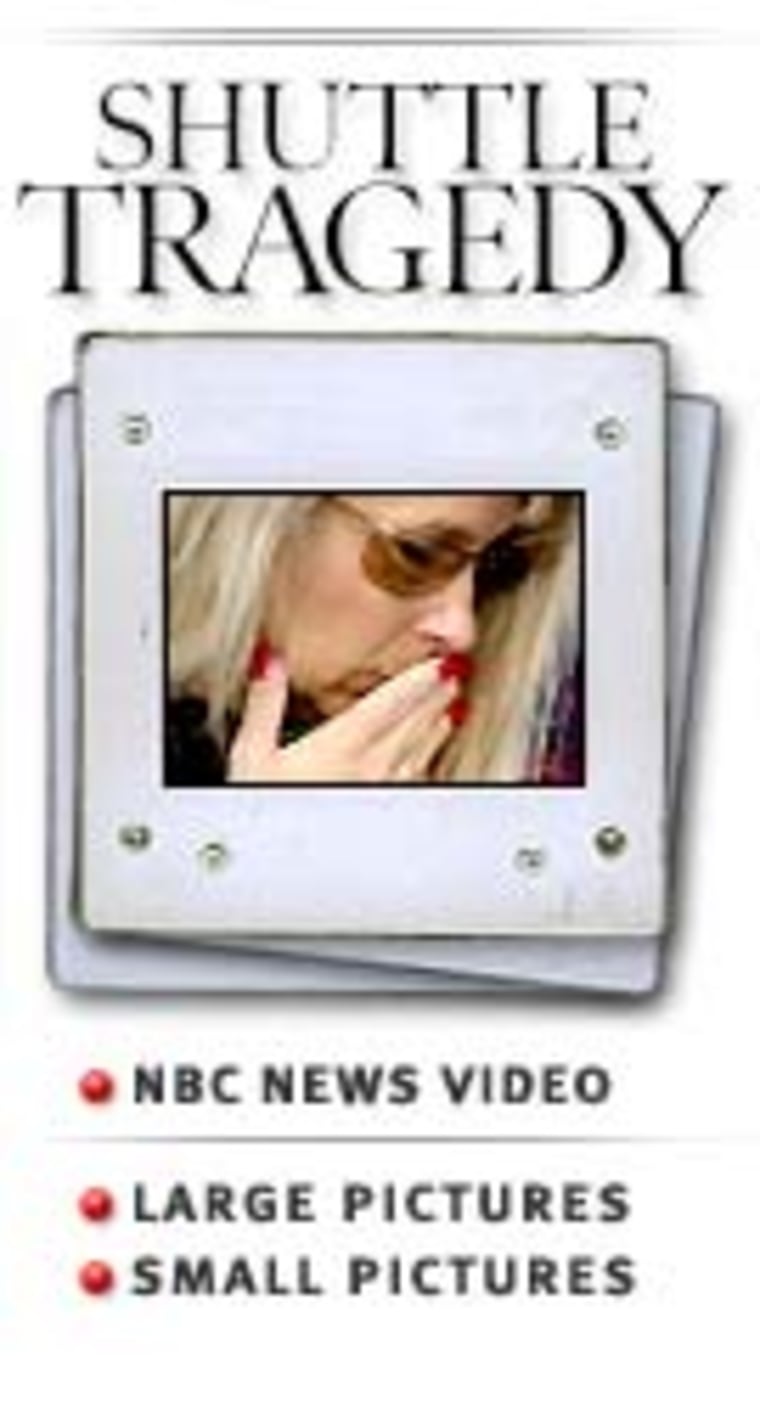 Security was extraordinarily tight on this mission because of the involvement of Israeli Air Force Col. Ilan Ramon, Israel's first astronaut. NASA officials feared that Ramon's presence could have made the shuttle more of a terrorist target, but security officials reported no threats.
SENSORS WENT OUT
NASA said the first signs of a problem came only minutes before contact was lost, when sensors stopped working on the shuttle's left wing.
Shuttle program manager Ron Dittemore told reporters that those failures were followed within minutes by several other problems, including the loss of sensors for tire pressure and temperature.
The final radio transmission between Mission Control and the shuttle, at 9 a.m. ET, gave little indication of trouble.
Mission Control radioed: "Columbia, Houston, we see your tire pressure messages, and we did not copy your last."
Columbia's commander, Rick Husband, calmly responded: "Roger, uh, buh ..."
For several seconds, the transmission went silent; then, there was static.
Most of the wreckage apparently landed in an area of many thousands of square miles between Waco, Texas, and the Louisiana border. One man reported finding what appeared to be a charred torso, thigh bone and skull on a rural road near what appeared to be other debris.
NASA warned the public not to touch the debris, saying it could be contaminated with toxic fuel. It urged anyone finding debris to notify local authorities. Police and National Guard troops sealed off all suspected pieces of debris as soon as they could arrive at the scene.
FOCUS ON TILES
No one expected quick answers. Experts said it would probably take months to work through the complex investigation.
"We have to look at it in two different ways: Was there an in-flight breakup that resulted in an explosion of the aircraft, or was there an explosion that resulted in the in-flight breakup?" Gregg Furth, a former investigator for the National Transportation Safety Board, told NBC News.
After the shuttle launched on Jan. 16, mission managers said a piece of insulating foam had broken off from the external fuel tank and might have hit the left wing. At the time, NASA said the incident did not raise safety concerns.
The loss of even a few of its heat-shielding tiles could put the shuttle at greater risk as it hurtled through the atmosphere, however, Dittemore said Saturday that "we can't discount that there might be a connection."
Former astronaut Ron Hauck told NBC News: "You worry about that hurricane-force wind upon re-entry ripping more and more tiles off. And if that's the case, the heat could melt through the aluminum skin of the orbiter."
Dittemore cautioned, however, that "we can't rush to judgment on it."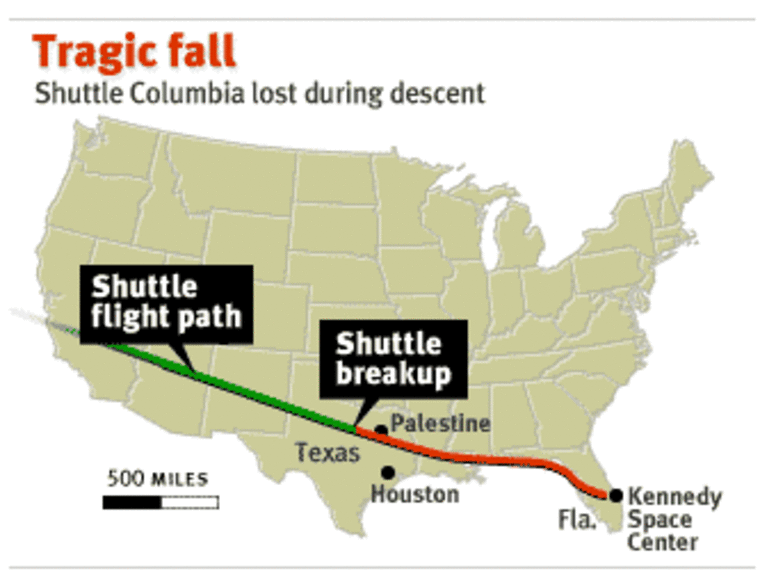 WITNESSED BY THOUSANDS
Thousands of witnesses watched in horror as Saturday's tragedy unfolded. Across Texas, New Mexico and Louisiana, search-and-recovery teams fanned out over a wide area to investigate reports of debris.
The Federal Aviation Administration issued a notice to airmen because National Weather Service radar picked up a debris cloud about 95 miles long and 13 to 22 miles wide over Lake Charles, La.
In Nacogdoches, Texas, residents found bits of metal strewn across the city. Dentist Jeff Hancock told The Associated Press that a metal bracket about a foot long had crashed through his office roof.
In Dallas, NBC's Jim Cummins reported that a loud explosion was heard about the same time NASA lost contact with the spacecraft — a time when the shuttle was descending to 200,000 feet, traveling at 12,500 mph.
Soon after that, witnesses described seeing the Columbia disintegrating in flames along the way.
Janet Smith-Bozart, who was driving near Dallas, described the shuttle's descent in an interview with MSNBC TV.
"I thought at first it might be a meteor coming into the atmosphere, and then I realized it was much too big and much too slow for that," she said. "Essentially, the entire thing just broke apart, and the whole thing just disappeared. ... Eventually, it just sort of faded, and there was no more contrail or anything."
SUDDEN DISAPPEARANCE
Columbia had been scheduled to land at 9:16 a.m. ET — the 113th mission in the 22-year-old shuttle program and the 28th flight for Columbia, which was NASA's oldest shuttle.
During the shuttle's descent, it is not uncommon for voice and radar contact to be lost for a brief period. But when Mission Control could not re-establish communications even after the scheduled landing time, NASA announced that "a contingency for the space shuttle has been declared."
Flight controllers were ordered to pull out emergency procedures and retain all their records, a move aimed at securing evidence for the investigation to come.
GIRDING FOR THE WORST
Family members of the shuttle crew were gathered on the landing strip at Kennedy Space Center to greet their loved ones. NASA officials hurried them off the strip and kept them in seclusion.
Although officials said there was no indication of terrorism, the Pentagon and the Joint Chiefs of Staff were convening a "domestic event conference" for any possible response, NBC's Jim Miklaszewski reported. The Federal Emergency Management Agency was put in charge of the search operation in Texas, in cooperation with local authorities.
In addition to NASA's internal investigation, an independent panel with representatives from the Air Force and the Navy, as well as the Transportation Department and other federal agencies, will look into the causes of the tragedy, said O'Keefe of NASA.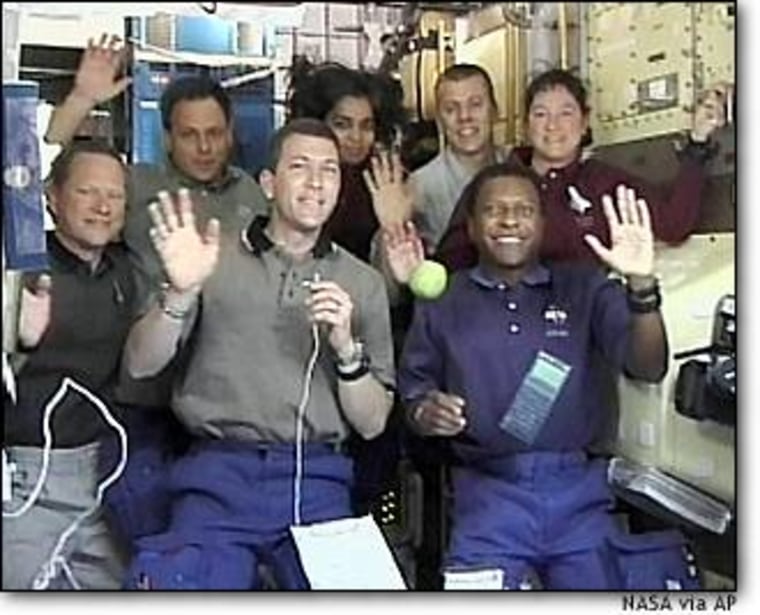 A U.S. official told NBC's Miklaszewski on condition of anonymity that a heat spike appeared on military satellite data around the time shuttle was re-entering. The readings would be examined to see whether they correlated to the shuttle's breakup, the official said.
The highly sensitive infrared satellite, known as the DSP, originally was developed to detect the heat spike of Soviet intercontinental missile launches. It also has been used to detect the heat signature of oil fires, volcanic eruptions and the explosion of TWA Flight 800 in 1996.
A BLOW TO PROGRAM
The end of shuttle mission STS-107 was a devastating blow to the nation's space program and a horrific reminder of the dangers of manned space flight; just in the last week, NASA observed the anniversary of the 1967 Apollo 1 fire (Jan. 27) and the 1986 Challenger explosion (Jan. 28).
The Challenger explosion led to a 2½-year moratorium on launches, and Saturday's accident could bring construction of the international space station to a standstill because the shuttle delivers components for installation.
It also carries crews to and from the station. The three astronauts now on board are not stranded, however, because they could return to Earth via a Russian vehicle attached to the space station.
By MSNBC.com's Alan Boyle with NBC's Jim Miklaszewski, Robert Hager, George Lewis and Lisa Myers; MSNBC.com's Alex Johnson and Miguel Llanos; The Associated Press; and Reuters.