Aircraft designer Burt Rutan unveiled Friday a fully-built launch system that, if flights outside the atmosphere prove successful, would be the first private manned space program. Both the spacecraft, called SpaceShipOne, and its launch platform, a futuristic jet known as the White Knight, were developed and built in secret and have already begun tests at lower altitudes.
Some of the biggest names in space, including astronaut Buzz Aldrin, space tourist Dennis Tito and military officials, were on hand for Friday's demonstration at the Mojave Airport, about 100 miles north of Los Angeles.
In its first public flight, the White Knight lifted steeply off the windswept tarmac, framed in the distance by dozens of mothballed commercial airliners. The jet easily handled steep climbs and turns in the blue desert sky before soaring up to about 9,000 feet and slowly spiraling down to a soft, extremely short landing more befitting a glider than what Rutan described as "our own B-52," a reference to the bomber used to carry NASA's X-15 demonstration vehicle to its launch altitude.
SpaceShipOne, the actual spacecraft, was not flown Friday, but its systems were demonstrated. While the release mechanism between the spacecraft and the White Knight has been tested on the ground, only the White Knight has been flight tested, beginning in August 2002.
However, one key element of Rutan's plan was to build a launch plane that had the same aerodynamics and electronics as the spacecraft. His team of four test pilots cross-train on both and said flying the two crafts was very similar. More importantly, both the spacecraft and the launch plane have similar glide configurations, and Rutan's team said the White Knight's leisurely spiral of a landing maneuver was the exact same way SpaceShipOne would land.
Completely built system
Friday's demonstration could be of profound significance to the goal of manned space flight, and for two reasons: It is a completely built system with all components in place to begin testing for space flights; and it was built entirely out from private funds.
Initial development tests on the program began in 1999 and when Rutan decided he could move ahead, he got funding and began full development, in secret, in April 2001. His goal, he said, was to put together a space program that focused on building the actual vehicles rather than concepts.
"There is nothing you will see today that is a mockup," he told a crowd gathered in the hangar of his company, Scaled Composites. "I didn't want to start the program until we knew that could happen."
Rutan said his interest was in pushing forward the largely stagnant effort to build new manned platforms, and to give a kick in the pants to the space industry.
"I don't care about the benefit," Rutan said. "If I'm able to do it with this little company here … there'll be a lot of other people who will say, 'Yeah, I can do it too.'"
He did not immediately discuss the cost of the program or the source of the funding.
How it works
SpaceShipOne is launched in a process similar to the one used by NASA and Air Force test vehicles in the 1940s and 1950s: The spacecraft is carried by White Knight up to 50,000 feet and then it launches like an aircraft into a steep climb. It has manual stick-and-rudder controls for subsonic flight, as well as electric controls for supersonic flight and cold-gas thrusters for space flight. The thrusters are operational and were demonstrated Friday.

On reentry, the rear portion of the spacecraft — including its twin tails and massive flaps on the trailing edge of its wing — are meant to create enormous drag and slow it down to the point that it can glide easily back to the ground in what Rutan called a "carefree reentry." Tests have shown it has a wide margin for its reentry angle and enormous stability — with a maximum speed of 3.5 mach and an eventual descent speed of 155 knots, far easier to maneuver than the precise angling and cannonball speeds that NASA's space shuttle requires.
"We go straight into the atmosphere and the pilot can re-entry without touching the controls," Rutan said.
SpaceShipOne's "flight profile" (what an aircraft is expected to do and how) is to reach a 54 nautical-mile maximum altitude, over a flight path (from launch off the White Knight to a ground landing) of just 35 miles. For comparison, NASA considers anyone who flies over 50 miles high an astronaut.
The first flight tests of SpaceShipOne, expected to begin in the next month or two, will release the spacecraft over the high desert east of Mojave and allow it to float back onto the runway in front of Rutan's offices.
Aeronautical pioneer
Rutan is no stranger to next-generation aerodynamics. He helped design Voyager, a super-efficient aircraft that his brother, Dick, piloted around the world in 1986, setting a record for the first unrefueled circumnavigation of the globe along with co-pilot Jeana Yeager. Over 70 percent of Voyager's weight was in its fuel tanks.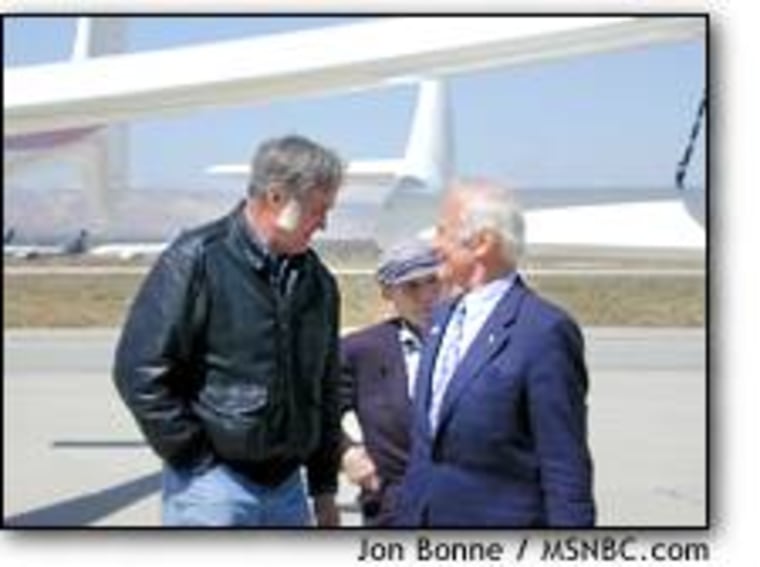 Rutan also designed the Beech Model 2000 Starship, a futuristic-looking eight-passenger business turboprop, that utilized rear propellers and a constantly shifting forward stabilizer. Rather than a tail, it used fins on the end of each wing to control direction.
More recently, his company built Proteus, a high-altitude jet designed for both manned and unmanned flight. The look of Proteus was similar to many of Rutan's designs: two tails and a second set of wing surfaces placed near the cockpit. First flown in 1998, the multiple wing structures allowed the plane to remain aloft and stable at altitudes above 60,000 feet. It also featured a modular design that allowed it to easily be reconfigured for a whole range of missions, including astmospheric research, reconnaissance and launching payloads from a high altitude.
In the space community, Scaled may be best known for its work on the DC-X, a demonstration project for NASA meant to show the potential for a single-stage reusable rocket engine. Though the DC-X program was canceled after several successful flight tests, it was widely considered to have the potential to prove the single-stage technology. They also helped build NASA's X-38 crew return vehicle, which was constructed to prove technology for an evacuation reentry vehicle for the international space station.
'The courage to fly'
But those efforts were all eventually cancelled, which apparently magnified Rutan's frustration with the progress of space flight. He pointed out that between the time the Wright Brothers developed their workhorse 1908 Flyer and 1912, the aviation community grew from 10 pilots to over 1,000 — driven by entrepreneurs and the goal of building the industry. By comparison, he said, the race — if that word can still be used — for manned space flight has all but stalled.
"Space has had more than three years, it's had 42," Rutan said. "We seem to be making acronyms for engineer welfare instead of having the courage to fly something."
One possible key to SpaceShipOne's success is its eligibility for the X Prize, a $10 million bounty for any private firm that can build a reusable manned space vehicle, fly it to the suborbital altitude of 62 miles and then repeat the mission within two weeks. Considered a key litmus test for the viability of manned commercial space flight, the X Prize remains unclaimed after nearly a decade. X Prize founder Dr. Peter Diamandis was at the unveiling Friday and got hearty praise from Rutan for pushing to keep the momentum for a private space industry.
But most X Prize hopefuls, and there have been several over the years, have abandoned their plans for lack of funding. Ventures such as the Roton faded away for lack of investment.
'Enormous potential'
For now, the main purpose of Rutan's program appears to be proving he can really send his pilots into space. There are no plans for passenger flights or government certification. The craft can fit three, though it's possible only one will go at a time.
But military officials watched the presentation with great interest, and indicated that Rutan's new launch system could be adapted to other uses as well, such as launching tiny "microsatellites" and giving military space programs far more flexibility.
"It has enormous potential," said U.S. Air Force Brig. Gen. Simon "Pete" Worden, who seeks out new initiatives for U.S. Space Command. "Space has always been a rich man's business. Now it would be more like airplanes."