Today the creak of the flagpole overhead accompanied our activities. The Mars Society's flag now watches approvingly as we go about our daily chores. Yesterday we set as our goal to start our actual sim tonight, so this morning we bustled about, seeing that all essential systems were up and running. We don't want to "break sim" to fix a leaky pipe or to hook up an antenna wire.
InsertArt(1952737)COMMANDER STEVE McDANIEL, for example, put together the kits for the all-terrain vehicles, including tow rope, extra gas and oil, while Peter Lee finished the medical kit and talked with me about the rations that will go on our extravehicular activities with us in case of emergency. Ella Carlsson, meanwhile, assessed the EVA suits, backpacks, and helmets and prepared them for use. She reports that there are five complete suits ready to go. These are the suits that beginning tonight, we will have to wear if we go outside the Hab.
After today, Devon Island is Mars to us. Unless a crew member has been officially designated "out of sim," he or she cannot leave the Hab without being suited up. We'll see the open sky through a plastic shield; we'll feel no wind in our hair, no sharp rocks beneath our feet.
Jody Tinsley felt rocks beneath his back today, for he slid under the Hab to work on plumbing. He took on the job of repairing a leak in the bathroom and setting up the shower for us to use. We are delighted with his work.
We will be careful to conserve water — although there is an unlimited supply of water in the stream, it is a real chore to bring it to the Hab and fill our supply tank. We have five five-gallon jugs that we load empty onto the ATV trailer, then drive several hundred yards down to the Lowell Canal. There we use a manual pump to fill the jugs and then load them again on the trailer. Hmmm. Let's see. A gallon weighs eight pounds; each jug holds five gallons; we have five jugs — that's a lot of water. Once back at the Hab, we heave the jugs up the steps and inside, then up the ladder to the living quarters, then up another ladder to the loft. There we manhandle each jug and pour the contents into a plastic tank. This whole process is a challenge.
Speaking of challenge: Patience, thy name is Jan or Digby. Jan Osburg and Digby Tarvin have poured their all into setting up our communications systems. They have tweaked and prodded, poked and rebooted, called out, called in. As I write this, they report that for the first time, our communication system seems to be working as it is supposed to, but we are still in suspense to see if this word is the final one. We have not had any luck using our Inmarsat satellite phone, our primary link to the outside, since we arrived on Devon Island. Fixing that problem has taken much of their time.
InsertArt(1952738)After trying for a couple of hours last night to make the proper connections in order to send my daily log and Ella's situation report to Mission Support, Digby and Jan gathered Jan's laptop, the Iridium phone, and the 12-foot-high Iridium antenna, and trekked purposefully outside to try again to make a data connection for transmitting the e-mail reports via satellite. This is our backup communications link; not being able to access it from inside the Hab is a mite inconvenient.
Jan perched on a low rock (this is difficult, as he is rather tall), balanced his laptop on a rock in front of him, propped the phone against another rock, and commenced the process of contacting the satellite link. Digby held the antenna pole stable while Ella took photographs and I stood by with the e-mail addresses we needed.
We have gotten so used to failure that when we lost contact a couple of times, we simply laughed grimly at the incongruity of our situation. There we were, feeling cut off from others, far from our homes, stumbling over rocks in a stark, barren land. In fact, we were surrounded by beauty, yet instead of appreciating it, we crouched around a laptop, striking keys, listening for the chimes and beeps that indicate success, trying vainly to contact civilization. And all the while invisible, unreachable satellites were flying over our heads.
The connection we desire is essential to the success of our mission: We have to be able to communicate with our mission support; we have to be able to contact the scientists who are providing their expertise to us; we have to be able to submit our reports at the end of the day. Now that they think they have established a link, we can finally do what we came here to do: We can begin sim!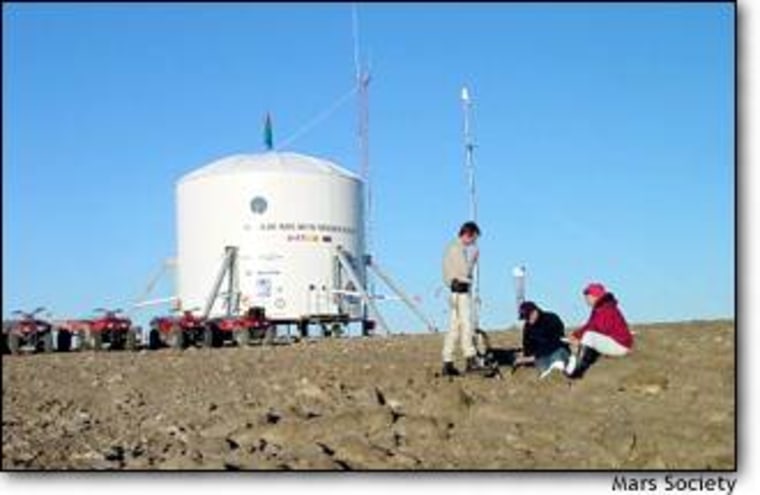 Commander Steve had suggested that we begin our simulation late this afternoon. The time approaching, we took advantage of one last opportunity to enjoy our surroundings unencumbered by the suits. To that end, we strolled down the hill to the Lowell Canal. Digby, Jan and Peter added to our enjoyment of the moment by stripping down to their skivvies and going in. The rest of us enjoyed watching their comic splashing, and it was a united, enthusiastic crew who tramped back up the hill ready for our mission. As we all approached the Hab, we looked around us with gratitude and pleasure.
Now that Steve has closed the airlock behind us, with only brief exceptions, we will see Devon Island only through the windows of the Hab or the plastic shields of the EVA helmets.
© 2003 April Childress. Licensed by the author to MSNBC.com.