"To strive, to seek, to find, and not to yield," said Tennyson in "Ulysses." The poet's words speak better than we can the mind-set of this crew. Yes, we are on a simulated mission to Mars, stationed on Earth, not the Red Planet, wearing analog spacesuits instead of the real thing, breathing good old Earth's air, tied by our familiar gravity to the terrain we explore. Our sim is not the equipment we wear. It's an attitude.
WE RIDE regular all-terrain vehicles, just like the four-wheelers folks use back home. We eat regular food — oatmeal, omelets, spaghetti, homemade vegetable soup. But we look out the Hab windows and we see Mars, not Devon Island. We put on the suits, and we are astronauts on Mars. When we come back from a mission and wait in the airlock, we are astronauts returning to the home base, our space station.
ALIEN VISITORS
So it was a very serious question we contemplated this morning: Do we allow a media crew to interrupt our simulation? Our commander received an e-mail from Robert Zubrin, the president of the Mars Society and the driving force behind this mission, asking if we could accommodate a visit from an international news crew who would like to cover our work here.
This was big! A major news organization wants to send a crew in to do a report on our mission? This is a great opportunity for us, for several reasons. This is a chance to get the word out about what we are doing here; we are excited about our work and want to share with others what we are doing. A story about our simulated Mars station might charge the imagination of future space explorers. A story about us might bring interest to the Mars Society's work to send manned missions to Mars sooner, rather than later.
Also, from a selfish standpoint, hosting visitors from the media would give us a chance to receive a resupply. If the news crew flies in, it could bring some materials for us that we are missing. As time has passed and we have been able to inventory our supplies, we find ourselves short on certain items related to our science mission, ATV repair and maintenance, and comfort.
So today after breakfast we met to discuss whether, if such a thing should come to pass, we can incorporate a visit from outsiders into our sim without compromising our goals and whether (in the same vein) we can accept a resupply of any kind from such visitors.
InsertArt(1959760)Good media attention is a valuable thing, we all agree, for one of our mission goals is to do outreach, to get the word out about the FMARS station and the Mars Society's work. The members of our the crew have invited news coverage of our mission, and the word is getting out. We are obviously not shy. For example, we are happy that MSNBC.com is carrying my daily reports. KHOU, a Houston TV station, has lent Steve McDaniel a video camera and will develop a program based on our rotation.
Before we left home, our hometown paper, the Anderson (S.C.) Independent, and WYFF, a local TV station, did stories about Jody Tinsley and me. Meanwhile, The Providence Journal covered Peter Lee's coming here. And this week, in a fascinating exchange, Ella Carlsson did an Iridium phone interview that will be broadcast on a radio program on Saturday to all of Sweden. Jan Osburg is busy writing reports every other day for his regional paper, the Columbus (Ga.) Ledger-Inquirer.
CLOSER ENCOUNTERS
However, actually having someone at the station to cover our story is a different thing entirely. These encounters with the media have not thus far interrupted our experience at a simulated Mars station. Of course, it's quite likely that real Mars astronauts will have media coverage before and after their missions, and perhaps electronic or video interviews during their time on Mars. But they are not going to be asked to accommodate a news crew showing up at their airlock door.
Where will such a media crew eat? Sleep? What will the reporter ask of us? How can we maintain sim with strangers in our midst? Will we be able to maintain our schedule, our priorities? Will we be good ambassadors for our cause? And even if such questions are answered satisfactorily, we have another question to ask ourselves.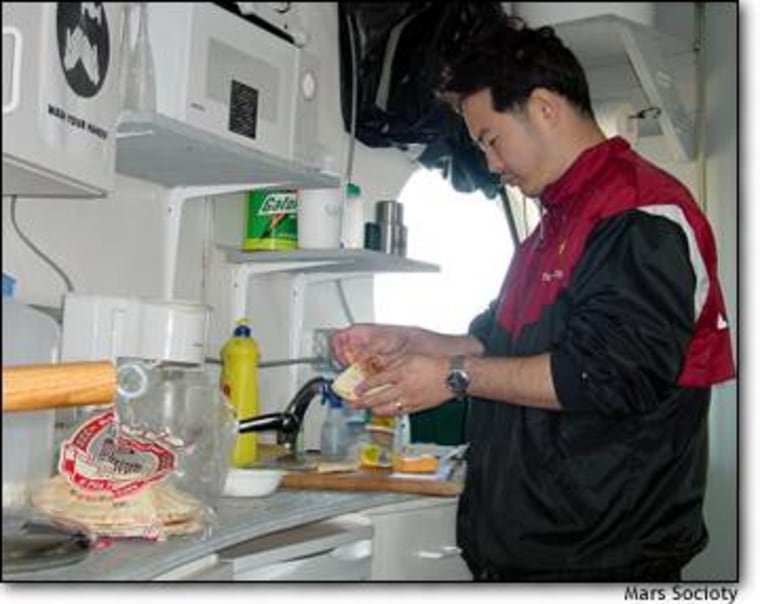 Do we allow the media crew to bring us things we need? Each of us could immediately list a dozen things we are missing, things we thought would be here at the Hab that aren't, or things we were to have received before we left Resolute but didn't. Most importantly to the mission, we are lacking the media to grow organisms in for our microbiology experiments. But our list also includes a shovel, fuel additive and some flour.
These last items have been a source of complaints — how can we dig for soil samples if we have no shovel? What if it's bad gasoline that's causing the ATV problems? We need fuel additive. And we have 13 jars of yeast but only two pounds of flour. Aside from these complaints (and others like them), we are a congenial crew, a cooperative group of like-minded individuals. These latter items affect our day-to-day living and working in and around the Hab, but they really are things that we can have a successful mission without. The microbiology research, however, is a focus of our crew's work here. Without the media they need, Steve and Peter are limited in what they can accomplish here in the lab.
After a few minutes of discussion, we dismissed the idea of having a news crew bring us items that would contribute only to our comfort. We'll figure out other ways to dig holes or move rocks. The ATVs are running rough, but Ella and Steve think they can keep the four-wheelers running without supplies from Resolute — or if they can't, we will do pedestrian extravehicular activities only. Even the idea of warm bread throughout our last two weeks didn't sway us to break sim to make things easier or nicer for us. The shovel, additive and flour are not mission-critical. But the media for our experiments, we agreed, is. So one question remains to be answered.
How much, if at all, will our mission be compromised if we allow the media to bring the media?
© 2003 April Childress. Licensed by the author to MSNBC.com.