I promised a column on a dream hi-fi system costing $5,000-$10,000 months ago. I had no idea that it would take so long to ask for, receive, listen to and analyze dozens of items I thought you would like to hear. Now I'm ready to tell you what I've found and I'll begin by telling you about an extraordinary pair of speakers.
InsertArt(1967240)I FOUND THE SPEAKERS somewhat by chance. I'd actually gone to a local store to hear a certain set of speakers that had received rave reviews in a hi-fi specialist magazine. But when I asked to hear them, the proprietor looked at me angrily and said: "Are you going to buy them? I don't feel like carrying them into the showroom if you're not going to buy them."
I decided not to argue with a jerk. I asked which speakers I was allowed to listen to. He pointed to a pair of small, thin towers. DeVore speakers he called them. I'd never heard of them, but sure, why not listen to them.
What I heard in the next few minutes changed my music listening patterns forever. These 2-way boxes were the most amazing loudspeakers I had heard in many years. They had the smoothness and detail of legendary Quad electrostatics (new ones sell for $8,000 a pair) - but actually use a small tweeter and woofer to reproduce music instead of thin, Mylar panels.
I asked how much they cost. He told me $2,850 a pair. I asked where they were made. He said "in Brooklyn, wanna buy them?" I declined his offer and thanked him for his time. I left the store, made a beeline to my office, surfed to the DeVore Fidelity Web site and called the factory saying I wanted to audition them for this column.
THE SPECS Within days, John DeVore, president and chief designer of DeVore Fidelity came to my home with a pair of his speakers. He looked at the room — and my equipment — and very politely told me that his speakers would sound better with better equipment. That started an eight-month quest for the ultimate (and affordable) system built around John's speakers. (More about that next week.)
The speakers John brought are his Gibbon 8s. The specs say 35 Hz to 25 kHz frequency range, with a medium sensitivity of 88dB/W. Each speaker stands 34 inches high, with a width of 8.125 inches and depth of 11.75 inches. The box is beautifully finished in cherry veneer on all sides. The front baffle has a 7-inch woofer on top, a 3/4-inch textile dome tweeter beneath, and a tuned port near the bottom.
Because of the way the furniture is arranged in my living room, John placed the speakers on optional, custom-made stands ($340 for the pair) which raise them 10 inches off the floor. Most importantly, they scored a perfect 10.0 on the WAF (Wife Acceptance Factor) scale. Those Quads I've always wanted rate a zero on the same scale.
THE PHILOSOPHY John is very proud of his speakers, and rightly so. He describes the way they sound like a parent brags about a child. The one thing John would not talk about is what else is inside the box. On his Web site, he says that DeVore's "designers work extensively with the drivers and the tuning of the system so that less correction is needed. ... A driver that has a naturally musical response will always sound better than a driver with resonances or other aberrations that must be compensated for electrically."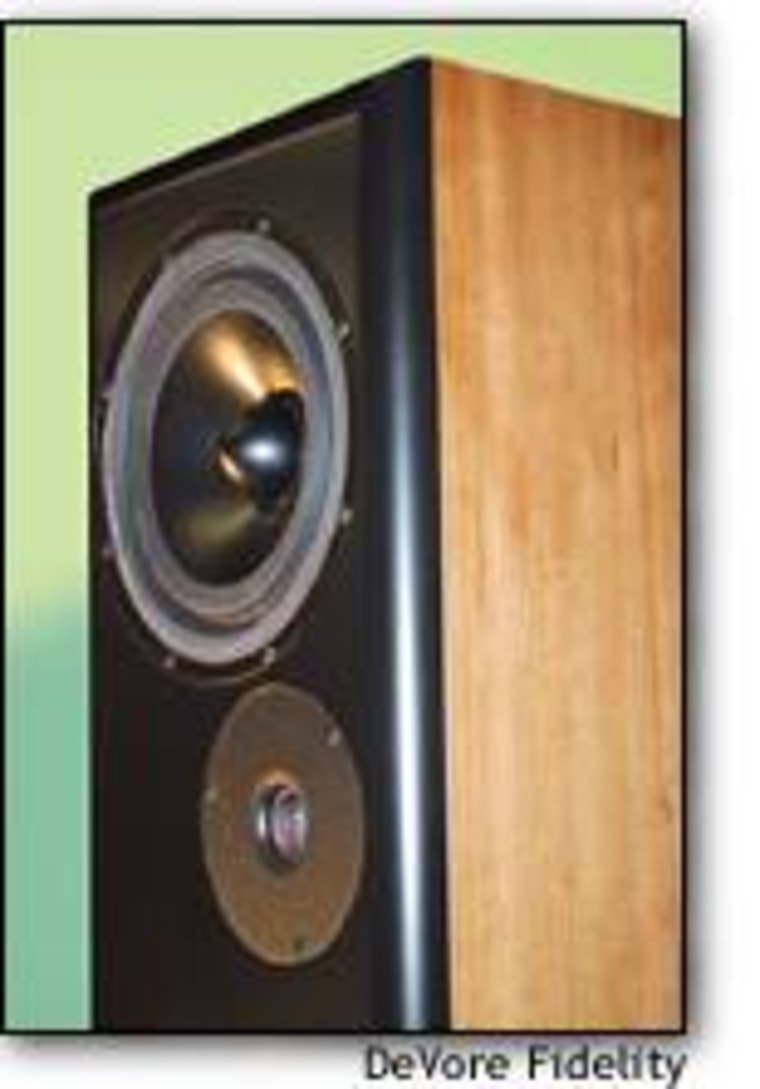 His statement on the Web site goes on to decrie audio components that "sound impressive at first, yet disappoint the listener in the long run simply because they fail to convey those ephemeral and fragile elements of music through which the artists express their intent. ... It is easy to fool the ear into perceiving a stereo image between a pair of speakers, but to go beyond that and convince the heart and mind that a living, breathing soloist or ensemble occupies the space between those speakers represents the ultimate challenge to the high-end audio designer."
THE SOUND Sounds like a lot of hocus pocus, but whatever he's doing just plain works. It's actually hard to describe just how good these speakers sound. They're clean, articulate, smooth, warm and transparent all at the same time. I am constantly amazed at just how convincing they are at making reproduced music sound real.
The speakers seem to disappear into my room. They are the least room-sensitive sound reproducers I've had in my home, a good thing since my room is a fairly hostile environment for speakers. I found the treble and midrange from this pair of Gibbon 8s to be beautiful: smooth and extended. The bass sounds deep and authoritative. Don't expect booming disco sounds but do expect an upright bass to sound like an upright bass. When I asked John how he gets those little woofers to make so much deep bass, he replied: "I don't understand why other speaker designers can't!"
As you may have guessed by now, I bought the test speakers. There was really never any doubt. I knew I wanted them when I first heard them. Everyone who has heard them in my home has also commented on how good they sound. I'm pretty sure you will too.
WHERE TO FIND THEM DeVore Fidelity speakers are sold at eight dealers (so far) nationwide, six in or near New York City, one in the Bay Area and one in Portland, Ore. That means you'll have to hunt them down, but I promise you it will be worth your time.
One last note, I originally heard the Gibbon 8s on a very, very expensive Art Audio, 15 watts per channel, single-ended tube amp. It sounded fantastic. But $3,800 for amplification would have made it difficult to keep the total system in the targeted price range. So, I've been very, very busy finding the right gear to go with these speakers. Next week, I'll tell you what I've found. I think you'll be pleasantly surprised.