The choices for listening to music on your PC grows day-by-day. In addition to CDs, ripped music files and Internet radio streams you can now groove along to two satellite radio networks — and listen to and even record your favorite FM radio station while controlling your cursor.
First, let's talk about the MouseCaster. The people at SmarTec, Ltd. have figured out how to put a FM radio receiver in a computer mouse. Nothing fancy here: This is a very basic FM radio built inside a very basic mechanical PS/2 wheel mouse (with a ball doing all the moving) selling for a very basic $29.95.
The real innovation here is the included software which lets you control your new digital radio. You can pre-set 28 favorite stations, auto-scan the entire FM dial, record a song or station onto your PC in a number of different formats (MP3, WAV, etc.), program the radio's schedule with the timer function and even turn the thing into a clock radio. You can even change the way the PC interface looks by downloading different skins.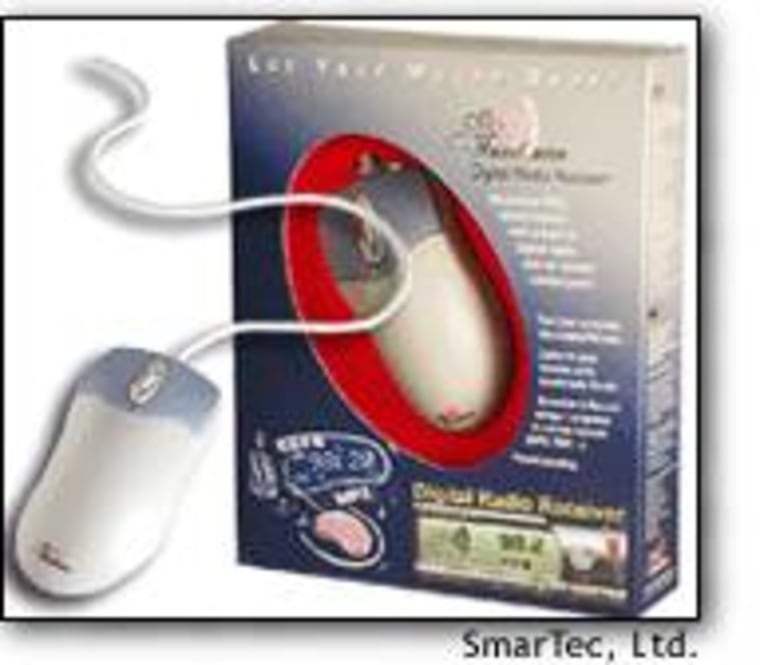 But the key word here is "basic". As I mentioned above, the mouse is a basic mechanical wheel mouse and it needed to have dust removed from its insides every few days. I guess I'm so used to optical mice that going back to an old-fashioned mechanical one takes a little time.
Also, the FM radio depends on one thin wire for its antenna. My PC at work is nowhere near a window so reception was spotty at best, but if your computer sits in plain view of a window you should be fine.
But listening to the radio doesn't require an Internet connection — and it's free.
XM'S PC radio
Then, there's satellite radio. Satellite radio costs you. There's a monthly subscription fee but the programming and selection is better. No comparison whatsoever. I've written about XM radio's SkyFi system which can provide you with satellite music in your car, home or portable boom-box depending on the options you buy. It's very, very addictive. But now, XM has come up with a radio made to plug into your PC.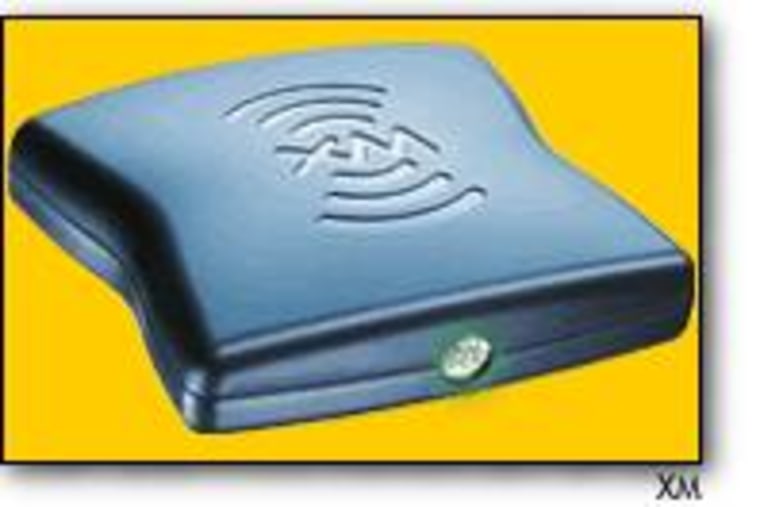 The XM PCR ($69.95) is a very simple-looking little dark box which, like the MouseCaster above, connects to a USB port for power and control, the audio "IN" jack on your PC and to a provided antenna (in this case a square satellite antenna). The software XM provides lets you see what's on the air — and control what you listen to.
Operation is quite straightforward. Once you install the PCR and activate your subscription account, just double-click on the XM icon and run the software. The first thing you'll notice is that after 10 seconds or so you're presented with the amazing PCR channel guide: a scrolling view of each and every song currently playing on all of XM's stations. You can watch the song titles and artists' names change as the songs change. It's pretty cool to be able to jump back and forth to a station if you see something you want to hear.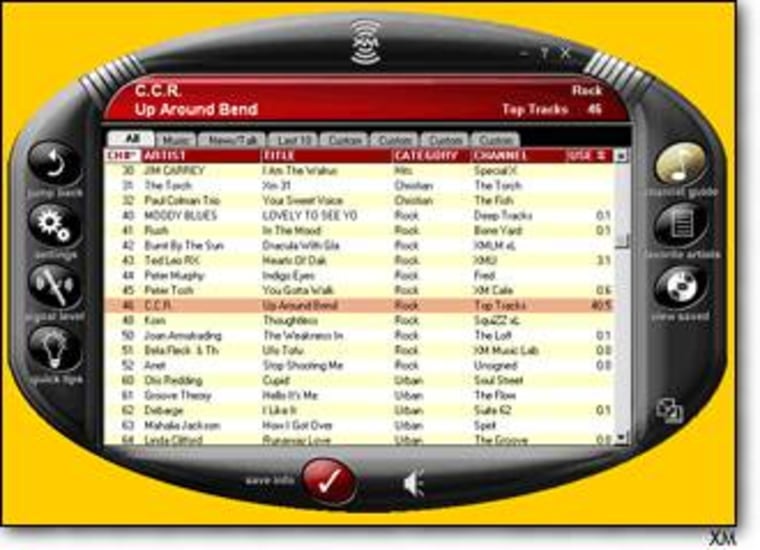 The only problem I could find was that there's no volume control on the XM interface, just a mute button. It's really a pain to have to find the PC's volume icon to make instant changes when the phone rings, etc. Hopefully XM will rectify this in the next version of the software (hint, hint).
Again, listening to and controlling XM's PCR doesn't require an Internet connection — but it does require a monthly subscription ($9.99 for your first radio and $6.99 each for the next 4 radios on your Family Plan account).
Sirius radio via the Net
XM's main competitor is Sirius satellite radio. (When I wrote a column on XM and didn't mention Sirius I was deluged with e-mails from a large number of vocal fans.) I'll cover Kenwood's new car/home Sirius receiver system in a column in the very near future but today's tome is about listening on your computer — and Sirius may be the best option. That's because if you have one Sirius receiver, PC listening is free.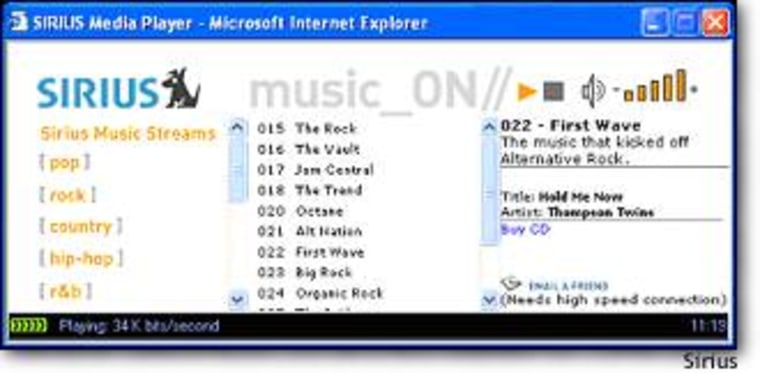 Sirius charges more than XM ($12.95 for the first radio and $6.99 each for receivers two, three, and four) but with your subscription comes password access to Sirius radio streaming over the Internet. Yes, you need to pay a monthly fee and have your PC connected to the Internet, but you can listen on all your Web-connected PCs and you don't need to buy separate radios or worry about cables and antennas.
I've become really fond of a number of Sirius radio "stations" and find myself listening a lot. At home, where my computer is near a window, I listen to my XM PCR. At work, where there's no window for an antenna but lots of Internet access I do all my listening to Sirius. I think all the people at nearby desks are doing a lot of listening to Sirius, too! Lucky them!