It is spring, time for plants and trees to bloom, and for a new crop of handheld computers to review. Palm is first out of the gate with two new devices, one with a built-in digital camera and the other a top-of-the-line model with features rivaling some of its impressive competition.
InsertArt(1876171)PALM'S NEW TUNGSTEN C looks, at first glance, like their Tungsten W cell phone device, only without the little telephone antenna on top. Its most distinguishing feature is the built-in keyboard, a first for Palm.
It seems that Palm has figured out that when you want to input larger amounts of data, Graffiti might be OK but a keyboard (even one with little keys) is better. For all you Graffiti fans, there's software inside that let's you use the entire screen to input characters.
Inside the Tungsten C is another Palm first: built-in WiFi (802.11b wireless networking). And, I can tell you it works pretty well — so far.
The Tungsten C is 4.8 by 3.07 by 0.65 inches and weighs in at 6.3 ounces. It runs on Palm OS 5.2.1, which means you're getting the latest, greatest version of the operating system, and it allows Palm to put a 400 MHz Intel XScale processor inside. Add to that 64 MB of memory (of which 51 MB is actual storage capacity); a 1,500mAh rechargeable, Lithium Ion polymer type battery; a terrific new transflective, 320 by 320 pixel screen that supports more than 65,000 colors; and an SD expansion slot — and you begin to realize this in not your father's Palm Pilot!
There's a lot of new software inside, too, including an improved version of VersaMail, Printboy printing software, Adobe Acrobat reader, RealOne Mobile Player, Kinoma Player and Producer for video, DataViz's Documents To Go, and my favorite, a VPN client for surfing my office's virtual private network. All in all, there's a lot of stuff packed into this device.
I've had the device less than a day so I have only preliminary impressions as to performance. The keyboard input is great, mainly because the keyboard itself is great: small enough to fit on a handheld computer but large enough to be useful. Initial synchronization was fast and smooth, and just about everything you've come to love on a Palm works faster than on older models.
I had to reset the Tungsten C before it found my home WiFi network. Once it did, it locked in for a smooth ride. Surfing on the Web via PalmSource's Web Browser was very, very speedy for a Palm device. But it flunked my first test: drawing MSNBC.com's home page. It didn't even come close: One part of the page was screen left and the bulk of the page was eight or nine screen widths over to the right. The Opera browser on the Sharp PDA, Handspring's Blazer, and Pocket PC's IE browsers all do a much better job of handling intricate Web pages.
VPN appeared to work, but I'm not 100 percent sure. I set up VersaMail to get into my corporate e-mail account, but it didn't seem to work the first time I tried and subsequent tries to open VersaMail gave me a very odd error message. I also attempted to sync the Palm via my home wireless network. The Tungsten C found my home computer within seconds, but had problems initiating the synchronization process. I'm hopeful that with a little more time I'll be able to figure out what's going on and get everything to work the way I'd hoped they would.
If and when that happens, I should be able to recommend the C. On paper it can do most of the things any of the current Pocket PCs can; I just need to figure out how to get my test sample to do so in real life. The Tungsten C is priced at $499 to give some of those same PocketPCs a run for their money.
OPEN, POINT, SHOOT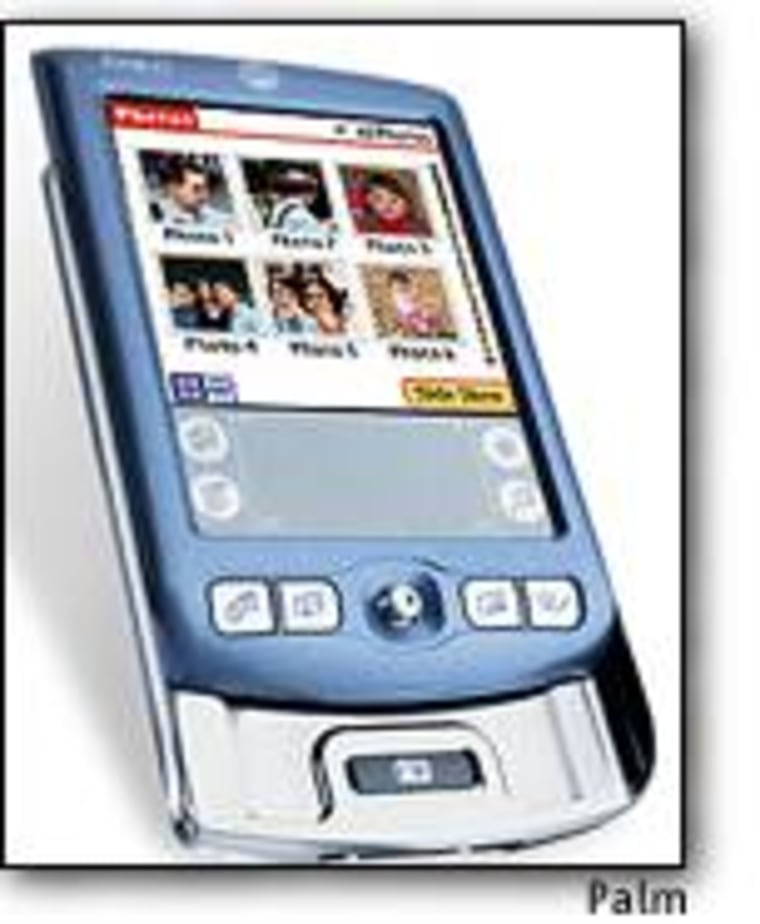 Palm's other new PDA is in their less-expensive Zire line.
The Zire 71 is a wonderful little device and the camera really works! The device is 4.5 inches high when the camera is closed (5.3 inches when open) by 2.9 inches wide and 0.67 inches deep (plus a little more for the 5-way navigation device). It has the same terrific color screen as the Tungsten C and weighs in at 5.3 ounces. The Zire 71 also has OS 5.2.1 inside, but this time the processor is a 144 MHz Texas Instruments ARM chip and there's a more normal (for Palms) 16 MB of SDRAM memory inside. The rechargeable battery inside is a 900mAh Lithium Polymer type.
A lot of the new software that comes with the Tungsten C is also included with the 71, but the big deal here is the camera.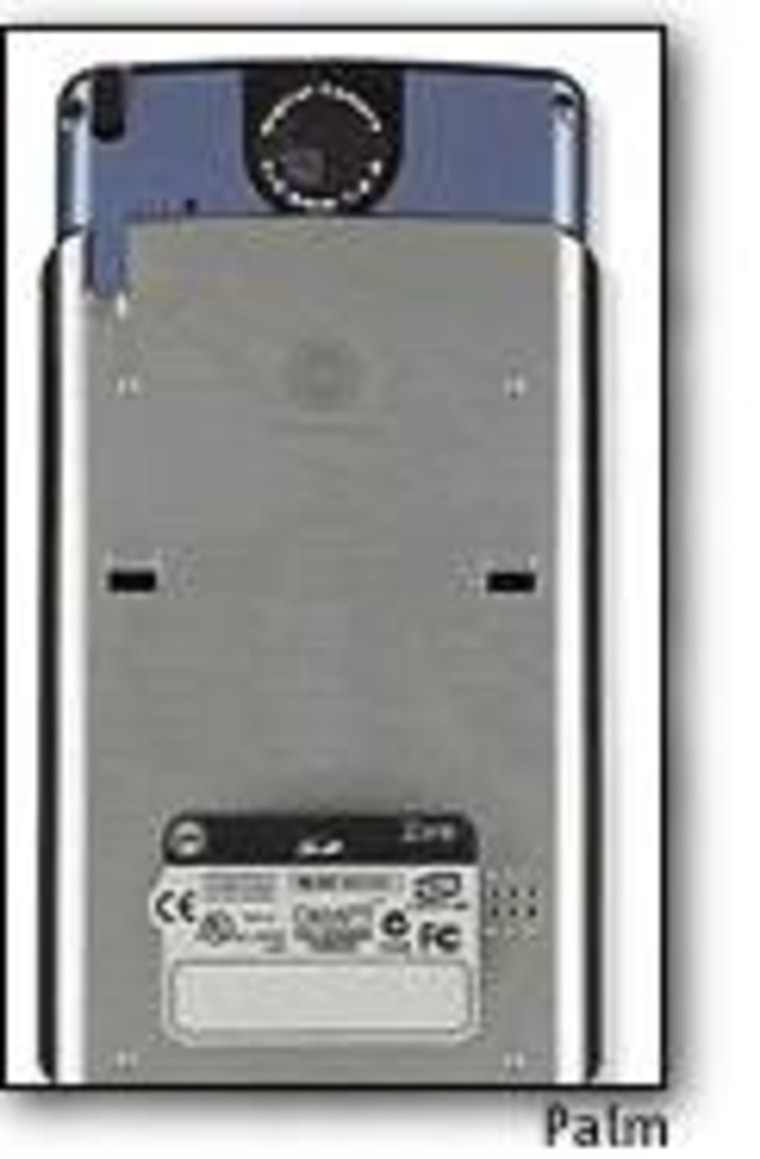 Holding on to the device and sliding the screen up reveals a shutter button up front and a camera lens on the back. At the same time, Palm's new camera application pops up on the screen to show you what the camera sees. It's that easy! True point-and-shoot.
The camera does 640 by 480, 320 by 240 and 160 by 120 pixel resolutions. I found picture quality to be fine for snapshots. Don't expect 11 by 14 blow-ups, but do expect the auto exposure and white balance controls to do a nice job with your images — which are automatically downloaded to your home computer when you synch. Overall, I found the camera simple to use and a nice addition to a Palm PDA.
The Zire 71 retails for $299 and comes with a protective carrying case. I think it's a wonderful little PDA and the addition of a cute digital camera makes it a very attractive package.