There are more than ten thousand people registered to attend this year's Consumer Electronics Show. A melding of the computer industry and all the other electronic ones, CES has become the premiere industry show each year. This time around, if attendees know where to look, they're going to find some very sophisticated new items to drool over.
InsertArt(1751080)THE HOTTEST NEWS comes from navigation experts Garmin International, makers of some of the most sophisticated GPS devices around. I was recently in a taxi with a full-blown color Garmin device (StreetPilot III) installed and was fascinated by the constant stream of information coming from the dashboard box: what the next street is, the fact that you're 2.1 miles from your destination, etc. I was impressed.
Now they've taken that same location sensing and added it to an amazing Palm OS PDA. The iQue 3600 is small (5.0 by 2.8 by 0.8 inches) and weighs only 5.2 ounces. It runs on the latest version of the Palm OS (5.1), on a 150 MHz Motorola MXL ARM 9 processor, comes with 32 MB of DRAM, an SD card slot and a huge 320 by 480 pixel TFT screen.
When it hits the market this spring, the 3600 will come with the MapSource City Select CD-ROM (for all the maps you'll need), a leather flip cover, USB cradle and more. It should retail for $589.
On the Pocket PC side, eyes are drawn to HP/Compaq's new, tiny h1910. It's the smallest Pocket PC on the market (4.46 by 2.75 by .50 inches), weighs 4.23 ounces and should fit in everyone's pocket. Inside there's a 200 MHz XScale chip and 64 MB of SDRAM. It comes with all the Pocket PC goodies you can think of and as soon as someone comes up with an SD 802.11b card it will be hard to beat. Suggested retail is $299. It's very difficult to resist a full-featured Pocket PC in the size and price range of Palm OS devices.
FLIPPED OUT CELLULAR Nokia is showing one of the hottest cellular phone designs I've ever seen. Their upcoming 6800 is incredible. When it's folded, it looks like an ordinary, modern-day handset with a nifty color screen. But, flip-up the keypad and you won't believe your eyes. You now have a pretty cool-sized, full QWERTY keyboard with the color screen in the middle. The screen even rotates sideways for proper orientation!

When opened, this dual-band (850 and 1,900 MHz) GSM/GPRS phone is 4.67 by 2.15 by 0.91 inches and 4.3 ounces. The screen is 128 by 128 pixels. In addition to the keyboard there's a 4-way joystick control, voice dialing, speakerphone, XHTML Web browser, Java application technology, a whole bunch of PDA applications, a built-in stereo FM radio and features like a digital lock screen saver. And I'm just scratching the surface.
The 6800 is due in the second quarter of 2003. Prices and cellular carriers have yet to be announced. Nokia says later this year they'll be adding RIM's Blackberry e-mail services to the 6800. That alone should make the 6800 the cell phone to covet this year.
Many cellular handset companies are showing digital cameras built-into their phones. Some notable examples are Nokia, Motorola and Samsung. They all look very nice but I'm not sure I need a low-resolution camera in my cell phone. But, according a number of manufacturers I've been speaking with, the buying public loves them. If that's the case, I really liked the way Motorola's tiny V600 GSM world phone felt in my hand. The built-in Bluetooth didn't hurt either.
WHO NEEDS A TABLET? Logitech is best known for their keyboards and mice. They should now also be known for what they call a personal digital pen, the io. It may be large for a pen, but it is small for what it does.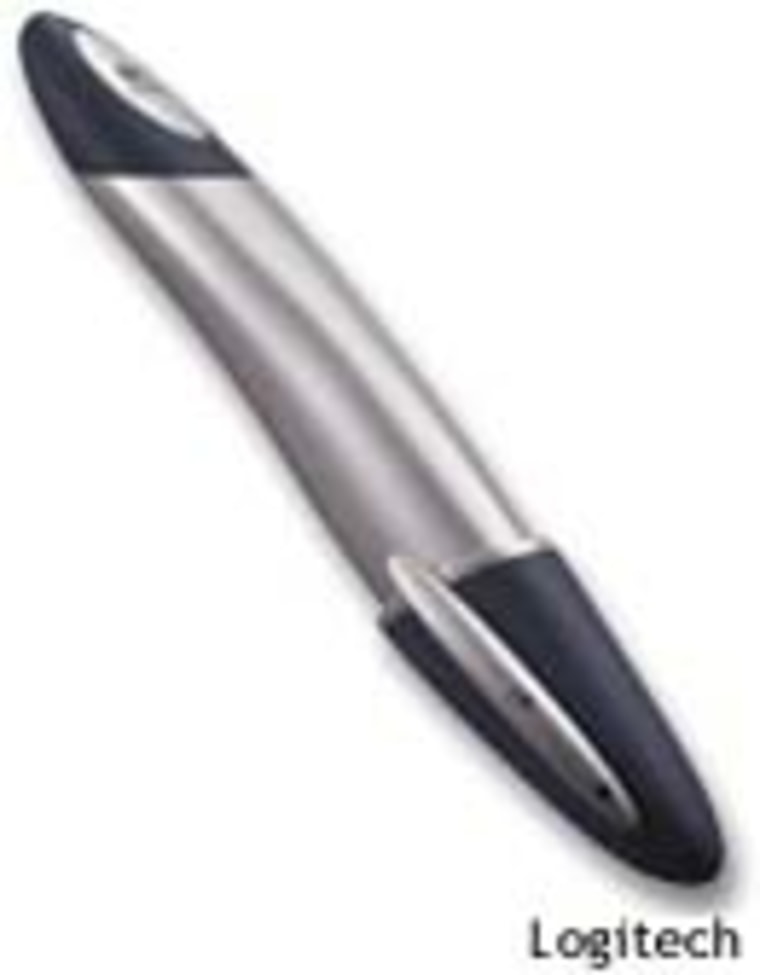 The io is made to order for people like me, who still need to take notes with pen and paper, then type up those notes and distribute them. It's a ball-point pen inside a rechargeable, handheld computer. You can write up to 40 pages of stuff on io's special digital paper and an optical sensor captures your every pen movement. Then place the io in its USB cradle and all the information is downloaded to your PC.
Io comes with a supply of digital paper (a notebook and Post-its), an AC adapter and 5 pen refills and it retails for $199.95. It is available now on many online stores and from Logitech's Web site.
There are lots more cool products to talk about, but I'm needed back on the show floor. Next, I'll tell you about digital cameras (a 5 megapixel model for under $500 and an 11-megapixel monster I tried lifting) and I'll try to explain why Morgan Fairchild is in Las Vegas to help Swanson celebrate a TV dinner anniversary!