This is a difficult device to pin down. Is it a cellular phone with some terrific wireless data capabilities plus a few extra goodies? Or is it a wireless Web browser with e-mail, SMS, AOL Instant Messaging, Address Book, Calendar, To Do list, Notes, a digital camera and a gaming device plus a cellular phone inside? However you look at it, this little device has a future.
InsertArt(1648039)IT STARTED OUT life as the Danger Hiptop (a contraction of hip and laptop) and now T-Mobile is selling it as the "Sidekick". The key concept here, though, is still "hip". This is a device created for the young. Danger's reviewer's guide says the device is being targeted at "Internet-savvy, primarily urban, young adults in the 18-43 year old demographic who seek communication on their own terms." Whatever that means.
After playing with a Sidekick for a few weeks in two separate sessions I can say that it does some things incredibly well; others, well, they leave a lot to be desired. But, overall, this device is a leap forward for the all-in-one wireless market.
Let's start with the size. Officially, the Sidekick is 4.5 x 2.6.x 1.1 inches and weighs 6.2 ounces. The dimensions don't really tell the entire story. Because of rounded edges, the device looks and feels like a bar of soap with a black and white screen on one side. This shape works pretty well as a data device — but is horrible for a cellular phone. Just try holding a bar of Palmolive up to your ear and talking! At least Danger includes a cellular headset in the box. The Sidekick doesn't easily fit in any pocket and although they sent a nice little pouch I've yet to see a holster to clip it to my bag or my hip.
The most startling feature is that the screen pivots to reveal a terrific, hidden QWERTY keyboard underneath. The Sidekick doesn't have a touch-screen, so the keyboard is the basic means of input. That's OK, because for a small device the keyboard is pretty easy to use. And, when the screen pivots up or down the image on the screen flips so that everything is always readable whether the device is open or closed. Very cool!
There are a few, somewhat confusing, navigation buttons as well. There's one called Menu which does what it says and shows you the pull-down menu for any program. Below it is the Jump button, which takes you to the home screen. From there, you spin the thumb-wheel dial (on the right) to change and/or enter applications. The dial has another purpose: Multi-colored LEDs inside it light up when you get a phone call, or someone is trying to reach you with a data message. Beneath the dial is the Back button which takes you back one screen. The learning curve is on the high side with these buttons; when you first play with the Sidekick it takes a while to master. There's also a 4-way directional pad on the keyboard primarily for use during gaming.
Sound quality is pretty good, thanks to a cool MIDI-synthesizer built-in. Alerts range from annoying noises to pleasant music to a stern woman's voice announcing you have a "NEW MESSAGE".
Inside the Sidekick is also a 1350 mA rechargeable lithium battery. Charging is best left for overnight sessions (it takes a while), but battery life is nearly two days of mixed use. Danger claims 3 hours of data/talk; 60 hours of standby time.
The Sidekick allows for automatic over-the-air updating of software, opens HTML Web pages, Microsoft Word document attachments and PDF files and translates them for viewing on your device. You're always connected to Danger's server which means you're always connected to your Danger POP e-mail address. If you need your corporate e-mail pushed to a wireless device, stick with RIM's BlackBerry. Future updates will include downloadable applications and content, partnerships enabling users to sync to their corporate desktops and e-mail and improved instant messaging.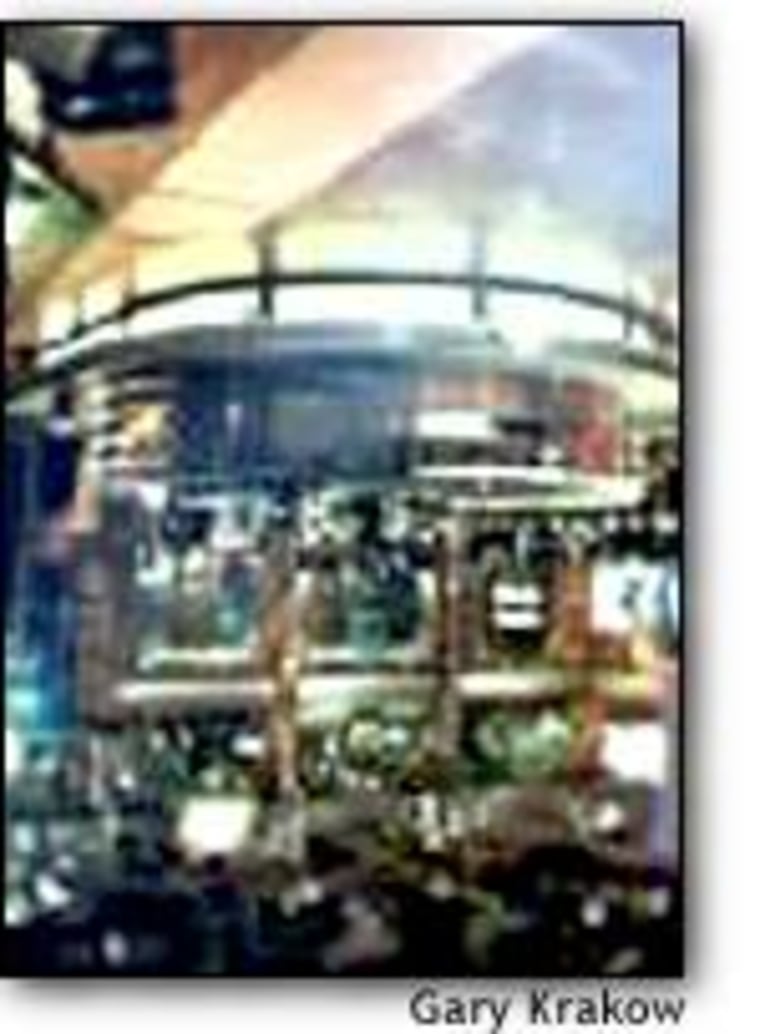 My Sidekick came with a camera that plugs into the headset jack. It's easy to use, but the teeny, tiny, 120 x 90 pixel picture quality is horrible. One thing to note: On the Sidekick screen, your pictures are displayed in black and white. But send them as e-mail attachments and you realize they're really color. Not very good quality, but color.
AS A PHONE, IT'S A GREAT HANDHELD
As a telephone, the Sidekick leaves a lot to be desired. Even though it works as advertised, I'm not a fan of holding this thing up to my ear and I don't like using a headset. I would have hoped that Danger would have figured out how to include a speakerphone. Maybe they'll do so in a future model.
Dialing with the cover closed is a nightmare. You have to turn the wheel to select a digit then press the wheel to store it. Doing this ten times for each phone number is a pain. Dialing with the cover open is a little better. At least then you have the numbers embedded in a keyboard keypad. Neither is really acceptable. At least you can press an on-screen button to answer calls.
Rating Sidekick solely as a cellular phone it would rank it slightly better than the RIM phone and nowhere near as versatile as the Handspring Treo or any other cellular phone.
The other major flaw is the fact that this device synchs with nothing at the moment except Danger servers. Most other currently available wireless data devices connect with your personal computers PIM (personal information management) software, but not the Sidekick. You can save your computer phone book as a separate file and then upload it to a Danger Web site. From there the information is automatically downloaded to your device. That sounds like a good solution — until you have to add or delete a name on the master list.
Also, you can't dial easily from the downloaded contacts list. You can do so from inside the Phone program but not from inside Danger's Address Book application. That just doesn't make sense. The device comes with a USB cable but the instructions say to use it only when you have to reload software if there's a problem.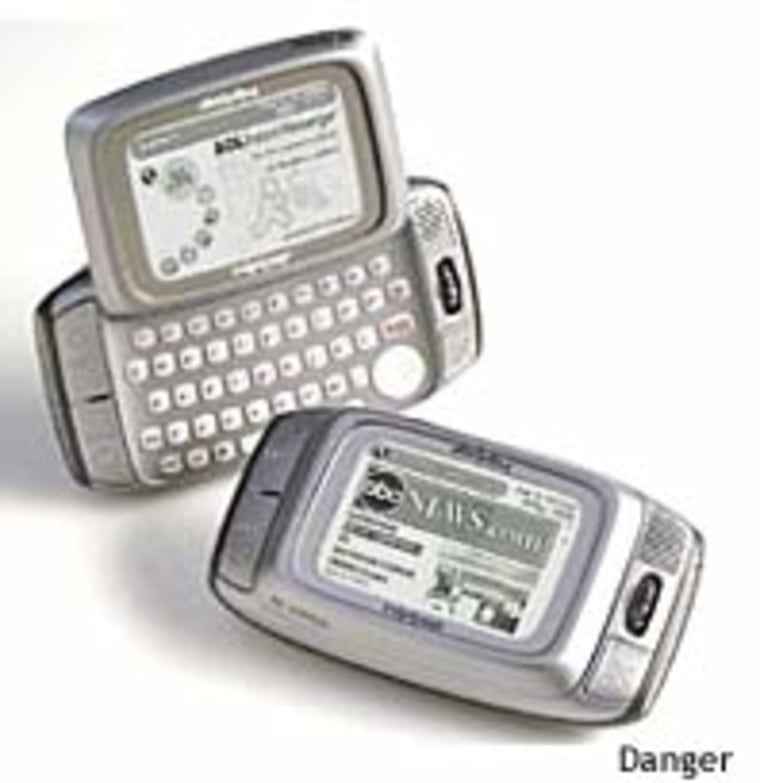 With all that said, what the Sidekick does well it does very well. To give you an idea of what I'm talking about, on Monday I used the device to chat with someone on AOL IM, monitor and bid on an eBay auction and answer an e-mail — all at the same time. The browser is very good and very legible for such a small screen. AOL IM works seamlessly in the background. My e-mail was delivered within seconds of being sent. Answering it was intuitive. As an always-connected data device, the Sidekick is a winner.
GREAT SUBSCRIPTION DEAL The Sidekick is designed to run on the GSM/GPRS cellular network, GSM for the cellular phone calls and GPRS for high-speed data. Beginning yesterday, T-Mobile (formerly VoiceStream, formerly Omnipoint) took control of marketing the device. This is important because what they're doing could ensure its success.
First, the price. T-Mobile is selling the device for $199, after a $50 rebate. That alone puts it at a price advantage over the Treo and other similar cellular/data devices. But T-Mobile's big deal is what they're charging for using the Sidekick. They're offering 200 anytime cellular minutes and 1,000 weekend minutes all with free long distance plus UNLIMITED data usage for $39.99 a month. For all other cellular devices, you have to sign-up for a very expensive data plan in addition to your monthly phone call minutes. T-Mobile is cleverly answering my original question. From their pricing model, they're saying it's a data device — which you might also use as a cellular phone. But primarily it's a data device.
If I was representing Handspring or any of the other GPRS cellular phone manufacturers out there I would be pressing T-Mobile to offer similar voice/data deals for their devices, not just the one branded with T-Mobile's name. This is especially true for Handspring - about to announce always-on data/GPRS updates for its Treo communicators. Why should these devices be marketed at such a disadvantage? Cellular carriers shouldn't look to data services as a method to soak potential customers. The Sidekick marketing plan of all-you-can-eat data for one price should be standard through the industry.
While the T-Mobile Sidekick isn't perfect, there's a whole lot to like and it is a lot of fun. Actually, I found it difficult to put it down. I love the fact that with its service price advantage the Sidekick could turn out to be a very popular device.
I've tested it in the New York City area and in Colorado from Denver to Vail. I can happily report that it works (except, of course, that no T-Mobile unit ever receives a signal at MSNBC's New Jersey headquarters). I can also report that when you begin playing with it, the Sidekick stops traffic in all directions. It is very cool.
I think Danger and T-Mobile are targeting the wrong age group. T-Mobile should go for the 18-34s, but also target young teens. I know that my 12-year-old niece Courtney would just love this thing. Two years ago, at age 10, I handed her a Pocket PC fitted with a wireless Ethernet card — but no explanation on what to do with it. More than an hour later she returned it to me, having spent most of the time IM'ing her friends and surfing the Web. All she said to me was "it needs a bigger screen." She now has her own cell phone and this device just screams out to her