Anyone looking for signs of how deep video gaming runs in American culture need look no further than the football genre which has racked a rapid fan base and tens of millions of dollars in sales over the years. The Football Hall of Fame, that old fashioned hallmark to blood and mud, even has a corner dedicated to football video gaming.
Hell, for many pro football players, the greatest accomplishment outside of a Super Bowl ring is the chance to trade in their jock straps for joysticks for the annual Madden Bowl, an elimination "Madden NFL" tourney.
Given this mystique, late summer has become a time when game companies flood the market with football games. Titles from Microsoft, Sega and 989 Sports — among others — have already hit retail, all looking to replace Electronic Arts's "Madden NFL" as the king of gridiron gaming.
So which title says "dynasty?" And which says "Cincinnati Bengals?"
Football gaming 101
But first, the basics. Your average NFL football video game boasts a number of features such as artificial intelligence attuned to the NFL rule book, rosters of all 32 NFL teams and online play capability. The production values are high, with each title boasting audio commentary by well known football announcers as well as a polished, TV-riffic presentation.
The objective is realism. The better a title can execute NFL's Byzantine playbook — while looking fabulous — the better the sales. Likewise, the better a player understands the complexities of football, the more he or she will get out of the $40 or $50 investment. Let's start with the series that has defined the ultimate in realistic football gaming for the last 14 years.
"Madden NFL 2004" By Electronic Arts
"Madden NFL 2004" is the "Ulysses" of the gaming world, a content-rich epic of major time-suck proportions.
New for 2004 is the "Owner" mode where you can build new stadiums, raise concession prices, manage salary caps or pull an Al Davis and move to another city. Short of the obligatory visit to the local strip club, the entire NFL experience is represented.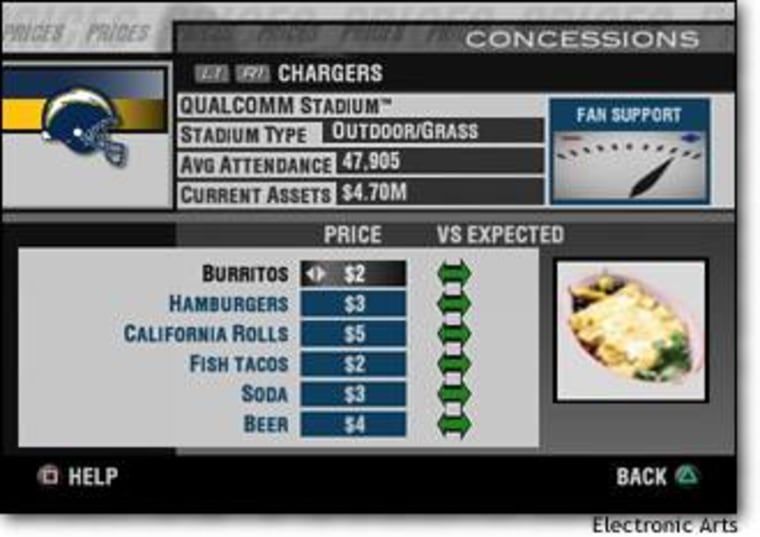 Gridiron action is supplemented with scrimmage line and post-snap adjustments called "Playmaker Control." Prior to the snap, "Playmaker" allows you to send men in motion or switch the direction of a run. After the snap, "Playmaker" helps running backs direct blocks or change the route of receivers. It's great on-the-fly control that adds complexity to the game.
There are a couple of issues. As reported by MSNBC contributor Steven Kent, the graphics look little different from the 2003 version. John Madden's audio babbling sounds more disconnected here than in real life (if you can imagine that). And online play is limited to the PS2 version.
But overall "Madden NFL 2004" succeeds with a lushly packaged visual and audio extravaganza. Everything screams NFL from the "Triumph of the Will" camerawork to how the camera gets fooled, briefly, by a play-action. And game play pacing is spot-on with the replays and audio commentary all creating a sense of urgency that makes your 15 minutes in front of the tube a matter of great importance.
It's so realistic, that gamers may not know whether to play or just kick back with a beer and watch.
"ESPN NFL football" By Sega
ESPN's recent decision to use "Madden NFL 2004" as a visual aid for its weekly pre-game show highlighted not only EA's masterful PR machine, but Sega's curse. Every year Sega releases a quality football title. And every year said title is crushed by the "Madden NFL" juggernaut.
The ESPN television deal sounds especially bitter as Sega teamed with ESPN to produce "ESPN NFL Football." This is perhaps the best melding of television and interactive talent. Production is tight with audio commentary by Peter O'Keefe and Dan Stevens meshing with onscreen action.
For actual play, Sega has ditched last year's radial play selector for a more standard (i.e. Madden-like) play selection screen. The running game is perhaps the most fluid of all titles. While the passing game now features "maximum passing," a mode allowing you to direct pass placement via the left analog stick.
Also new this year is the first-person football mode where you can experience the game through the eyes of any player. Sega makes the first-mode actually playable by giving you the option to slow down play. But such tweaks don't remove the absolute terror of receiving a kickoff where your view jumps from the oncoming stampede to the sky and down to the grass in seconds.
Sega rounds off "ESPN NFL" with online play, the usual franchise mode and "The Crib," an ESPN meets McMansion setting that houses trophies and additional interactive doo-dads unlocked by your gridiron skills.
So with all these features can "ESPN NFL Football" outsell "Madden NFL 2004"? Are you kidding? But gamers who make the purchase won't be disappointed.
"NFL Fever 2004" By Microsoft
"NFL Fever 2004's" launch coincides with that of XSN Sports, Microsoft's online sports community for the Xbox. Here's the good news: XSN Sports may become the online experience to beat. In addition to housing tournament and season setups, drafts and message boards, XSN Sports comes with an easy interface and big ideas for the months ahead.
Now here's the not-so-good news: XSN Sports is limited to "NFL Fever 2004" and other Microsoft titles.
That being said, "Fever 2004" adds more player control with "read and lead" passing, a new feature that allows you to reposition your throwing target, "leading" the receiver off his play pattern and free from coverage. Yet despite this added feature — which is a great asset — "NFL Fever 2004" can't match "Madden 2004" on the intensity meter. Some animations slow down to the point where they resemble replays. And while the audio commentary by Kevin Calabro and Ron Pitts is occasionally enlightening, they sound so quiet that I was almost wishing to hear Madden babble.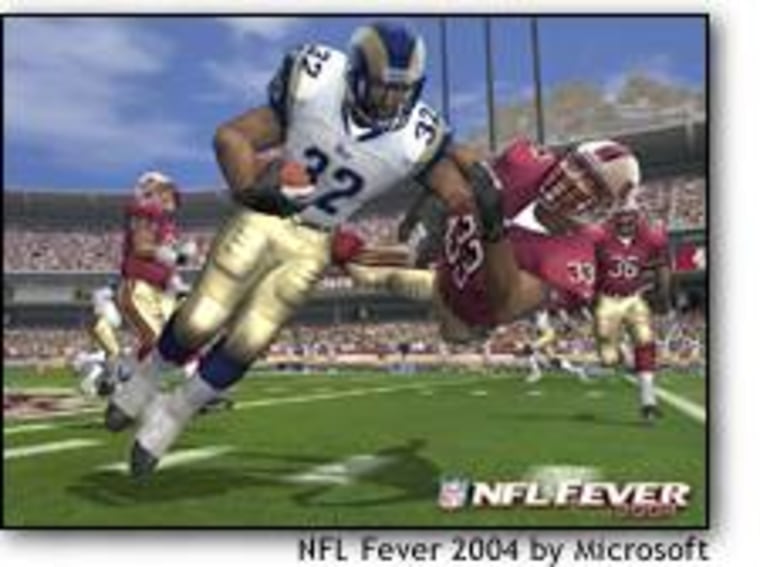 "NFL Fever 2004" excels, however, in features for the newbie. Practice camps and a "Chalk Talk" explain football basics. In game play-picking can be filtered by hopeful outcome like "Run up the middle." "Coach's help," another feature, offers audio explanation of a particular play's strength and weaknesses. "NFL Fever 2004" represents an improvement, but success hinges on whether XSN Sports online playability is all that it claims.
"NFL GAMEDAY 2004" BY 989 SPORTS
"NFL GameDay 2004" is a no frills, workman-like production. With little of the glamour of "Madden NFL" or "ESPN Football," the whole experience feels generic.
The title scores points, however, with its excellent online play. And with a Playstation 2 USB headset, players can tap into their inner-Gruden and bark out offensive and defensive commands such as "Linebacker Right Shift" prior to the snap.
For choosing plays, "GameDay" includes a "filter play" option which parses plays based on the situation. So, in the case where your competitor has the ball on your five-yard line, you can pull up the filter menu and select "Stop short run."
Despite this effort to the newbie crowd, "GameDay" lacks in the tutorials. Among the title's boasts is a massive library of over 600 defensive and offensive plays. Would it hurt to at least explain the basics as to why, say, you would choose a 3-4 over a 4-3? Are you confused by the previous sentence? You won't find any explanations in "NFL GameDay 2004."
College ball
For those who cherish peppy college fight songs over "Dr. Who" anthems we have "NCAA Football 2004" by Electronic Arts and "NCAA Gamebreaker 2004" by 989 Sports. Both titles host at least 100 NCAA teams and their 2003-4 schedules. And both feature unique college plays as well as a host of Athletic Director features such as recruiting. As in the professional version, the edge lies with Electronic Arts. The college atmosphere — the stadiums, mascots, fight songs — comes across so effectively that post-collegiate gamers will have nightmares about finals all over again.
And as before, the best players developed under your tutelage in "NCAA Football 2004" can be ported over to "Madden Football 2004" as a draft class. Perfect synergy.
And perhaps an excuse to buy a new couch.
When not babbling about computer games, Tom Loftus produced interactives for MSNBC.com