Police in South Salt Lake, Utah, are working with eBay to determine just how many people were victimized by what authorities say was one of the biggest frauds in the auction site's history. Police arrested 31-year-old Russell Dana Smith last weekend after hundreds of auction winners complained that they sent $1,000 or more to a company named Liquidation Universe for laptop computers they never received. Police say the firm appears to have raked in $1 million from about 1,000 victims in just a few weeks.
Meanwhile, would-be buyers are also pointing the finger at SquareTrade, an eBay seller verification service, which had vouched for Liquidation Universe's legitimacy — and, the buyers thought, offered a fraud guarantee.
Detective Darin Sweeten said Smith set up his Liquidation Universe shop in a tiny South Salt Lake strip mall in February.
"It was just a small business in a small strip mall. I know that he did not do any public walk-in traffic," Sweeten said. The store sold exclusively on eBay.
Liquidation Universe, which actually began selling on eBay in October, received high marks until mid-May, said eBay spokesman Kevin Pursglove. In fact, it had 750 positive ratings from customers.
But then complaints started rolling in from customers who had sent money but never received their item — in most cases, a laptop computer. On May 16, eBay shut down the account and told local police and the FBI.
"This one is going to be among the higher amounts of fraud we've seen, both in number of victims and in dollar amount," Pursglove said.
It's not clear if the firm was designed from the start as a scam, he said, or if it was simply a business which went sour and could no longer deliver to its customers.
Sweeten said the town's cybercrime unit, which was formed during the 2002 Olympics, quickly began surveillance of the strip mall. On May 22, when it appeared employees were packing up boxes and planning a move, police obtained a search warrant and seized company records.
Smith was arrested June 8 and is currently being held without bail.
Since the arrest, police have heard from about 1,000 victims who say they have lost $1 million to Liquidation Universe, Sweeten said.
"It's bold, something that was very organized. They were very skilled at what they were doing," he said.
So skilled, in fact, that Liquidation Universe had participated in eBay's new SquareTrade seller verification service, which is run by a third-party company, SquareTrade.com. The company's principal business is online dispute resolution, Pursglove said, but it also offers a special program designed to reassure auction buyers that they won't be scammed.
SquareTrade logo called deceptive
Participating sellers pay a fee to SquareTrade, which then verifies the seller's identity and provides a special, Good-Houskeeping type logo place on the auction listing.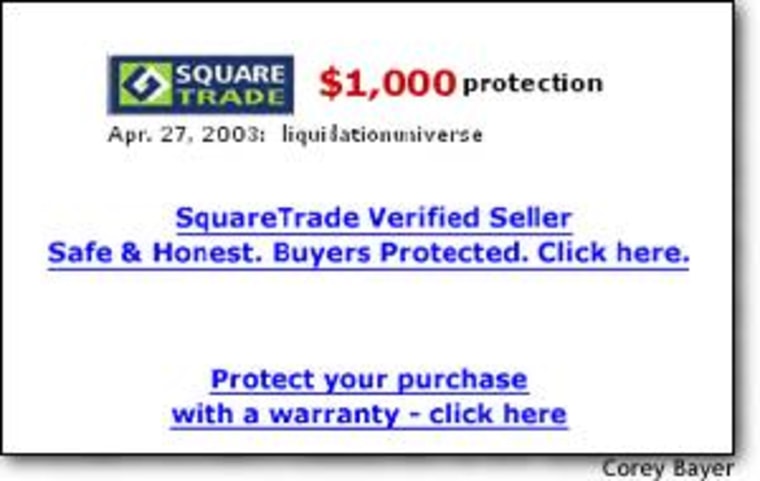 But the logo, consumers say, was deceptive. It included the words "$1,000 protection." Many consumers believed they would be reimbursed up to $1,000 if they ran into trouble with their auction. But actually, buyers have since learned, SquareTrade's protection was capped at $1,000 per seller, not per buyer — leaving a tiny pool of cash to be spread among victims.
SquareTrade CEO Steve Abernathy did not return phone calls.
"I bid on an auction that ended April 27 and paid $1,261 and bought 2 laptops," said Corey Bayer, of Jamestown, N. D. "I saw the $1,000 fraud protection. There was no, 'Click here for details.' But I assumed the most I'm going to be out is $261, so I took the chance."
But when the auction started to go south, and it appeared he wouldn't get his computer, Bayer went to SquareTrade and checked its terms of service. Then he realized he wasn't really protected against fraud after all.
"The guarantee is a maximum liability per seller, not per buyer. So say there's 100 of us, we all get $10 apiece," he said. "This logo doesn't hold any water at all."
EBay sent out a letter to the victims on Wednesday apologizing for the incident; the letter indicated that Square Trade was going to alter its policy in this case, saying the firm has "agreed to make some additional money available to defrauded users."
Pursglove confirmed that eBay was working with Square Trade to provide additional benefits to the victims.
But on a private bulletin board and Web site devoted to helping Liquidation Universe victims get their money back, most say they are still angered by SquareTrade's logo program.
"Most of us made our purchases because the logo was put on there," Bayer said. "Otherwise, I would have never made the purchase."