/ Source: The Associated Press
The 3-year-old boy abducted from his family by gunmen almost two weeks ago is back home Sunday, shorn of his long, curly hair, but apparently unharmed after being found wandering the streets of a Mexico border town.
Briant Rodriguez rejoined his family after being hospitalized overnight for a physical and emotional evaluation. Police have not questioned him about his ordeal, but plan to do so in coming days after the boy has time to settle into his normal routines at home.
"Physically, he's in good shape. He was obviously fatigued," Cindy Beavers, a spokeswoman for the San Bernardino County Sheriff's Department, told The Associated Press.
"I'm sure there is some trauma from being apart from his family for two weeks," Beavers added, calling his safe return "an amazing outcome."
Authorities said Briant was kidnapped May 3 by two gunmen who burst into his family's modest home and tied up his mother and four of his siblings.
Will meet with investigators
A local police officer found him wandering the streets of the border town of Mexicali late Thursday. His long, curly hair had been shaved but authorities said he looked fine otherwise.
"At some point when he's interviewed, he may or may not tell detectives when that happened and possibly who did it," Beavers said. She added that the boy will meet with detectives trained to question youngsters.
The Mexicali officer initially thought Briant was from the neighborhood and took him to several houses seeking his family before leaving him in child protective custody. Mexican authorities then contacted U.S. officials.
FBI agents traveled to Mexicali to handle immigration paperwork for the boy, who holds dual U.S. and Mexican citizenship. The agents then brought him across the border, where he was reunited with his mother, Maria Rosalina Millan, in Calexico on Saturday.
Gerardo Franco, a spokesman for the Baja California state prosecutor's office, said he understood Millan was not reunited with her son in Mexicali because she is an illegal immigrant in the U.S. and was afraid to cross the border.
Sheriff Rod Hoops declined to discuss Millan's immigration status, but he stressed that Briant is an American citizen.
"He was born in a hospital in San Bernardino and he has every right to be here," Hoops said. "That's why we worked so hard to get him back.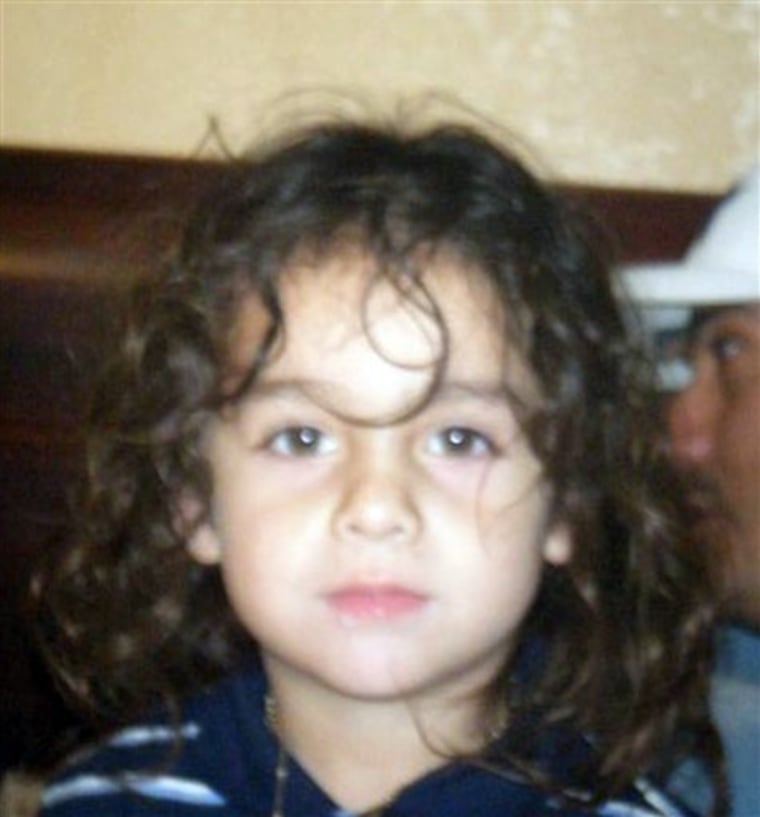 "I've been doing this for 30 years. I'm not saying it doesn't happen ... but the odds of finding him safe and alive — the odds of finding him alive — went down every day," the sheriff added.
Closing in on two men
He said authorities believed they were closing in on at least two men suspected in the abduction when the boy was found.
"We identified some suspects," he said. "I can't specifically say if the suspects let him go or if he wandered away, but I have to think the suspects let him go."
Federal and local investigators have said they were looking at several theories, including one that the Spanish-speaking kidnappers were from Mexico and may have had ties to organized crime there.
Threatened to shoot mom
The kidnappers never demanded a ransom, and authorities said it didn't appear they knew the family.
Briant's father was at work and two of his oldest siblings were not home when the men burst into the house about 60 miles east of Los Angeles.
Briant's mother said the men tied her and her four other children up and robbed the family of money and property.
"They grabbed my kid, told me 'I'm going to take the kid to Mexico and I'm going to kill him,'" Millan told reporters in Spanish shortly after Briant was taken. When she pleaded with them not to take him, she said, they threatened to shoot her.