The U.S. military says it has flown trained dolphins to a key southern Iraqi port in a deadly serious effort to sweep for mines. It's the highest-profile assignment yet for a military marine mammal program that goes back to before the first Gulf War.
British troops declared the southern Iraqi city of Umm Qasr secured only on Tuesday, and its port is quickly being prepared to receive seaborne humanitarian aid shipments from the U.S.-led coalition, perhaps starting within 48 hours.
But before the port can be used, it has to be cleared of any underwater mines. Coalition forces said they intercepted several disguised ships in the Khor Abdullah waterway that held nearly 100 mines, but minesweepers have found no embedded mines in the water.
That's where the Atlantic bottlenose dolphins come in: The U.S. Navy has trained the dolphins to search seabeds, identify mines and mark them for disposal by humans. Several military dolphins have been flown in from Bahrain to check Umm Qasr, NBC News reported.
A spokesman for the Navy's 5th Fleet in Bahrain, Lt. j.g. Josh Frey, told MSNBC.com that the dolphins are more naturally suited for underwater mine detection than humans are.
"In shallow water environments like the North Arabian Sea and its ports and bays, there is a lot of man-made and biological noise," he explained. "The capability that mammals bring to demining efforts is that they have a very sophisticated form of biological sonar ... to help them avoid predators and find food. These natural adaptations make the mammals valuable to Navy human personnel."
Navy researchers say the dolphins' sonar sense is better than hardware sonar, and their low-light vision and directional sense of hearing are also exceptionally acute.
The dolphins were trained for military duty by the Navy's Marine Mammal Program, headquartered in San Diego. Mine disposal experts are also using underwater robotic vehicles to check for threats.
For decades, dolphins as well as sea lions and even beluga whales have been trained to perform a variety of military tasks. In the 1970s, dolphins were used as marine watchdogs for ships off the coast of Vietnam. In 1987, dolphins played a role in underwater surveillance as well as mine detection for U.S. ships in the Persian Gulf region during the latter days of the Iran-Iraq war.
In the current conflict, sea lions have been deployed around coalition ships in Bahrain for "force protection," Frey said.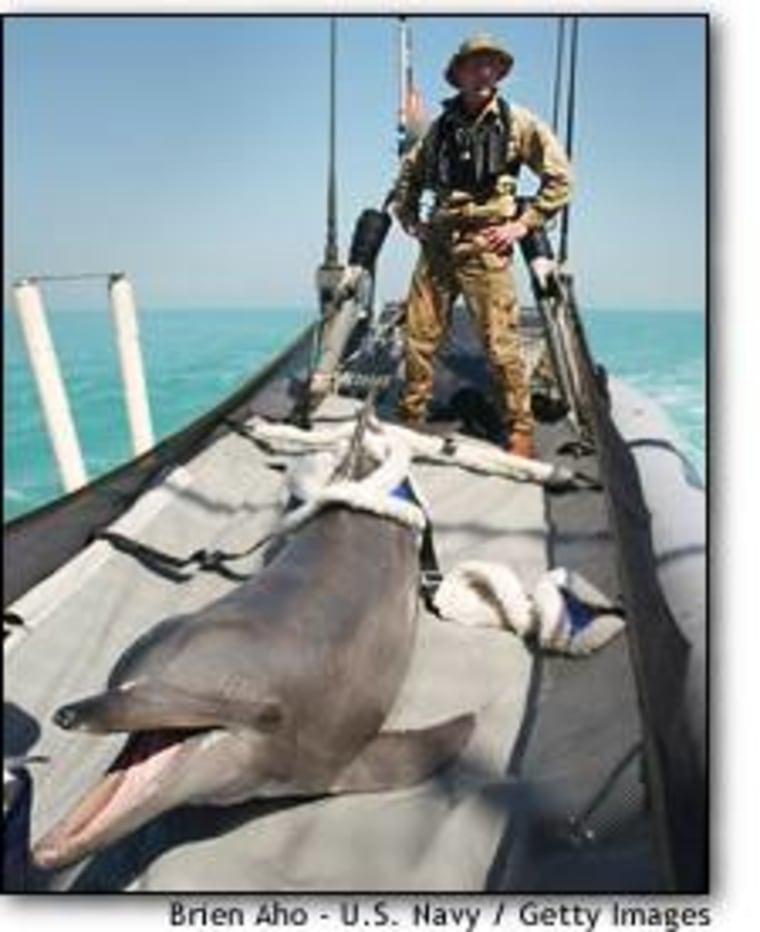 "What they are trained to do is detect and locate threat swimmers or divers who might be trying to cause harm to a coalition vessel, port or harbor," he said. "They would do this by attaching a restraining device to the swimmer or diver, and a line floats to the surface that marks their location, so they can be immediately apprehended by human security force personnel and questioned."
If the intruders happen to climb onto the shore, the trained sea lions could run after them as fast as a human could.
The mine-hunting dolphins operate out of well decks on amphibious landing ships, and Frey said they are trained to identify and mark the mines at a safe distance.
"They mark their location so that they can then be rendered safe or disposed of by naval ordnance disposal experts," Frey said. The dolphins are removed from the area before mine disposal proceeds.
Animal-rights advocates have long questioned whether marine mammals could, or should, be trained to take on military duty — particularly when it comes to confronting humans. In the late 1980s, the Progressive Animal Welfare Society successfully sued to block the Navy from using dolphins as armed sentries at a submarine base in Washington state. Some experts have seen signs of stress in military dolphins, particularly when they are moved from warm to cold waters.
But Frey and other military officials said the marine mammals in the Gulf were being treated humanely.
"They're deployed with veterinarians and handlers who are always very closely monitoring the way they are adapting to their environment and making sure that they're well-fed and healthy," Frey said. "They don't necessarily have to go searching for their food. The information I have is that they have adapted well, and they are healthy, and they are ready to perform their mission."