He's spent a lifetime in the public eye, making and selling his music. But lately, Michael Jackson has turned to the media for a different reason: to battle allegations of bizarre, even dangerous, behavior. With someone as mercurial as Michael Jackson, it's hard to know where the truth lies. Clearly, the glow of his celebrity and the depth of his pockets attract opportunists. For months now, "Dateline" has been investigating the life of Michael Jackson. In this story, you'll hear from people who know the story behind his plastic surgery, and those highly-publicized 1993 allegations of child sex abuse — the stories you haven't heard and the Michael Jackson you don't know. Correspondent Josh Mankiewicz has this "Dateline" exclusive.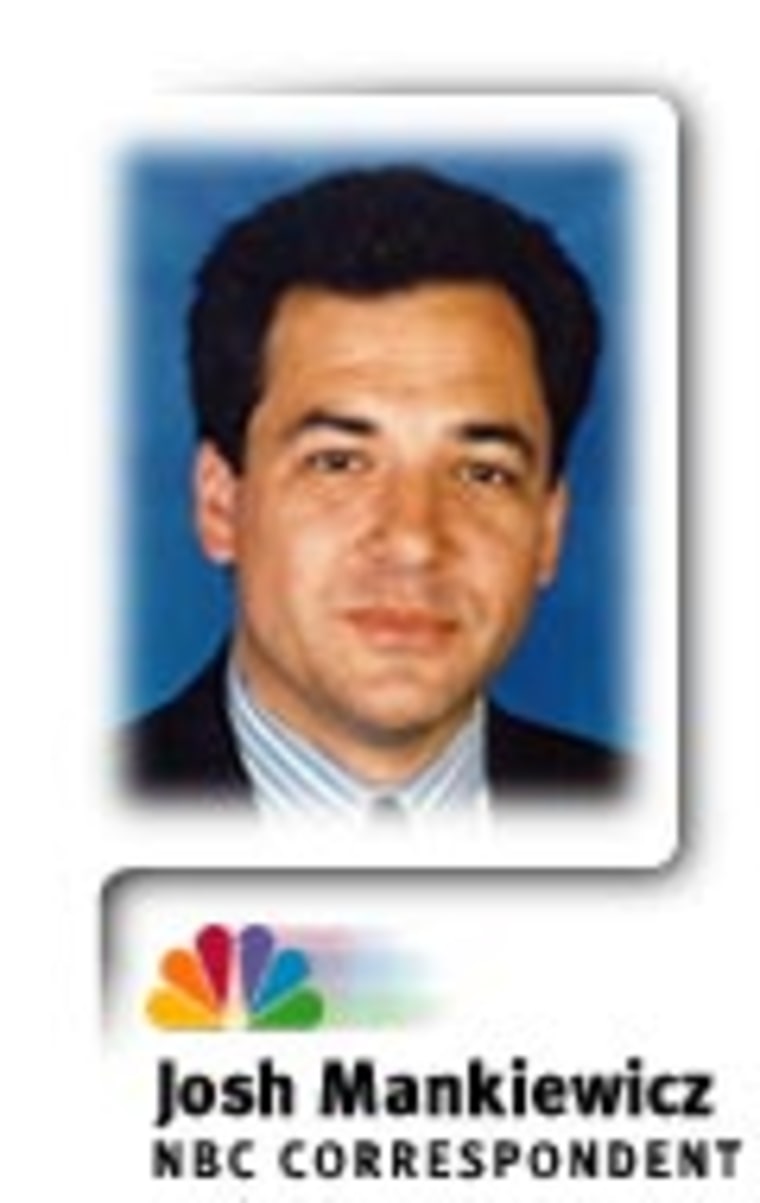 EVERYTHING MICHAEL JACKSON does and just about anything he says becomes instantly controversial.
You may have seen Michael Jackson look into a TV camera and try to give the record of his life a new spin. You think he's had too many plastic surgeries? He admits to only two. You think he's deliberately whitened his skin? He says it's a skin condition. You think there's something wrong about sharing his bed with boys young enough to be his children? He doesn't — and he says, there's nothing sexual about his love for kids.
Is he telling the truth about any of that? "Dateline" spoke to a doctor who witnessed many of Jackson's visits to his plastic surgeon, to a friend who's worried about the toll surgery has taken on the singer, and for the first time, a police detective who personally investigated the allegations of sexual molestation — and who is speaking out, on the record, for the first time, with details of the investigation that threatened a show business legend.
Once, he ruled the world of music. And he didn't just rule it, he transformed it. He was the Sinatra of his day, singing and dancing, while composing hit after hit.
But he was also the Elvis of his time, doing things with his body that defied the laws of motion. Blending Sinatra's cool and Elvis' heat, Michael Jackson was a showman so talented, so fluent in the language of entertainment, it seemed there was no audience he could not dazzle.
Today, it's hard to believe the adorable boy who won our hearts has turned himself into someone who looks so different. A surgery designed to resolve a medical problem may now have become a dangerous obsession. It turned a national icon into a national punch line.
"NBC's 'Dateline' is going to do an entire show on Michael Jackson's face," Jay Leno said in a recent monologue. "And Michael Jackson is furious, he is so upset, he's so mad about this, in fact today he was so mad he ordered his plastic surgeon to put an angry look on his face."
So what happened to Michael Jackson?
Almost a decade ago, at the height of his success, Jackson unveiled his star on the Hollywood Walk of Fame. But just days ago, a much smaller gathering of his beloved fans met at that same spot.
This time, they were holding a candlelight vigil to show their support because, they said, they were afraid, in light of recent events, that their beloved singer might take his own life.
It has been a tough few weeks for Jackson, especially when you consider that just about everything that's happened to him, has been his own doing.
To understand how far Michael Jackson has fallen, you need to understand how high he flew. For more than 30 years, his has been a steady rise to the top of the music world, stopping only long enough to pick up a pile of awards, a mountain of cash, and a swarm of fans.
He was a child star who had everything except a childhood, a kid from Indiana who made it bigger in Hollywood than anyone could have imagined, a sensation from almost the first time he sang into a microphone.
Brothers Jermaine, Tito, Jackie, and Marlon vibed 70s funk in those day-glo colors, but the frontman of the Jackson Five was the family's seventh child. And although it was Michael the public came to see, the fuel behind this stage family was someone audiences never saw, a frustrated musician named Joseph Jackson, a father who spotted the glint of talent in his children and pushed them hard to polish it.
"He was the driving force behind getting us together, and I guess getting us to rehearse, and my mother showed us the love and I guess she gave us our voices really," said Michael's older brother, Jermaine, speaking last year to a British documentary crew. "My father was very, very strict. He was just one of those dads who wanted things to be right."
"It did feel, in many respects, I think, that the kids felt that he was managing them and not really parenting them," says J. Randy Taraborrelli, who wrote a biography of Michael Jackson. It is definitely unauthorized, but Taraborrelli has interviewed Jackson a dozen times.
Taraborrelli: "Things began to change for the Jacksons when Joseph decided that these kids were going to begin to toe the line and have to rehearse and be disciplined."
Mankiewicz: "And rehearsing didn't mean once a week."
Taraborrelli: "No, they were rehearsing all the time, every day."
Michael Jackson has said his father was more than just tough, that he beat young Michael. His father denies that and says whatever he did, it was with the aim of getting his family out of Gary, Ind., out of the two-bedroom, one-bathroom house where Joe and Catherine Jackson raised their nine children.
"It was a close-knit family," says Taraborrelli. "All they had, really, was each other."
Michael was five when the group played their first paying gig at Mr. Lucky's Lounge, where the pay was about $7.
But Joe Jackson's dreams were bigger than that. And so the Jackson Five went to school during the day, then worked into the night, wherever they could. The closest thing they had to a hit was a song called "Big Boy."
The family got three cents for every record sold, and promoting it was anything but glamorous. By his sixth birthday, Michael Jackson had performed to "Big Boy" in front of the audience at a number of strip clubs.
The Jacksons spent their boyhood and their adolescence in front of a microphone. And according to musician Bobby Taylor, who wrote and produced some of their early hits, that hurt one Jackson more than the others.
"The other boys got their childhood," says Taylor. "Michael didn't. He was never able to be that little kid."
That would have an effect on Michael for years to come.
"I remember once we were out in Indiana where he was born," says his former publicist, Lee Solters. "And we were in a limousine. And he was looking out on the fields. And he said, 'You know, I was born here. I never had a childhood.'"
But when you're a star about to burn more brightly than the rest...
"Sometimes there are things in life that you have to sacrifice to accomplish certain things at certain levels," says Jermaine Jackson. "I guess the fact that he didn't have a childhood is why he's so great at what he does."
Joe Jackson thought his sons were ready. So he turned to Bobby Taylor, who was impressed with little Michael.
"And he was singing like James Brown," says Taylor. "And I'm saying, 'This kid,' I said, 'How old is that little sucker out there?'"
He helped the group make a videotape audition, and sent it to Motown Records head Berry Gordy.
"I called Berry Gordy and I said, 'Listen, man, we've got somebody better than The Beatles.' I said, 'This kid is gonna knock your socks off,'" says Taylor.
Gordy was looking for new acts. However, child acts could be hard to book and even harder to control. But Gordy stopped worrying about that after he saw the Jackson Five in their videotaped audition.
"Soon as he saw Michael Jackson with that voice, he realized that it was worth the investment," says Taraborrelli.
With the stroke of a pen, Michael Jackson was headed for the big time. At the age of 10, the little boy from Gary, along with his brothers, had just signed a contract with one of the biggest record labels in the business.