Recently Michael Jackson's come back into the news: those pictures of him dangling his child over a balcony, his admission that he shares his bedroom with boys, but that it's perfectly innocent. That brought back echoes of a serious allegation that first surfaced 10 years ago, accusations that he molested a 13-year-old boy.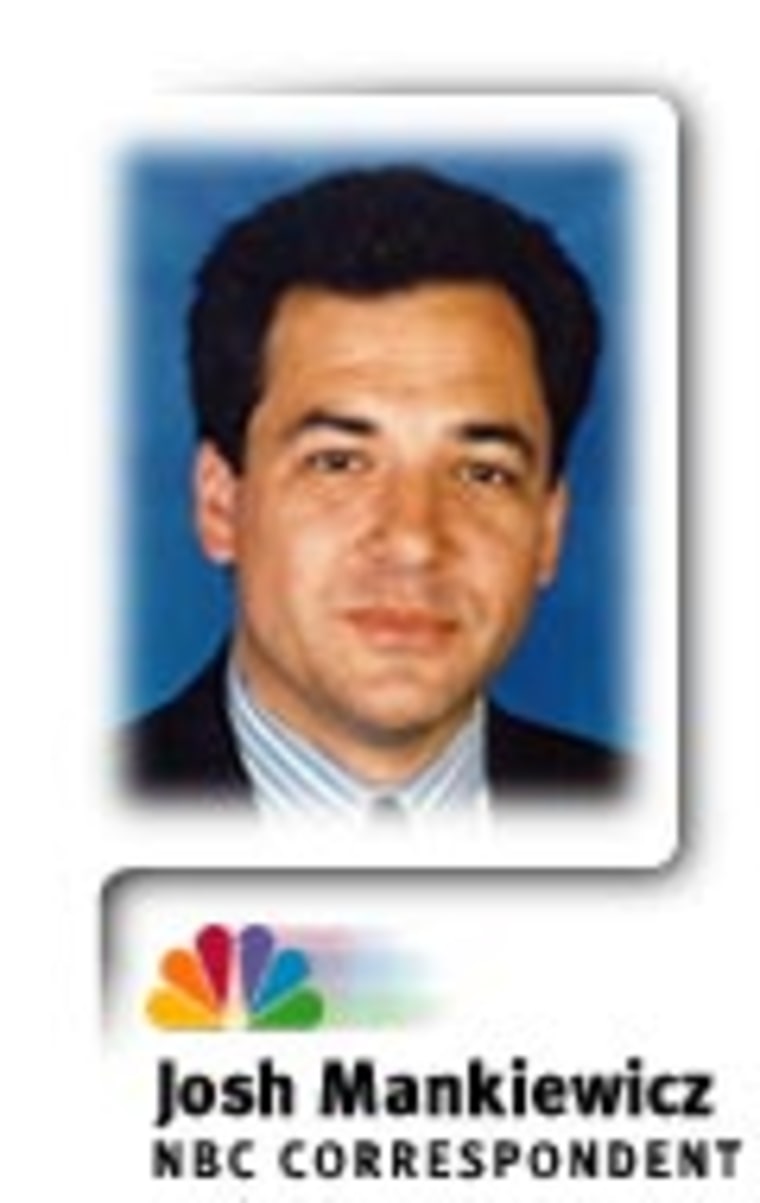 MICHAEL JACKSON was a child prodigy who, through his own brilliance, had morphed into an icon of music. He transcended race and culture selling millions of albums, not just the spokesman of a generation, but its salesman as well.
He was shy, he was eccentric, and as much as he gave the audience, he always seemed to hold something back. Did anyone know the real Michael Jackson?
Countless pretenders to the throne of celebrity would have been thrilled with 10 percent of his sales, proud to fill half his venues. But if he was thrilled, you'd never know it. And somewhere beneath the surface, something was wrong.
Was he unhappy in his own skin? Look at his videos, and you see the recurring theme of metamorphosis.
"You notice the changes on his nose, number one, the bridge has been elevated. I think this would of been an excellent time to stop having plastic surgery," says Dr. Wallace Goodstein, a plastic surgeon who has studied Michael Jackson over the years.
"At this point in 1987," says Dr. Goodstein, "things are starting really to look unnatural and over surgerized. A lot of the nasal structure now has basically been removed... looking at the end result of his surgery, he does not have what I would consider to be natural looking aesthetics."
Running on parallel tracks, Jackson's career and his face were undergoing seemed to be regular re-inventions.
"Here he's definitely reached the realm of too much surgery without a question in my mind," says Dr. Goodstein.
Surprised? Shocked? Michael Jackson's biographer J. Randy Taraborrelli says you shouldn't be.
"Excess is never enough in Michael Jackson's life in all regards," says Taraborrelli. "He can't have a place bigger than Neverland, he can't have sold more records than anybody. I mean, you know, Michael Jackson's always done things in a huge way. And it's kind of ironic that, you know, the plastic surgery was overdone as well."
Goodstein: "This is a very difficult field, because we're in the unique position as physicians, we're geared toward one thing, and that is satisfying the patient. And it's the only field I know of that, basically, the main objective is making the patient happy."
Mankiewicz: "All right, if I've had a couple of dozen procedures on my face, and I come back for the, you know, 35th procedure, if you, the doctor, say to me, 'Josh, that's not a good idea, you've had enough,' you don't get paid."
Goodstein: "That's right. And that's one of the motivations. I think if you've had 35 procedures, you probably crossed the line about 20 procedures ago or more. My personal philosophy is basically that plastic surgery should result in a natural look."
Mankiewicz: "In your opinion, does Michael Jackson look natural?"
Goodstein: "No. I think that that's not a great secret. He doesn't. He's had too much surgery."
And as you'll see later, there may be serious, perhaps permanent consequences to that surgery. But it has been Jackson's personal conduct, and not his constantly-changing face, that has imperiled what had been a stunning career. Accusations that are now a decade old remain, to this day an issue he's been forced to confront again and again.
In the fall of 1993, the headlines were everywhere: A 13-year old boy who had traveled around the world with Jackson, accused the star of sexual molestation.
Jackson's camp called it an extortion attempt. The victim's family denied that. The boy claimed the molestation happened at Jackson's Neverland ranch and in hotels across the country and in Europe. The boy's uncle, Ray Chandler, told "Dateline" this weekend how Jackson coaxed his nephew into a sexual relationship.
"This was a process of seduction that took place over periods of months and eventually, a 12 or 13-year-old boy finds himself in bed being hugged and kissed," says Chandler.
At the time, few knew the details. Now, courtesy of the Internet, the papers are everywhere. The boy claimed the physical contact "increased gradually" the graphic details are unpleasant to read:
"He started kissing me on the lips, first briefly and then for a longer period of time. He would kiss me while we were in bed together...
"Michael Jackson told me that another of his young friends would kiss him with an open mouth and would let Michael Jackson put his tongue in his mouth. Michael Jackson said that I did not love him as much as this other friend."
Chandler: "The natural progression is that the child starts to protest it all at some point. You know, Michael begins to let him know that, 'Well, you know, you don't love me and I need someone to love me. And, you know, maybe someone else will love me.'
From here, the boy's story definitely becomes X-rated. if true, it's a crime. If not, it's a vile slur against a man who went out of his way to help children.
"We believed what the child was telling us," says Bill Dworin, a retired detective and expert on pedophilia.
A 34-year veteran of the LAPD, he's investigated more than 4,000 sexual exploitation cases. He was also one of the lead detectives investigating the charges against Jackson. And for the first time, he is talking about the investigation from the inside, exclusively with "Dateline."
Dworin: "Everybody who listened to this child, 'cause he's not only interviewed by my officers, he was interviewed by Department of Children and Family Services, he was interviewed by the district attorney's office at a later date, we were all satisfied he was a very credible witness."
Mankiewicz: "You've been at this a long time. You no doubt have interviewed children whose stories were rehearsed or coached for one reason or another."
Dworin: "That's correct. In this instance, we didn't feel that it was coached. We felt that the child was telling us the truth."
Police did know the victim's family had approached Jackson, looking for a financial settlement. But Dworin says the boy's story stood up under questioning, and immediately all of Jackson's homes were searched for evidence, including the singer's Neverland ranch. And for the first time time, an investigating officer is talking on the record about what he found.
Dworin: "We found books and the books depicted children in the nude. This itself is not a crime."
The nude photographs were not pornography, by the legal definition, and Jackson says he does not remember having them. But to Dworin any nude photo of a child in the home of a 34-year-old man is suspicious.
Dworin: "Pedophiles will frequently have this material available."
Mankiewicz: "Because?"
Dworin: "Because they can obtain it legally It's not illegal to possess, and it's used for sexual satisfaction and arousal."
Besides the pictures, Dworin was suspicious of the setup he found in Jackson's bedroom.
Dworin: "You had to approach the bedroom by a hallway. And in going down this hallway, it sets off an alarm in Jackson's bedroom."
Mankiewicz: "Which suggests what to you?"
Dworin: "To me, it suggested that it was a warning in case something was occurring that was improper, that that activity would stop."
Mankiewicz: "Is it not also possible that this was someone who's worried about fans breaking into the house or worried about crime and you know wanted to be tipped off in the event that there was an intruder?"
Dworin: "No, at the— at his ranch, he had sufficient security, not to be concerned about intruders."
Mankiewicz: "So you think that alarm system had a different purpose than alerting Michael Jackson to a burglar?"
Dworin: "Oh, absolutely. It was just for his bedroom. Not for the rest of the house. It was just for anybody approaching his bedroom door. He knows when someone's approaching that door."
And inside the bedroom...
Dworin: "Walking into Michael Jackson's bedroom was like walking into a 13-year-old's bedroom. There was a lot of material that 13-year-olds would be interested in doing and playing with. Games. Various objects that would be an attraction to 13-year-olds.
Mankiewicz: "Okay, now you see that bedroom through the eyes of a seasoned child molestation investigator. Is it not also possible that Michael Jackson is sort of a child-like guy who didn't have much of a childhood when he lived at home. And so because he's wealthy and self-indulgent, he's having one now."
Dworin: "Oh, very much so. And that's my concern. This is very common. I've seen this type of activity, this type of material found in hundreds of homes that I've entered. Things that are of an interest to children that will lure the children into that house is also in fact an interest to that adult who has had sexual interest in children."
Dworin says one critical piece of corroborating evidence was found not in Michael Jackson's home, but on Michael Jackson's body: an intimate description that the young boy gave police.
Dworin: "We had served a search warrant to photograph Michael Jackson. Those photographs corroborated the description that the boy gave us regarding Michael Jackson's genitals."
Mankiewicz: "The boy was able to describe discolorations of Jackson's skin?"
Dworin: "Yes."
Mankiewicz: "On his genitals, accurately."
Dworin: "Very much so."
To hear former detective Bill Dworin tell it, that investigation convinced the police. But prosecutors wanted more evidence if they were going to charge Michael Jackson with sex crimes.
Dworin: "They wanted the smoking gun. We could not produce the smoking gun."
Mankiewicz: "And a smoking gun in this case would have been what, a photograph of the two of them having sex?"
Dworin: "Of course, that would be great, but we didn't have that."
Mankiewicz: "Did that make it impossible to go forward?"
Dworin: "It made it difficult."
Mankiewicz: "Difficult because you never go forward without physical evidence or because the accused in this case was a huge celebrity?
Dworin: "I believe it's because he was a huge celebrity."
Mankiewicz: "Was Michael Jackson guilty?"
Dworin: "I believe he has a sexual interest in boys."
But Bill Dworin would never have a chance to talk to a jury about Michael Jackson. District attorneys in Los Angeles and Santa Barbara declined to move forward, saying they couldn't prosecute without a cooperating witness.
And Michael Jackson began the process of trying to rehabilitate his image.