/ Source: msnbc.com staff and news service reports
Joined by an uncommon alliance of auto executives, union leaders and environmental activists, President Barack Obama on Tuesday announced a national program to cut new vehicle carbon emissions and raise mileage by 30 percent, while also reducing oil needs and changing the kinds of cars Americans buy.
"This gathering is all the more extraordinary for what these diverse groups — despite disparate interests and previous disagreements — have worked together to achieve," Obama said at a White House ceremony. "For the first time in history, we have set in motion a national policy aimed at both increasing gas mileage and decreasing greenhouse gas pollution for all new trucks and cars."
"The status quo is no longer acceptable," he added. "We have done little to increase fuel efficiency of America's cars and trucks for decades."
Obama said the program would save 1.8 billion barrels of oil "over the lifetime of the vehicles sold in the next five years. And at a time of historic crisis in our auto industry, this rule provides the clear certainty that will allow these companies to plan for a future in which they are building the cars of the 21st century."
The new requirement is estimated to cost consumers an extra $1,300 per vehicle starting in 2016, but drivers will be saving at the pump. Obama estimated that a typical driver would save $2,800 over the lifetime of a car, assuming gasoline costs around $3.50 a gallon by then.
Moreover, the increased miles per gallon should cut greenhouse gas emissions by more than 900 million tons, the equivalent to shutting down 194 coal plants, a senior administration official said Monday.
35.5 mpg fleet average planned
While the 30 percent increase translates to a 35.5 mpg average for both cars and light trucks, the percentage increase in cars would be greater, rising from the current 27.5 mpg standard to 39 mpg starting in 2016. The average for light trucks would rise from 24 mpg to 30 mpg.
For 2009 car models, the industry has actually averaged 32.6 mpg, well above the existing 27.5 mpg standard.
If all goes as planned, by 2016 Americans can expect dozens of hybrid, plug-in hybrid and even all-electric vehicle models instead of the two hybrids — Toyota's Prius and Honda's Civic — that currently get better than 39 mpg in combined highway/city driving.
The national program is expected to be finalized once the Department of Transportation and the Environmental Protection Agency draw up specifics, and then those must go through a public review.
California, 13 other states and the District of Columbia had earlier urged the Bush administration to let them enact rules to cut vehicle greenhouse gas emissions by 30 percent. The Bush administration blocked the request and fought a lawsuit, but Obama has decided to adopt key elements of that strategy.
Environmentalists and even the auto industry praised the move. For the industry, it means a single standard rather than a federal rule plus various set by individual states — a much costlier approach for the industry. Automakers also get a bit more flexibility than under the California approach.
"For seven long years, there has been a debate over whether states or the federal government should regulate autos," Dave McCurdy, president of the Alliance of Automobile Manufacturers, said in a statement. "President Obama's announcement ends that old debate by starting a federal rulemaking to set a national program."
Top auto executives, union leaders, environmentalists as well as Michigan Gov. Jennifer Granholm and California Gov. Arnold Schwarzenegger were among those who attended Obama's announcement.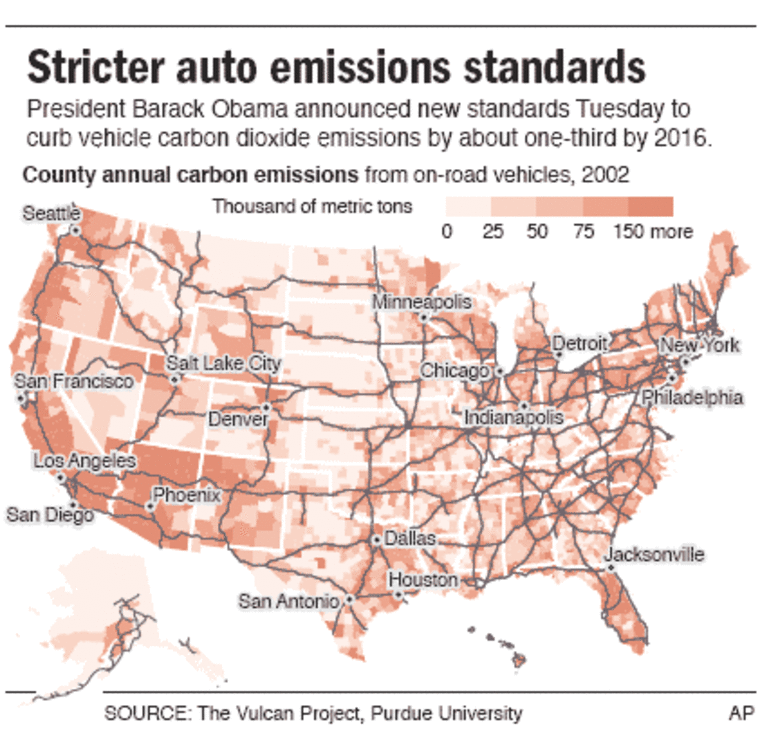 Will phase in new standards
The California program would have required new cars to get 42 mpg by 2020. The Obama plan sets a 39-mpg benchmark by 2016.
Administration sources noted that while a 2007 federal law requires a 30 percent increase in mileage by 2020, Obama's plan steps that up by four years. The requirement will gradually phase in, starting with 2012 vehicle models.
Administration officials said consumers were going to pay an extra $700, anyway, for mileage standards that had already been approved. The Obama plan adds another $600 to the price of a vehicle, a senior administration official said, bringing the total cost to $1,300 by 2016.
The plan effectively ends a legal feud between automakers and statehouses over emission standards — with the states coming out on top but the automakers getting a single national standard and more flexibliity in making the changes.
Moreover, cash-strapped states such as California will not have to develop their own standards and enforcement plan. Instead, they can now rely on federal tax dollars to monitor the emissions.
For the auto industry, it will be costly; the Transportation Department last year estimated that requiring the industry to meet 31.6 mpg by 2015 would cost nearly $47 billion.
But industry officials — many of whom are running companies on emergency taxpayer dollars — said Obama's plan would help them because they would not face multiple emissions requirements and would have more certainty as they develop their vehicles for the next decade.
Activists on boardEnvironmentalists were among the first to praise the move. Carl Pope, executive director of the Sierra Club, called it "one of the most significant efforts undertaken by any president, ever, to end our addiction to oil and seriously slash our global warming emissions."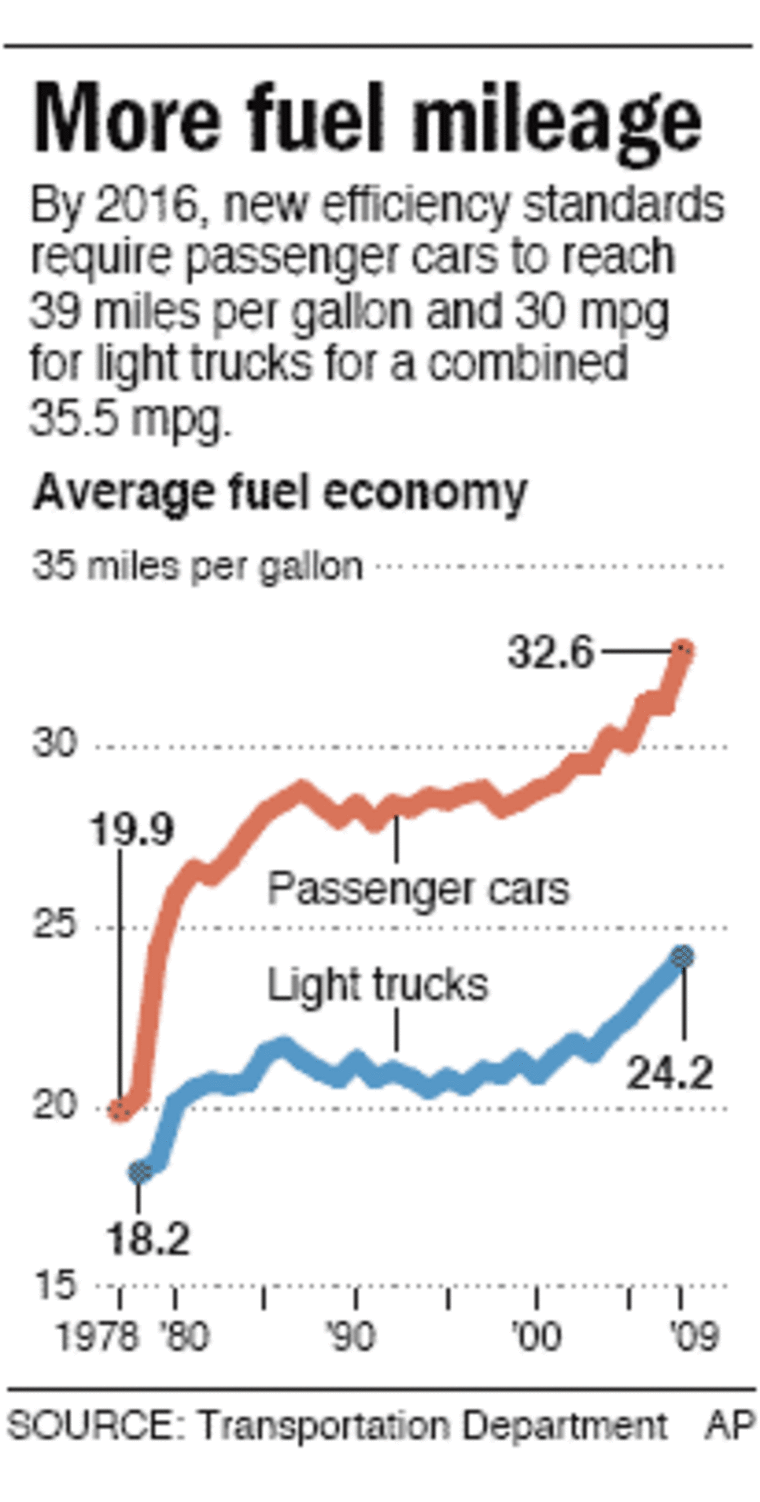 Daniel Weiss, director of climate strategy at the Center for American Progress, described it as  "a triple play: It will help move America off foreign oil, save families money and spur American businesses to take the lead in developing the job-creating, clean-energy technologies of the future."
In Congress, Sen. Barbara Boxer, a California Democrat and chair of the Senate Environment and Public Works Committee, thanked the Obama administration for bringing together "the federal government, the state of California, and the auto industry behind new national automobile emissions standards that follow California's lead.
"This is good news for all of us who have fought long and hard to reduce global warming pollution, create clean energy jobs, and reduce our dangerous dependence on foreign oil," she added.