Like many nonprofit executives, Robert B. Jones has been scouring the fine print of the economic-stimulus law that was enacted in February. The legislation provided about $575 billion in federal money for projects to pull the country out of recession by creating and saving jobs­ — and charities are lining up to seek a piece of the pie.
"We're going full-bore on applying for everything we can," says Jones, president of Children's Aid and Family Services, in Paramus, N.J.
He is not alone. Charities across the country have been eyeing the American Recovery and Reinvestment Act, which provides billions of dollars to projects in areas like the arts, child care, health, homelessness, special education, and job training — a seeming oasis in a desert of economic hard times.
"The economic-stimulus package is going to be a real lifeline and a stream of hope for many of our nonprofits," says Glen O'Gilvie, chief executive of the Center for Nonprofit Advancement, an association of charities in the Washington area. "The lifeline is not just for the nonprofits who otherwise would have to lay off even more staff, reduce and cut programs, and maybe even close their doors, but also to the community that uses all these great services."
A 'pent-up desire'
Others, however, worry that organizations are building up false hope, saying the stimulus money will bypass most of them and will not resolve the economic distress afflicting the nonprofit world as a whole.
"There is such a pent-up desire, hope, that exists out there that there's going to be a life preserver thrown to everybody," says Tim Delaney, chief executive of the National Council of Nonprofits, which represents small and medium-size charities.
He says because the package is designed to get money into circulation quickly, most of it is likely to go to bigger charities that already have ties to the government agencies that are awarding the money.
"This is not necessarily going to trickle down to the small nonprofit community organizations that are very much in a desperate situation today," agrees Ken Goldstein, a nonprofit consultant in Santa Clara County, Calif.
He says he worries that potential donors might hold back on their giving because they assume, wrongly, that federal spending is going to save those groups.
Some experts are also worried that the quick influx of money could be hard for some charities to manage.
"There's the potential that organizations are going to be required to grow really quickly and may not yet have the organizational infrastructure to manage that growth," says Kathleen P. Enright, president of Grantmakers for Effective Organizations, noting that government grants do not cover the full cost of providing a service.
But some nonprofit leaders say they are looking at the money realistically. "It's a short-term investment, it's not a permanent fix," says Regina Birdsell, president of the Center for Nonprofit Management, in Los Angeles. "It certainly is an infusion of cash at a time when we're cash-strapped."
Keen interest
In any case, interest in the potential source of new money is enormous. When the United Way of America and the National Community Tax Coalition sponsored a Webinar on stimulus money in April, the organizers expected 100 to 200 organizations to sign up. Instead, more than 1,000 registered, according to the tax group.
Those charities that think they have a chance are working under tight deadlines to submit applications, while grappling with a complicated set of procedures and timetables that vary according to which federal agency is granting the money.
While some money is awarded directly to organizations, other money passes through states, counties, or cities, which often have their own sets of deadlines and procedures.
"What we're finding is huge confusion in the nonprofit community," says Tom Triplett, a nonprofit consultant in St. Paul. "There's a huge variation among the states in the quality of information about how to access the dollars that flow through each state."
'Not a silver bullet'
Some associations are trying to help translate the law's potential benefit to charities. The Massachusetts Nonprofit Network, a coalition of charities, for example, is using a $25,000 grant from the Boston Foundation to pay a consultant to produce a newsletter with stimulus updates and tips.
Some government agencies are also offering advice. "We want to make sure people don't go after money they don't have a chance for, or that will be difficult for them to administer," says Mike Roque, director of the Denver Office of Strategic Partnerships, which has co-sponsored two open meetings on stimulus spending for nonprofit groups and sends charities regular e-mail updates.
"What we're saying is this is not a silver bullet; there are some very strict regulations and intensive financial reporting," he says.
The city of Chicago is leading a particularly ambitious effort to help charities use stimulus money effectively.
Chicago will receive more than $1 billion in stimulus money that is allocated to big cities by a formula. For example, it announced in early May that it had developed a plan for using $19.5 million in money it would receive as a Community Services Block Grant — and invited nonprofit groups and others to submit proposals for projects to provide counseling, training, substance-abuse treatment, and other services to low-income people.
But Mayor Richard Daley wanted to ensure that the short-term spending boost would lead to long-lasting economic benefits — and asked foundations to help the city come up with a plan.
"We recognize the stimulus funding is the worst-case scenario of bad grant making, to give nonprofits a lot of money quickly and to take it away, just as quickly," says Terry Mazany, president of the Chicago Community Trust, which in response to the city's request is organizing an effort dubbed the "Recovery Partnership."
To make matters worse, he says, foundation giving is likely to reach a "nadir" the year much of the stimulus money dries up. That is because many foundations calculate the 5 percent of endowments that they are required to give out annually using average market values from the 12 previous quarters. In 2012, the calculation will reflect market values from a particularly bad economic period.
"It will create a recession echo unless we're thoughtful about this," Mazany says.
The Recovery Partnership unites city officials, foundations, and others who are working to craft strategies for stimulus spending to serve basic human needs, encourage the spread of broadband Internet services, promote energy conservation and public safety, and improve education, streets, and mass transit.
It has also set up a group to look at ways to evaluate the results of the stimulus projects.
Mazany says foundations are exploring how they can reorient their grant making to support the city's goals­. For example, in the short term, foundations are building an evaluation plan and working with banks to set up a revolving loan fund so charities that take on stimulus projects can get short-term loans to tide them over until they are reimbursed by the federal money.
The Donors Forum, an association of grant makers, is also offering training to charities on how to apply for stimulus money.
Over the longer term, Mazany says, grant makers could consider paying for projects to retrofit homes to make them more energy efficient, for example, building on the modest number of homes that will be paid for with stimulus money.
Mazany calls the Recovery Partnership a "game changer," adding: "This is an opportunity to realize the promise of the social innovations that we have been investing in and I think it will build stronger ties of collaboration between city agencies and foundations."
'We're optimistic'
Meanwhile, some charities are acting quickly to get in their bids for stimulus money.
Children's Aid and Family Services, the New Jersey group, has already made plans to get a share of the $1 billion that the stimulus law allocates to Community Development Block Grants, which pay for projects to improve living conditions and create economic opportunities for low- and medium-income families.
It submitted an application to Bergen County, which will award the grants in that region, for more than $500,000 to upgrade a large child-care center it operates.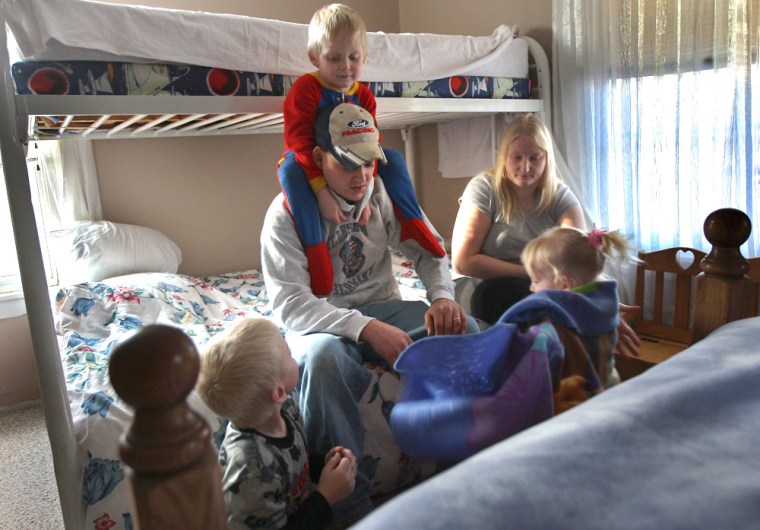 The bulk of the money, about $325,000, would go to install 400 solar panels in the building that houses the center and the group's headquarters. Not only would that create jobs and cut energy costs, says Jones, the group's president, but it would also help produce revenue because the charity could sell the excess electricity generated by the panels back to its utility company. The charity estimates it could earn up to $100,000 a year that way.
Other grant money would pay to resurface the child-care center's playground, buy new playground equipment, and install new classroom sinks.
"Everybody and their sister is applying," Jones says. "But we're optimistic. We have a good relationship [with the county] and we have a good plan."
Education spending
Richard Martinez, president of the Young Americans Center for Financial Education, in Denver, learned of a stimulus opportunity after a staff member attended a workshop sponsored by the Colorado Nonprofit Association — and discovered that local counties were receiving money from the U.S. Labor Department to offer job training to young people.
"That really spurred us on to start contacting these government offices and say, 'We have some packages to help you spend some of this money,'" Martinez says.
During the summer, the center typically works with elementary- and middle-school children, but this year it is designing new weeklong classes on entrepreneurship and financial literacy for young people ages 16 to 24.
Denver County, and a tri-county area west of Denver that includes Jefferson County, both plan to use stimulus money to hire the center to teach classes.
Dani Crane, program manager at the Jefferson County Workforce Center, says her three-county area has received $647,000 in stimulus funds from the U.S. Department of Labor to create internships for at least 350 youths this summer.
She wants to supplement the internships with education, and plans to contract with the Young Americans Center to offer at least two classes, at a cost of $1,200 to $2,000 each.
'Find energy money'
The YWCA of Palm Beach County, in Florida, has applied directly to the U.S. Department of Justice for $500,000 of the $50 million the federal agency has available to provide transitional housing for victims of violence against women.
The charity, which operates a domestic-violence program, would like to provide temporary housing in the county's coastal area for single women and women with several children, who are not being served by existing programs, says Suzanne Turner, the organization's executive director.
The YWCA also expects to get stimulus money for its two Head Start centers and is exploring the question of whether it would qualify for any federal money set aside for energy-efficiency projects.
"I'd like to do some insulation work on my day-care centers," Turner says. "My goal this week is to find energy money."
But Turner, who has spent many years seeking government aid, warns that the process of applying for stimulus money is daunting because of the patchwork of rules and the quick turnaround times required.
"You almost have to have somebody with some experience with grant writing or tracking these kinds of things," she says.
Thinking long-term
Advisers are also urging nonprofit groups to think beyond the short-term relief they will get from the federal money.
"When we work with our clients on this issue, it's typically to say, 'Recognize that these dollars are temporary dollars. How could you use them to build up capacity?'" says Triplett, the St. Paul consultant.
But David P. Magnani, executive director of the Massachusetts Nonprofit Network, says it's a "luxury" for charities to worry too much about how to keep programs going in the post-stimulus world.
"We're trying to level out a very deep recession and trying to level out a very deep drop in revenues," he says. "The purpose of the stimulus is to keep those valleys as shallow as possible."
Once the economy improves, he says, more traditional approaches to financing charities will probably emerge, he says. "That's the hope."
Ben Gose contributed to this article.