/ Source: The Associated Press
No. 286 was the old man of this park's California condor restoration program. Hatched in a zoo seven years ago, he learned to live in the wild, a hopeful sign the majestic birds' population could rise again.
But recently, somewhere on his journey above Pinnacles' rocky spires to neighboring cattle ranches and beyond, the endangered vulture got lead poisoning. Then on May 11, condor No. 286 died at the Los Angeles Zoo.
"It's sad, and it indicates the uphill battle we have," said Jim Petterson, a wildlife biologist at Pinnacles.
Nearly a year after the California Legislature banned lead bullets in the 15 counties covering condor country, lead poisoning remains the No. 1 condor killer, seemingly in part because small animals are still killed by defiant hunters with lead bullets and become prey to the big birds.
Federal information the California fish and game commission will consider next month shows that 59 percent of condors and two of five nestlings sampled in California tested high for lead from January to June 2008, compared with 45 percent from July to December.
Still, there are some signs of progress in cutting back use of led ammunition. In March, the National Park Service prohibited lead in bullets and fishing tackle, and the Center for Biological Diversity sued the U.S. Bureau of Land Management to force a lead ban on land it manages near the Grand Canyon.
The Arizona Game and Fish Department gives hunters non-lead bullets hoping voluntary efforts work.
Chris Stoots, a California game warden, said about 90 percent of hunters he checked in San Benito County parking areas during summer deer season used steel and copper shot, encouraging scientists that lead-free areas could eventually be a reality.
"It's important to credit the hunting community for moving the needle in the right direction," said Kelly Sorenson, executive director of the nonprofit Ventana Wildlife Society, which monitors 20 or so birds released at Big Sur on California's central coast.
But beyond the parking lots are oak-studded ranches, where thousands of ground squirrels and wild pigs are considered vermin and are shot by ranchers, who often are reluctant to switch to more expensive non-lead ammo.
Property rights resistance
Many landowners, some fourth and fifth generation, also believe the ban forcing them to use more expensive ammo violates their property rights. Gun lobbyists say the measure is too strict and legislators ignored other potential sources of lead, including garbage, or employing voluntary measures.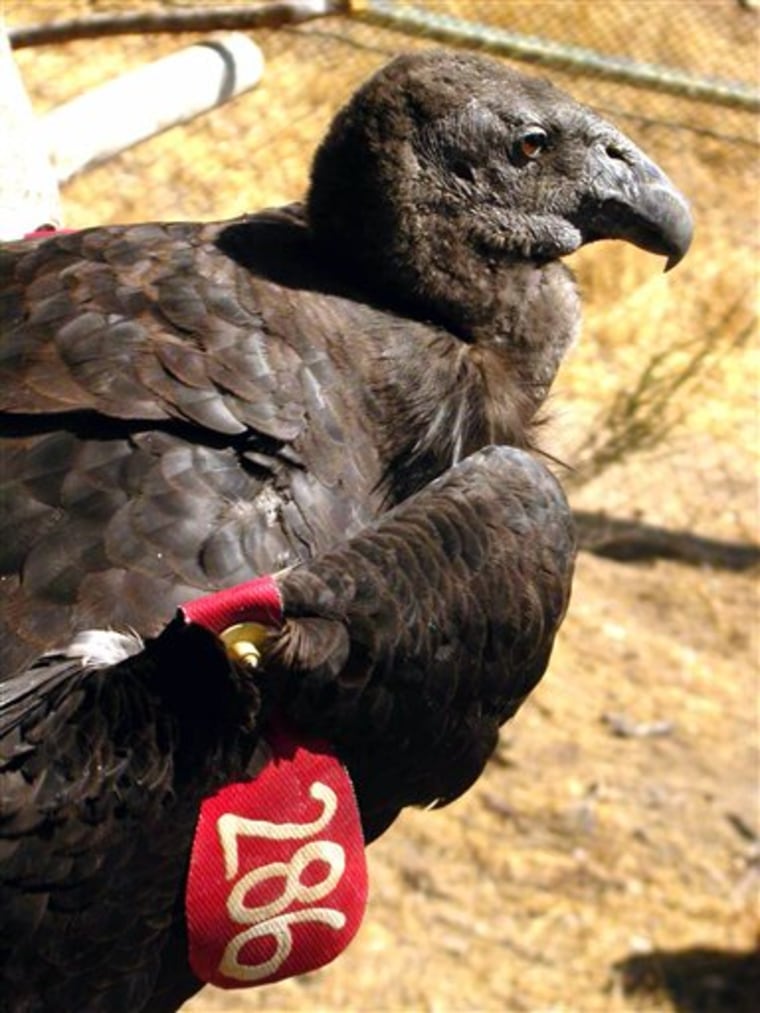 "They see it as a backdoor attempt to ban guns and hunting," said Jake Theyerl, hired by the nonprofit Institute of Wildlife Studies to persuade rural San Benito County gun owners to switch to copper and steel shot.
They also remember when duck hunters were forced in 1991 to change and the alternatives available then didn't perform as well.
"Hunters feel this was forced on them," adds Jason Bumann, manager of the RS Bar Ranch, a private hunting ranch southeast of Pinnacles that required hunters to use lead-free ammo even before the law.
"The automatic first response when someone wants to take something from you, regardless of the reason, the first response is 'no,'" Bumann said. "It's such a slippery slope. Once they take one thing it's just the next and the next."
A nesting pair has taken up residence on Bumann's ranch, and reaction has given him insight into his neighbors' feelings.
"I'm not a popular guy," said Bumann. "People say you'll lose your ranch."
If blogs are to be believed, some ranchers are incensed. A recent posting by a hunter on an ammo blog said when he dies he hopes his family will shoot him full of lead bullets then leave his body "where a condor may find it."
In 1982, condors were believed near extinction in the wild in California, and biologists rounded up the remaining 22 for a captive breeding program. Now, there are about 171 condors living in the wild at sites in California, Arizona and Baja California. There are 150 condors in zoo breeding programs.
No. 286's death was the second fatal lead poisoning of a Pinnacles condor in just over six months, and lead poisoning is suspected in a third. A fourth bird was recently treated and released. Since 1992, 14 condors have died from lead poisoning in California.
In Arizona, where 71 condors live near the Grand Canyon, 95 percent have been exposed since 1996. Nearly 70 percent required lifesaving treatment and about a dozen died.
Condor No. 286 was half his 22-pound weight in March, when scientists lured him into a holding pen. The needle peaked on lead tests; x-rays were taken but by that time could not detect a lead bullet in his gut. Scientists did find at least 15 birdshot pellets embedded in his 10-foot wingspan and torso, which would have hurt, but not poisoned him.
Veterinarians at the L.A. zoo performed blood transfusions and fed him through tubes. A few days later, a female condor was caught with lead poisoning and birdshot wounds. She survived and was released.
"In our 12 years releasing condors on the Central Coast, one had never been shot," said Sorenson. "To find two in such a short period was alarming."
Biologists say condors and hunters can coexist, and condors eventually will rely on the hunters for food.
Until then, biologists will continue to leave "clean" carcasses of stillborn calves at release sites so the birds can have better chance of survival.
"That's why this was such a tragedy," said Petterson. "He was finally getting old enough to breed."