The doors aren't even open at WorkSource Portland Metro East, and yet a line is already starting to form outside the squat tan office building.
It's just before 8 a.m., and people are anxious to start looking for work.
By 9 a.m., the publicly funded job and retraining center will be overflowing with clients. People who once held jobs as chefs, truck drivers, industrial buyers, retirement home managers and car dealers will pass through the doors. Some will have master's degrees and others won't have graduated from high school; none will have had any luck — yet — finding a job in this hard economy.
Like hundreds of other job training and resource centers across the country, the staff at this center in a high-poverty area of Portland, Ore., will spend the day struggling to keep up with a huge increase in demand, made more difficult by several years of substantial budget cuts.
"This is unprecedented," said Andrew McGough, executive director of Worksystems Inc.. Worksystems is a workforce development agency that runs the publicly funded WorkSource center along with a local community college and the state employment department.
The center registered 2,572 people for its services in March alone, a 42 percent increase over last year. The seasonally unadjusted unemployment rate in the Portland metropolitan area hit 10.7 percent in February, about double what it was a year earlier, amid steep job cuts in both blue- and white-collar industries.
To cope with the skyrocketing needs, the center has more than tripled the number of workshops it offers, added Saturday hours and hired some temporary staff.
Meanwhile, it's had to grapple with severely depleted resources. The center saw its federal Workforce Investment Act funding, which pays for training, slashed by 34 percent in 2007, and by another 30 percent in 2008, said Kay Lopez, supervisor of workforce development. Separate funding for the employment department resources at the center has remained flat.
To cope with the cuts, they have had layoffs, and some staffers took 15 days off without pay. Now, the center is hoping that money from the federal stimulus package will help make up some of the lost training budget.
Other job training and resource centers across the country are facing the same woes, as more and more jobless Americans seek help from agencies that have been hit by stiff federal budget cuts in recent years. Rich Hobbie, executive director of the National Association of State Workforce Agencies, expects the federal stimulus money to also help those cash-strapped agencies, but he notes that the challenges go beyond just money.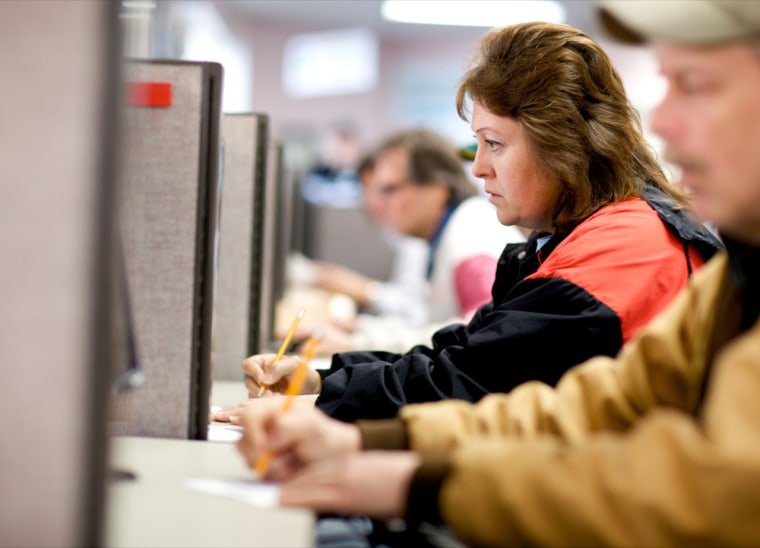 Many such organizations also are struggling to help the growing numbers of people who haven't typically sought out such help, including college-educated workers and those who have had steady employment for decades.
"(They've) never been unemployed before, hence never really had to look for a job," Hobbie said.
'They don't know what to do'
But in this recession, many are finding it difficult to snag a new job in their field, or facing the more worrisome problem that the industry they've worked in for decades is in decline. They need help putting together resumes, learning how to apply for jobs online or getting started in a retraining program.
Babette Bastion, a business employment specialist who spends her days helping people in the computer center, said the losses can be hardest for older workers who have been in the same field for years and are resistant even to learning how to search and apply for jobs online.
"They are being let go and they don't know what to do," she said.
Still, some are embracing change. One recent morning at the WorkSource center, Nathan Haines was busy searching for job leads for a group of people who would later be attending a two-hour "job club," for jobseekers.
Haines spent more than four decades working in physical labor jobs, including most recently as a forklift operator, before he lost his job of 11 years in October. Now 59, he's in a training program for office workers, which includes doing some office work for the WorkSource center. When the program ends, he hopes to find a job in the healthcare field, one of the few industries that are growing in this bleak economy.
A few computer terminals away, Evan Byram, 26, was perusing police force Web sites looking for openings. Byram worked in construction for years before getting laid off in January. Faced with few job prospects, he's now pursuing an associate's degree in criminal justice. The father of two says he probably never would have gone back to school if he hadn't lost his job, and he admits he has some trepidation.
"At first I was scared — what if I fail?" he said.
While some people come to the WorkSource center because they don't have a computer at home, or need help with skills or applications, others say they show up more for the sense of community, or for a much-needed morale boost. During the center's job club one recent morning, instructor Sheila McQueen focused first on self-confidence, encouraging the unemployed participants to get a bit of exercise, embrace change, do some volunteer work and think of ways to stay positive even when things look dreary.
For some, the center offers a place to go, like a workplace once did.
"I found it's better for me to get up, get dressed, get breakfast and get out the door," said Marlene Hennesay, 57, as she perused her e-mail on one of the WorkSource center's computers. She was hoping that someone had responded to one of the more than 200 applications she estimates she's sent out since last June.
Hennesay and her husband lost their jobs as co-managers of a retirement home after just five weeks on the job, on a day when her husband was having chest pains that turned out to be a heart attack. He's on disability now and Hennesay, who has a master's degree in management, remains unemployed for the first time in her life.
Ironically, before taking the retirement home job Hennesay worked to help disabled people find jobs. Now that she's on the other side of the fence, "I've learned a lot about what it takes to look for employment," she said.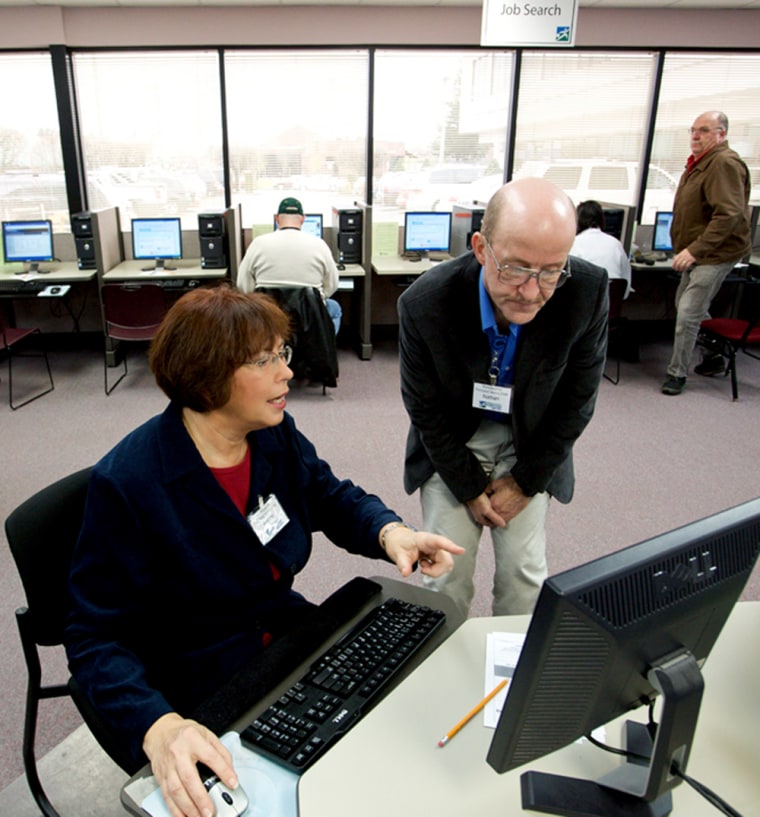 'It's going to be hard to retrain'
Like Hennesay, many who visited the center one recent day said they were unemployed — and without an immediate job prospect — for the first time in their lives.
Mark Elia of Troutdale, Ore., has driven trucks for 30 years, most recently hauling steel and contaminated materials. He's lost jobs before, but he's always found a new job right away, until this most recent layoff six weeks ago.
He's thought about starting a security business, but is nervous about changing careers.
"I'm 49 years old. It's going to be hard to retrain," he said.
Faced with so much need, it's no surprise that the center's staff savor the successes, their eyes lighting up when they tell a story about a person who got a job interview or, better yet, an actual job.
Kristen Shakespeare had worked as a nursing assistant for 15 years and expected to land a job in the same field when she moved to Oregon from Colorado in September. But when she got to Oregon she found that she would need extra training to get a similar job in the state, something she couldn't afford.
Panicked and having trouble keeping up with her rent, the 34-year-old finally turned to the WorkSource services. She said the staff helped her find a program and provided funding for the $940 class. She landed a job the day she completed the training.
"They saved my life, that's all I can say," Shakespeare said.