/ Source: msnbc.com news services
Thousands of people were evacuated from their homes Friday as torrential rains and strong winds pounded Australia's east coast, causing severe flooding and forcing the closure of hundreds of schools.
The severe weather has battered the region for the past few days. One man was killed in Queensland state's Surfers Paradise on Wednesday when a sheet of metal that winds had torn off a nearby building crashed through his office window.
The New South Wales state government declared the area a disaster zone and hundreds of schools were closed on Friday. The State Emergency Service ordered the evacuation of 5,000 from the city of Lismore in northern New South Wales after the city's river threatened to overflow.
An evacuation order had also been issued in Grafton, a town of 9,000 residents that officials expect to be inundated overnight by an overflowing river, State Emergency Services chief Murray Kear said Friday.
The service said it had conducted 15 flood rescues, with no one seriously injured.
10 inches of rain in 2 days
The Bureau of Meteorology said an average of nearly 10 inches of rain fell in a 39-hour period over the area. A severe weather warning was in place for the region, with more rain and winds up to 78 miles per hour expected later Friday as the storm moved south along the east coast.
Floodwaters, in some places more than 32 feet deep, surged across riverlands stretching along 185 miles of coastline.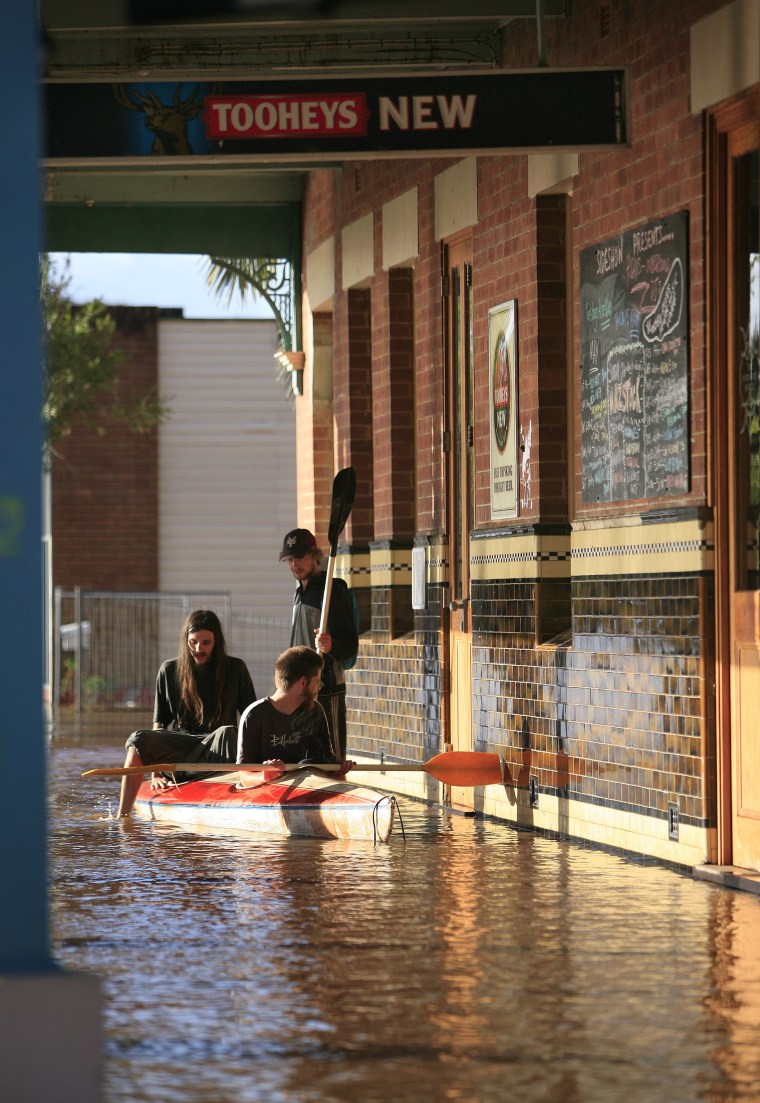 State authorities declared disaster zones in six areas, unlocking government help.
"The declaration will provide for a range of assistance to cover personal hardship and distress as well as funding for those who have suffered property damage," NSW Premier Nathan Rees said.
The storms left 16,000 people without power as fallen trees brought down lines and blocked roads.
Floodwaters washed cars into the sea and huge waves pounded major ports, including the world's biggest coal export port at Newcastle, where ship movements were disrupted.
"There have been some vessel disruptions, but effects on coal throughput are negligible," a spokesman for Port Waratah Coal Services Limited told Reuters.
Rivers burst banks at the towns of Murwillumbah, Tweed Heads and Grafton, although major coal-mining operations to the north and west in Queensland were unaffected.
'Stay indoors'
Prime Minister Kevin Rudd offered help to flood-hit areas. "It is critical residents follow the instructions of local authorities and as far as possible stay indoors and avoid the roads," Rudd said.
Farther north, in Queensland, residents spent Friday mopping up after suffering through the storm for three days. Many communities were flooded and the region was littered with downed trees and debris.
Hundreds of roads remained cut on Friday, with popular tourist beach areas transformed into canals.
While the rain had mostly moved south Friday, a massive clean-up operation in the state continued as beaches were swamped with huge waves and high tides.