/ Source: The Associated Press
Cadets graduating from West Point were praised by U.S. Defense Secretary Robert Gates on Saturday for having the courage and patriotism to join the military in "a dangerous new century."
Gates noted that the 970 members of the U.S. Military Academy's class of 2009 were preparing their West Point applications in late 2004, even as American forces were battling fiercely in Fallujah in Iraq.
"You made your decision to serve knowing not only that America was at war, as did every man or woman who joined the military after Sept. 11, but that this war would be bloody and difficult, of indefinite length and uncertain outcome," Gates told cadets. "In doing so, you showed courage, commitment and patriotism of the highest order."
Almost all the graduates become second lieutenants in the U.S. Army. Most are expected to serve eventually in Iraq or Afghanistan.
Gates, who became defense secretary during the Bush administration in 2006, urged the new officers to be pioneers in a perilous time. He called on them to show the courage to speak hard truths to superior officers and to show compassion for soldiers suffering from post-traumatic stress or other illnesses. His voice appeared to crack slightly when he told cadets "I feel a deep, personal responsibility for each of you."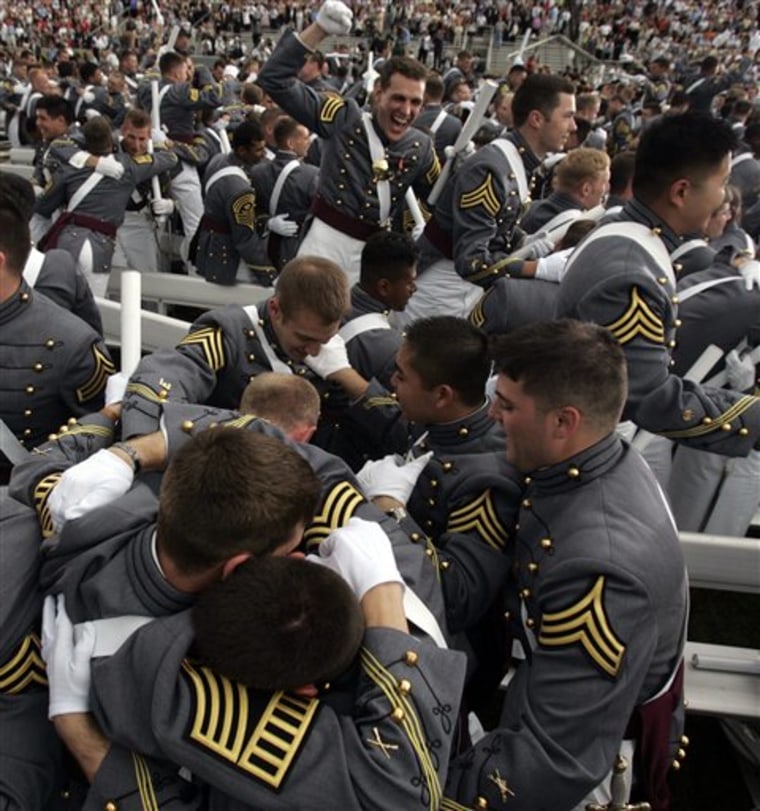 Cadets who tossed their caps into the air after the ceremony at the academy's football stadium said the four years trained them well to handle dangerous deployments. Some said they had concerns; all said they were prepared.
"You always think about it. I get a lot of comments from my parents," said Rachael Breinling of Fremont, Mich. "But you have to think past that."
"I'm ready," said Brandy Kinstle of Mansfield, Ohio. "If they tell me to go, I'll be there."
Brent Chapman said the Sept. 11 attacks in his hometown of New York City galvanized the decision to leave college and enlist. He came to West Point in 2005 with thoughts of being an officer — the guy who wears the brass and gives the orders. He said his time at the academy has given him a deeper ambition.
"It transformed into being the guy who people will trust their lives with," Chapman said.
The class of 2009 includes 17 cadets from other countries, including the academy's first cadet from Afghanistan, who will attend graduate school in the United States.