If imitation is the sincerest form of flattery, camera makers hope it will also lead to sales for pocket camcorders resembling the popular Flip.
Kodak, Sony, Creative and RCA are among the companies following the Flip's formula, with simple, relatively inexpensive pocket-sized camcorders that can be used by novices for shooting Sammy's soccer game as well as uploading short clips to online video mecca YouTube.
"The Flip offers a very easy-to-use value for non-technical users, and also offers it in a small, very convenient-to-carry package," said Ross Rubin, director of industry analysis for The NPD Group.
The Flip launched two years ago, starting out with two models, one for $120 and another for $150, and since then, more than 2 million of the camcorders have been sold in the United States. Various Flip models, old and new accounted for seven of the top 10 best-selling camcorders recently on Amazon.com, including two models of the Flip that shoot in high definition.
There's nothing fancy about the Flip, which is part of its appeal. It's an incredibly simple to use device, with only a few buttons to press and video quality that, while not stellar, is pretty darn good.
You don't have to know about frames-per-second rates or deal with buying SD cards for video storage. You don't have to hunt for a USB cable to connect the camcorder to the computer because a USB connector is built into the Flip and flips out — hence the camcorder's name.
The small size and light weight of the Flip — between 3.3 and 6 ounces, depending on the model — is largely due to its use of flash memory-based storage, a move that other manufacturers are following, even in more sophisticated camcorders.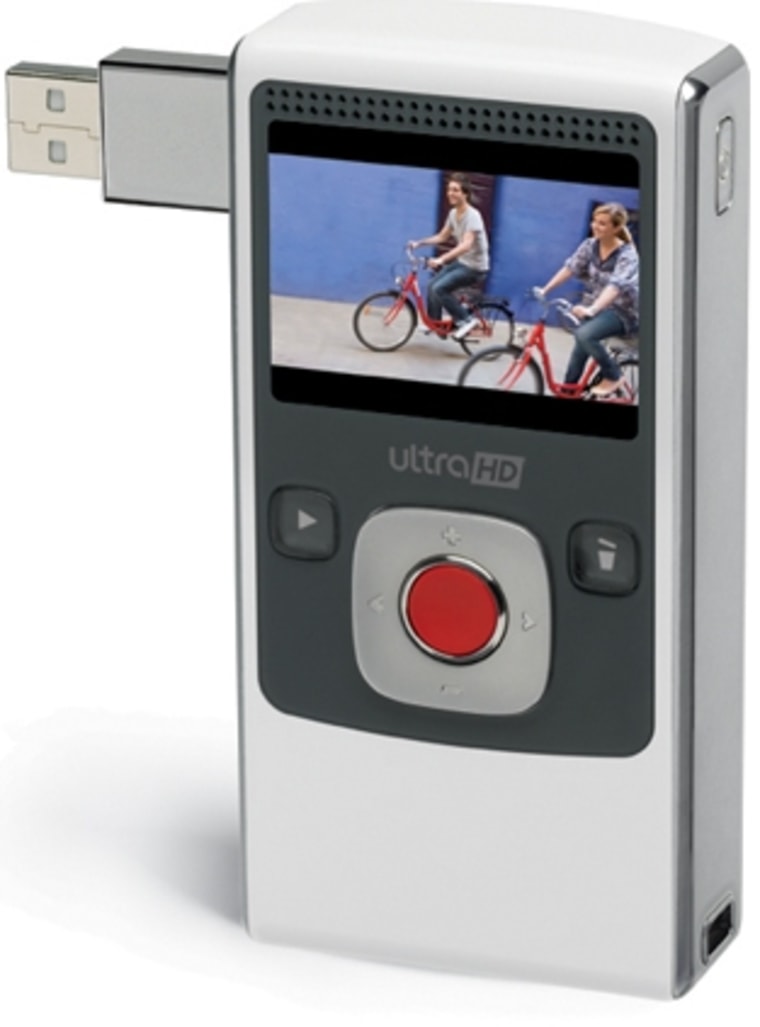 Flash-based storage does limit the amount of video that can be shot, and in the Flip's case that means between one to two hours, depending on the model. But three-hour documentaries isn't what the Flip, made by Pure Digital Technologies, is intended for.
"Low-cost camcorders are geared to more spontaneous capture," said Rubin. "There are two sets of target users: one is parents and grandparents who just want a simple way to share video privately, and the other is the younger, YouTube-based crowd looking for something a little smaller and sleeker to be able to share video publicly."
Into this realm comes the competitors, many of them with high-definition offerings. One of the newest, the Vado HD by Creative ($230 retail), is most like the Flip with its built-in USB cable, and 8 gigabytes of flash memory — the same as the Flip UltraHD, which costs $200.
Creative says 8 gigabytes will hold "up to two hours of HD video," or up to eight hours of standard-definition video.
The Vado, like the UltraHD, has a 2-inch LCD screen.
PC World magazine, in its June issue, recently gave a slight winning edge to the Vado over the Flip's $230 MinoHD, praising the Vado for its video quality, but noting that its microphone and "low-light performance are weak spots," compared to the MinoHD.
Kodak's two high-def models
Kodak has two high-definition pocket camcorders, the Zi6 ($160 retail) and the Zx1 ($150 retail).
The big difference — once you get past the confusing names — is that the Zx1, built with rubber, plastic and metal, is a good choice for outdoor enthusiasts. Rubber doors protect the camcorder's ports from the elements.
Both the Zx1 and Zi6 also can take 3-megapixel still photos, and come with 128 megabytes of internal memory and a slot for either an SD or SD High Capacity (SDHC) card of up to 32 gigabytes.
The Zi6 HD uses two AA batteries; the Zx1 either two lithium-ion or nickel metal hydride (NiMH) rechargeable batteries. The Zi6 has a generous 2.4-inch screen; its sportier cousin, a 2-inch screen.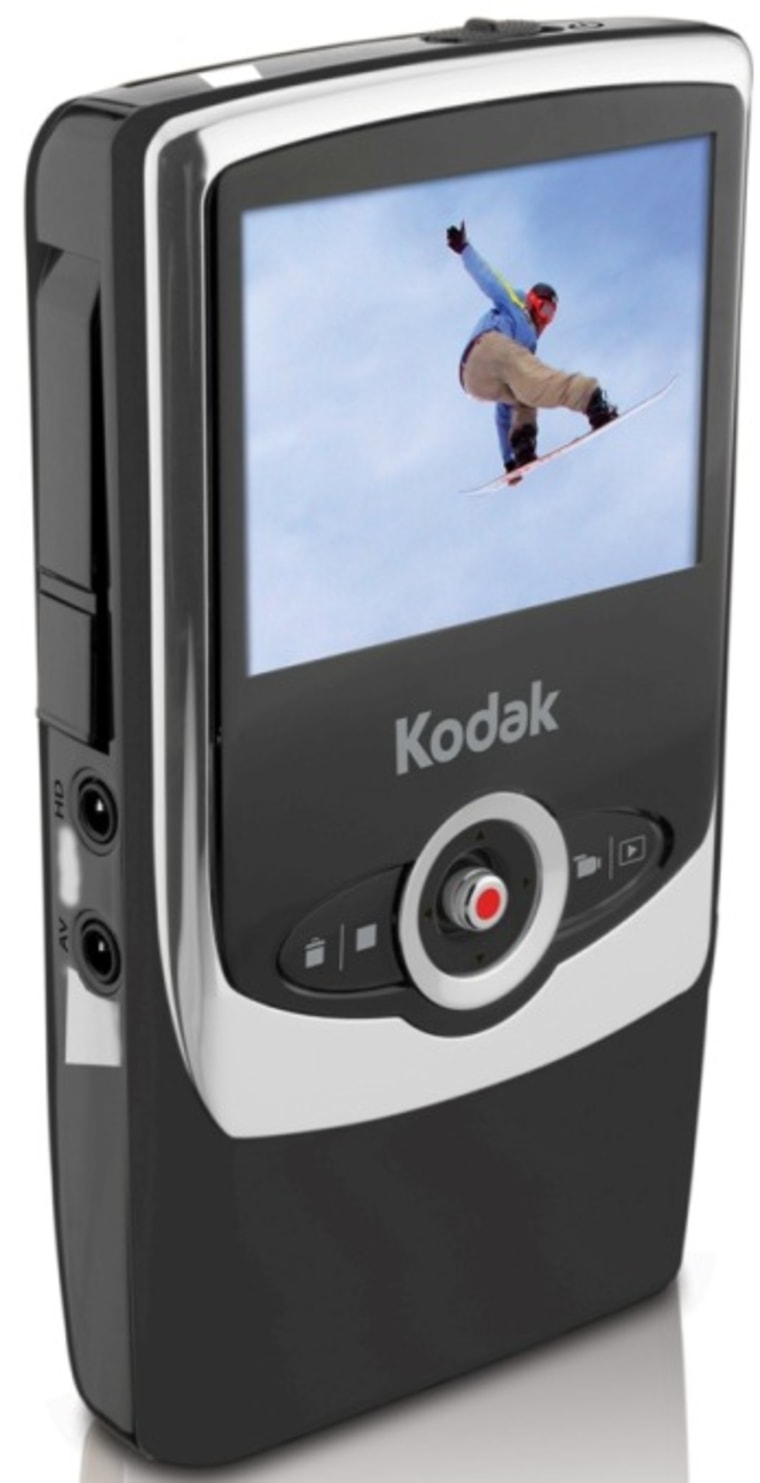 Like almost all of the pocket camcorder models, the Zx1 and Zi6 come with software to help upload videos to YouTube.
Software matters, of course, and it's worth doing a test run, if possible, at a retailer to see if you not only like the camcorder but the program that comes with it to help you offload video to your computer or to a Web site. 
Cables also count, especially those for connecting a camcorder to a TV. Most pocket camcorders come with cables to connect to standard-definition TV, but not all come with HDMI cables in the box.
Sony's Webbie
Sony's orange, purple and silver Webbie MHS-PM1 HD camcorders ($170 retail) come with a 4x digital zoom, twice the average of most pocket camcorders.
The Webbie has a 1.8-inch LCD screen that swivels up to 270 degrees "so you can see yourself while shooting video and taking photos," the company notes. The Webbie can also take 5-megapixel still photos.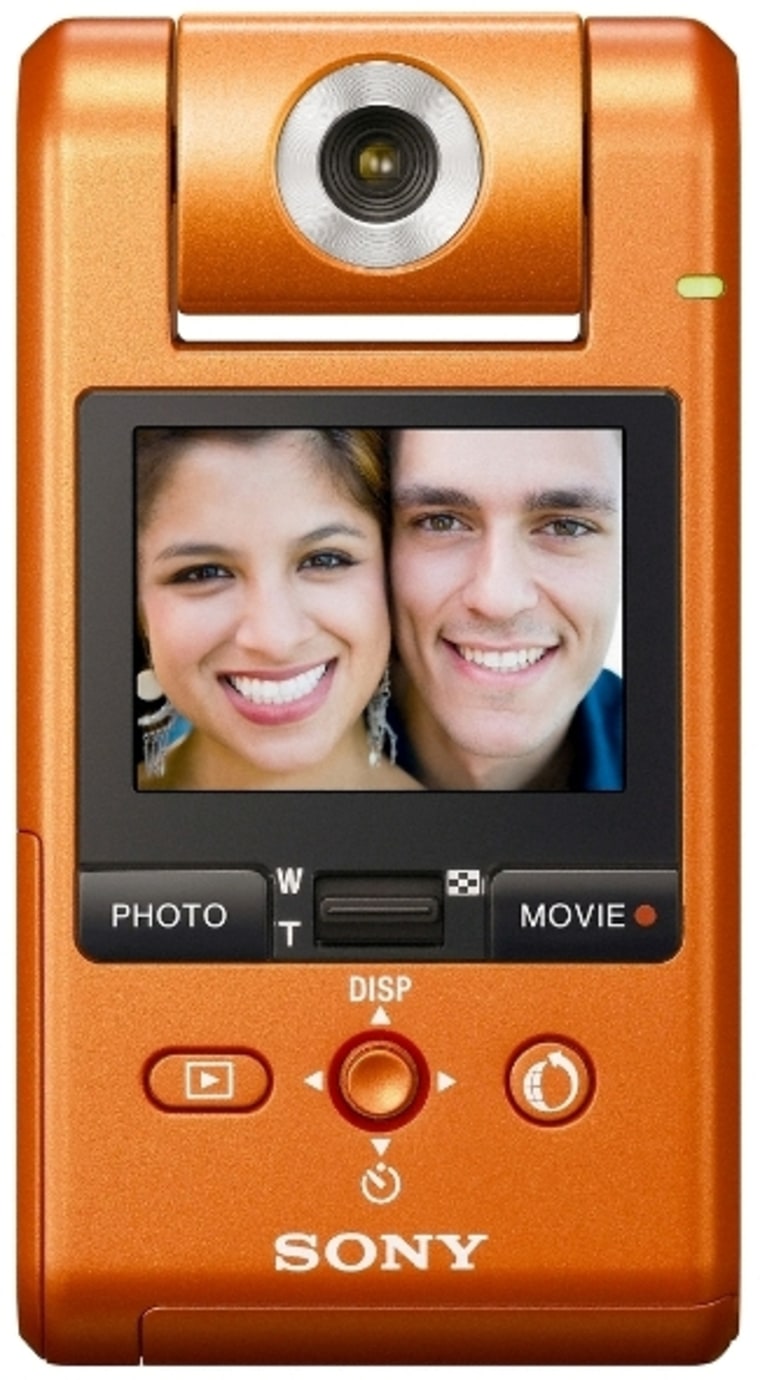 Sony's Picture Motion Browser Portable software allows for direct uploads to Web sites such as Shutterfly, Photobucket and Picasa, as well as to YouTube. 
The 4-ounce camcorder has a 1.8-inch LCD screen and has five modes for shooting, including sports, landscape and low light. It has 12 megabytes of memory built-in, but that's mainly for the camera's software and not for video. For that, the Webbie uses Sony's Memory Stick PRO Duo cards, which are sold separately. A 4-gigabyte card retails for around $40; a 16-gigabyte card, $120.
A horizontal version of the Webbie, the MHS-CM1 ($200) comes in the same bright colors, but looks more like a traditional camcorder. It has a larger 2.5-inch screen, which also rotates like the one on its vertical sibling.

RCA's Small Wonder camcorders
RCA's EZ300HD Small Wonder HD Digital Camcorder (retail $120 to $140) is yet another combo video cam and 5-megapixel still camera.
It has a 2.4-inch LCD screen and comes with 2 gigabytes of flash memory, which should provide up to one hour of HD video or up to six hours in "YouTube Capture Mode."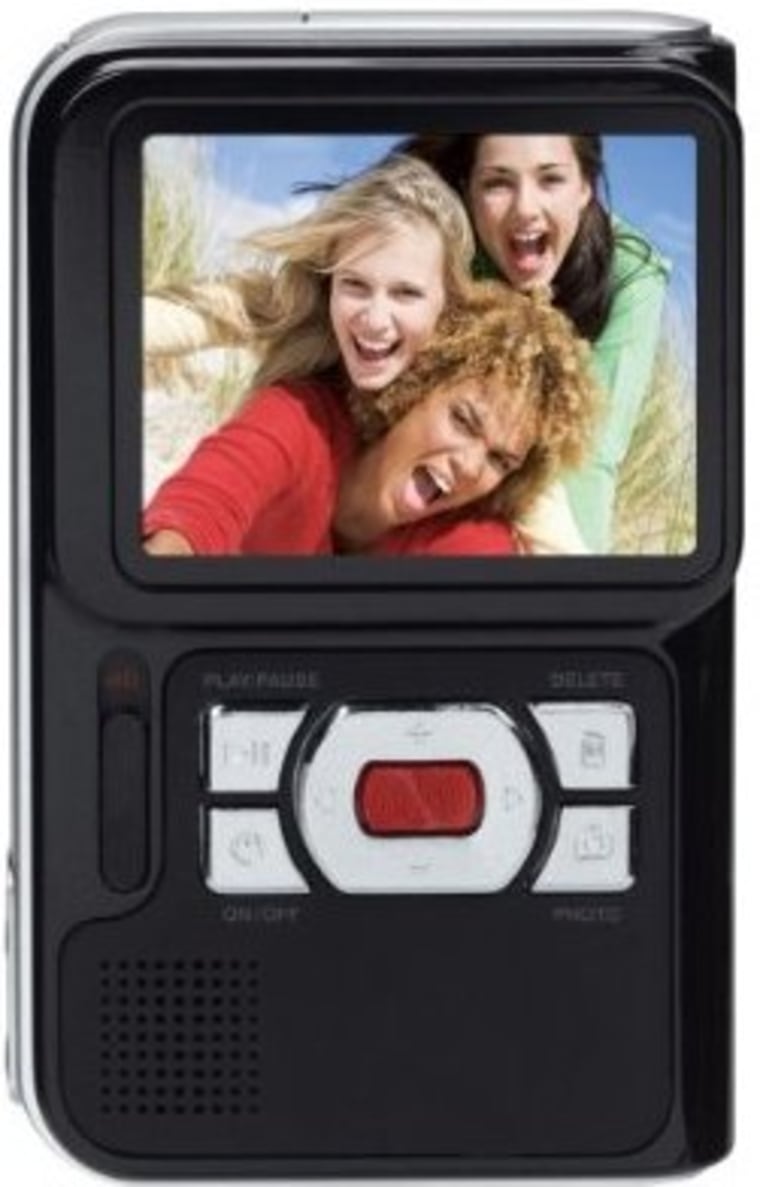 The camcorder also has a SD card slot and can use cards up to 16 gigabytes in size, which should hold up to nine hours of HD video, RCA says.
Yet another RCA Small Wonder high-def camcorder, the EZ209, costs around $100. It comes with 256 megabytes of internal memory and and has an expansion slot for MicroSD cards of up to 16 gigabytes.
Aiptek, which can be ordered online from various retailers, also makes an inexpensive pocket camcorder, the DV5900, which costs about $100 retail and includes a 5-megapixel still camera.
For now, Flip continues to rule the roost with its four models: the $150 Flip Ultra, with 4 gigabytes of memory; the $200 Flip UltraHD, with 8 gigabytes of memory; the $180 Flip Mino with 2 gigabytes of memory; and the $230 Flip MinoHD with 4 gigabytes of memory.
Last fall, Pure Digital Technologies added a touch of whimsy by letting Flip Mino owners personalize the "skin" of their camcorders with pattern-generated art, personal photos or work done by various artists.
Flip fans hope the whimsy — and utility and ease of use — of the camcorders will continue under new ownership. Cisco, which makes computer networking equipment, said in March it plans to buy Pure Digital for nearly $600 million.