Whether or not General Motors files for bankruptcy protection, the carmaker has made clear that its future plans do not include two brands — Saturn and Hummer — that once seemed to hold immense promise for the company.
GM has said it will decide this year whether to sell or discontinue both brands as part of the stringent cost-cutting measures aimed at trying to restore the ailing company's financial stability. The overall effort also has created an uncertain future for two other GM divisions, Saab and Opel.
Even with such efforts, however, many believe the company will be forced to file for bankruptcy protection, perhaps as soon as Monday.
GM spokesman John M. McDonald said this week the automaker has identified parties interested in purchasing Saturn and Hummer, but he would not provide specifics on who might be interested or when any deals might be reached.
"Obviously our interest is to have these brands find a home outside of GM and to continue as a business that can grow and flourish," McDonald said. "At the same time, I don't think there's any illusion: We need to restructure GM, and as we restructure GM there's no room for those brands."
The troubles facing the Saturn and Hummer brands are in many ways indicative of the underlying problems that have pushed GM to this point.
Different kind of car
When GM announced plans to launch the Saturn line in 1983, it promised to be different from typical U.S. brands in every way, from its nimble assembly line operation to its no-hassle showroom floor. A major focus was on customer service, including a pledge that buyers would not have to haggle on price.
The company's early efforts paid off.
"They came out with one vehicle — average vehicle, average price, average quality," but still found success against their Japanese competitors practically overnight, said Robert M. Wiseman, a professor at Michigan State University's Eli Broad College of Business.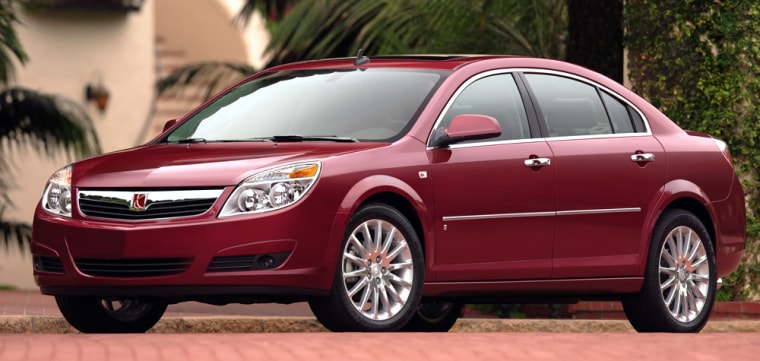 Still, after a strong start, things went downhill for Saturn, Wiseman said. He faults GM for not investing enough in Saturn's next generation of vehicles, leaving the company without a strong enough product line to bring its initial customers back again.
As time went on, the Saturn brand also became more enmeshed in GM's general operations, borrowing design elements from sibling brands and gradually mixing production facilities, experts say. The result has been cars that are too similar to other GM nameplates and do little to excite the customer, some industry analysts say.
"They lost their way a long time ago," said George Magliano, IHS Global Insight's director of automotive industry research for North America.
Still, Magliano said that more recently Saturn has seemed to find its footing again with promising new models such as the Aura and the Astra. But the improvements may have come too late.
"The issue, more than anything else, is the Saturn brand has sort of lost its luster," Magliano said. 
While GM's overall sales have fallen sharply in this recession, sales of its Saturn and Hummer vehicles have fared even worse.
For the first three months of 2009, global sales of General Motors vehicles fell 28 percent to 1.6 million vehicles, according to the company. During the same period Hummer sales fell 62 percent to 5,013 vehicles, while Saturn sales fell 57 percent to 22,294 vehicles.
While Saturn initially set out to offer affordable, relatively fuel-efficient vehicles, Hummer was meant to fill another niche: the high-end, rugged sport utility vehicle that would eventually come to epitomize the opulence and consumerism of the economic boom.
GM purchased rights to the Hummer brand in 1999, when the dot-com economy was still booming and gas prices were under $2 a gallon. With fans including Arnold Schwarzenegger, who The Associated Press reported once owned seven Hummers, the car became a status symbol among both celebrities and the wealthy. GM moved quickly to offer scaled-down versions to further boost its customer base.
A spike in gas prices combined with increasing worries about the environment caused the first spate of troubles for the Hummer brand, and for the other large SUVs in GM's portfolio.
The recession has further eroded the brand's appeal, said Karl Brauer, editor-in-chief of the automotive Web site Edmunds.com, since people either can't afford the vehicles or don't want to be seen as flaunting wealth when so many people are struggling.
Five years ago, Brauer said he saw Hummers "all over the place" on his daily commute on the Pacific Coast Highway, On a recent drive through a wealthy area on the same Southern California highway, he was astonished to see a Hummer H1, the original and largest model in the family.
"I was just shocked that anyone, in today's world, would own one of those," Brauer said.
The tide among California's wealthy and influential has clearly turned. Now, he noted, "You can't swing a dead cat without hitting a Prius on my drive. They're everywhere."
Potential buyers?
Despite their troubles, analysts speculate that both Saturn and Hummer have brand value, particularly for an overseas automaker that may want to make inroads into the United States.
"I think both of them should find new homes," said Magliano, the IHS Global Insight analyst. "The question is, what is the bidding price?"
Experts say Saturn's biggest selling points are its promising new products and its network of dealers.
Still, any Saturn deal could be complicated by the fact that Saturn's operations are now deeply enmeshed in GM's manufacturing system. Wiseman said that means that any buyer would likely find that, initially at least, GM would manufacture the cars for the new owner.
"That could be a problem," he said.
Hummer, on the other hand, may never get back to its glory days, particularly given the stringent new fuel economy standards U.S. carmakers will have to meet in the coming years. Brauer said a new owner may find a niche market in another part of the world, such as the Middle East, or come up with some way to retool the brand to be more affordable and fuel-efficient. Any such efforts would be costly.
"You have to look at car companies that may have some deep pockets that can absorb the cost of trying to turn that segment around," said Wiseman, the Michigan State professor.
Anyone interested in buying either division might find it difficult to get financing in today's difficult economic environment. On the plus side, analysts say it is a buyer's market because GM is eager to get the operations off their books.
"They're hoping to generate some actual cash infusion through a sale, but at a minimum what they're hoping to do is limit their losses," Wiseman said. "If they can eliminate the cash drain, that's a positive."