/ Source: The Associated Press
An airplane seat, a fuel slick and pieces of white debris scattered over three miles of open ocean marked the site in the mid-Atlantic Tuesday where Brazilian officials said Air France Flight 447 crashed.
Brazilian military pilots spotted the wreckage, sad reminders bobbing on waves, in the ocean 400 miles northeast of these islands off Brazil's coast. The plane carrying 228 people from Rio de Janeiro to Paris went down in waters up to three miles deep Sunday night.
"I can confirm that the five kilometers of debris are those of the Air France plane," Defense Minister Nelson Jobim told reporters at a hushed press conference in Rio. He said no bodies had been found and there was no sign of life.
The effort to recover the debris and locate the all-important black box recorders, which emit signals for only 30 days, is expected to be exceedingly challenging.
"We are in a race against the clock in extremely difficult weather conditions and in a zone where depths reach up to 7,000 meters (22,966 feet)," French Prime Minister Francois Fillon told lawmakers in parliament Tuesday .
Difficult to recover black box
Brazilian military pilots first spotted the floating debris early Tuesday in two areas about 35 miles (60 kilometers) apart, said Air Force spokesman Jorge Amaral. The area is not far off the flight path of Flight 447.
The cause of the crash will not be known until the black boxes are recovered — which could take days or weeks. But weather and aviation experts are focusing on the possibility of a collision with a brutal storm that sent winds of 100 mph straight into the airliner's path.
"The airplane was flying at 500 mph northeast and the air is coming at them at 100 mph," said AccuWeather.com expert senior meteorologist Henry Margusity. "That probably started the process that ended up in some catastrophic failure of the airplane."
Towering Atlantic storms are common this time of year near the equator — an area known as the intertropical convergence zone. "That's where the northeast trade winds meet the southeast trade winds — its the meeting place of the southern hemisphere and the northern hemisphere's weather," said Margusity.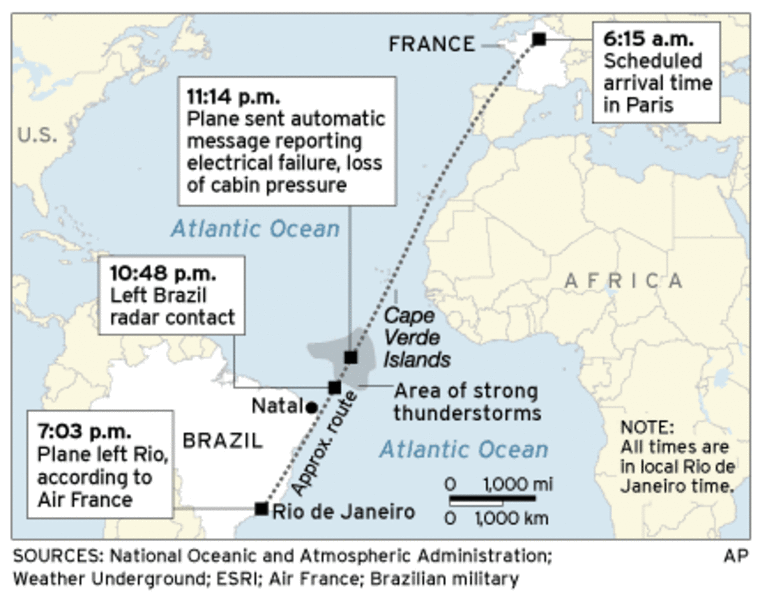 But several veteran pilots of big airliners said it was extremely unlikely that Flight 447's crew intended to punch through a killer storm.
"Nobody in their right mind would ever go through a thunderstorm," said Tim Meldahl, a captain for a major U.S. airline who has flown internationally for 26 years, including more than 3,000 hours on the same A330 jetliner.
Pilots often work their way through bands of storms, watching for lightning flashing through clouds ahead and maneuvering around them, he said.
"They may have been sitting there thinking we can weave our way through this stuff," Meldahl said. "If they were trying to lace their way in and out of these things, they could have been caught by an updraft."
The same violent weather that might have led to the crash also could impede recovery efforts.
"Anyone who is going there to try to salvage this airplane within the next couple of months will have to deal with these big thunderstorms coming through on an almost daily basis," Margusity said. "You're talking about a monumental salvage effort."
Recovering the wreckage
Remotely controlled submersible crafts will have to be used to recover wreckage settling so far beneath the ocean's surface. France dispatched a research ship equipped with unmanned submarines that can explore as deeply as 19,600 feet (6,000 meters).
The location could be identified with help from a U.S. Navy P-3C Orion surveillance plane — which can fly low over the ocean for 12 hours at a time and has radar and sonar designed to track submarines underwater — and a French AWACS radar plane joining the operation.
France also has three military patrol aircraft flying over the central Atlantic, two commercial ships reached the floating debris, and Brazilian navy ships were en route.
Even at great underwater pressure, the black boxes "can survive indefinitely almost. They're very rugged and sophisticated, virtually indestructible," said Bill Voss, president and CEO of the Flight Safety Foundation in Alexandria, Va.
"I would expect they'll dedicate the rather substantial resources of the French navy to this," Voss added. "I've got to figure this will go quickly. I'm hoping they'll have stuff up in a month, if not just a few weeks."
Rescuers were still scanning a vast sweep of ocean. If no survivors are found, it would be the world's worst civil aviation disaster since the November 2001 crash of an American Airlines jetliner in the New York City borough of Queens that killed 265 people.
Few clues to explain crash
Investigators have few clues to help explain what brought the Airbus A330 down. The crew made no distress call before the crash, but the plane's system sent an automatic message just before it disappeared, reporting lost cabin pressure and electrical failure.
French police were studying passenger lists and maintenance records, and preparing to take DNA from passengers' relatives to help identify any bodies. And while France's Defense Minister Herve Morin said "we have no signs so far" of terrorism, he said all hypotheses must be studied.
At the press conference, Jobim said there was no way to yet know if the plane had exploded or broken up in air or crashed intact.
The 4-year-old Airbus A330-200 was last heard from at 10:14 p.m. EDT Sunday about four hours after it left Rio, and was cruising normally at 35,000 feet and 522 mph just before it disappeared. No trouble was reported as the plane left radar contact, beyond Brazil's Fernando de Noronha archipelago.
But just north of the equator, a line of towering thunderstorms loomed. Bands of extremely turbulent weather stretched across the Atlantic toward Africa.
On board the flight were 61 French citizens, 58 Brazilians, 26 Germans, nine Chinese and nine Italians. A lesser number of citizens from 27 other countries also were on the passenger list.
The chance of finding survivors now "is very, very small, even nonexistent," said Jean-Louis Borloo, the French minister overseeing transportation.