In one way or another, they all expected success.
Growing up here, the five brand-new high school graduates knew they'd have to work hard. Some expected they'd have to overcome obstacles of their own making. But they all believed the effort would pay off.
Now, with the region's economy nearly in shambles, wrenched by a recession that has hit here harder than most other places, some members of the Class of 2009 aren't so certain.
"We're taught that if we put in the time and effort we can do whatever we want," said Alexa Sieracki, 16, a star science student and volleyball player at Elkhart Memorial High School.
"It's a hard thing to swallow," she said. 'It's not our ability that holds us back, it's money."
Sieracki is one of five students who've agreed to share their stories with msnbc.com for an ongoing series following them as they leave high school and launch into the future. It is part of long-term coverage centered on this northeast Indiana county, where unemployment was 17.8 percent in April, the highest in the state and nearly double the national rate of 8.9 percent.
Sieracki's view is echoed in Elkhart and across the country, where school counselors and sociologists say the impact of the lingering recession is just beginning to dawn on the next generation.
"There is a certain amount of appropriate worry about job possibilities," said Kevin F. Gaw, president of the American College Counseling Association, whose members regularly meet with incoming freshmen. "Students are starting to understand it's not so easy."
Stress over the economy is affecting young people, including the 18- to 24-year-olds in college, according to a just-released Associated Press-mtvU poll of 2,240 undergraduates at 40 four-year schools in the United States. Nearly a quarter of students with a parent who lost a job during the previous year showed signs of depression, more than twice the percentage of those with fully employed parents.
A California firm that helps families fill out federal financial aid applications says at least 10 percent of an estimated 100,000 clients include a parent or guardian who has lost a job or seen their employment reduced during the downturn. They qualify for the "dislocated worker" category federal officials added to the application last fall, when it was clear the economy was starting to spiral.
"Early on in the year, we started hearing from clients a sense of urgency, in some cases kind of a sense of desperation," said Marc Alexander, director of student aid advisers for Student Financial Aid Services Inc., one of the nation's largest aid consulting companies. "There's this general sense of concern."
Plans in peril
In Elkhart and elsewhere, high school students and their families have been forced to rethink future plans, adjusting expectations to account for layoffs, lost income and depleted investments, from basic savings to formal college investment plans.
The fallout of those changes is likely to intensify traits of a generation already known as protected, pressured achievers who feel a need to stay in sync with their peers, said Neil Howe, the one of the analysts who coined the term "Millennials" to describe the demographic group that follows Generation X.
"That raises the pressure," noted Howe, the co-author of "Millennials Rising: The Next Great Generation." "There's this idea if I don't have my ticket punched, I'm the only one not on the train."
The young people coming of age in the downturn likely will be cautious, risk-averse citizens more like the generation that grew up after the Great Depression than their parents or the older Baby Boomers, he said.
"Youth can react very differently to adversity depending on the overall society they're raised in," Howe said.
For the new graduates in Elkhart, the impact of adversity is as individual as the kids themselves.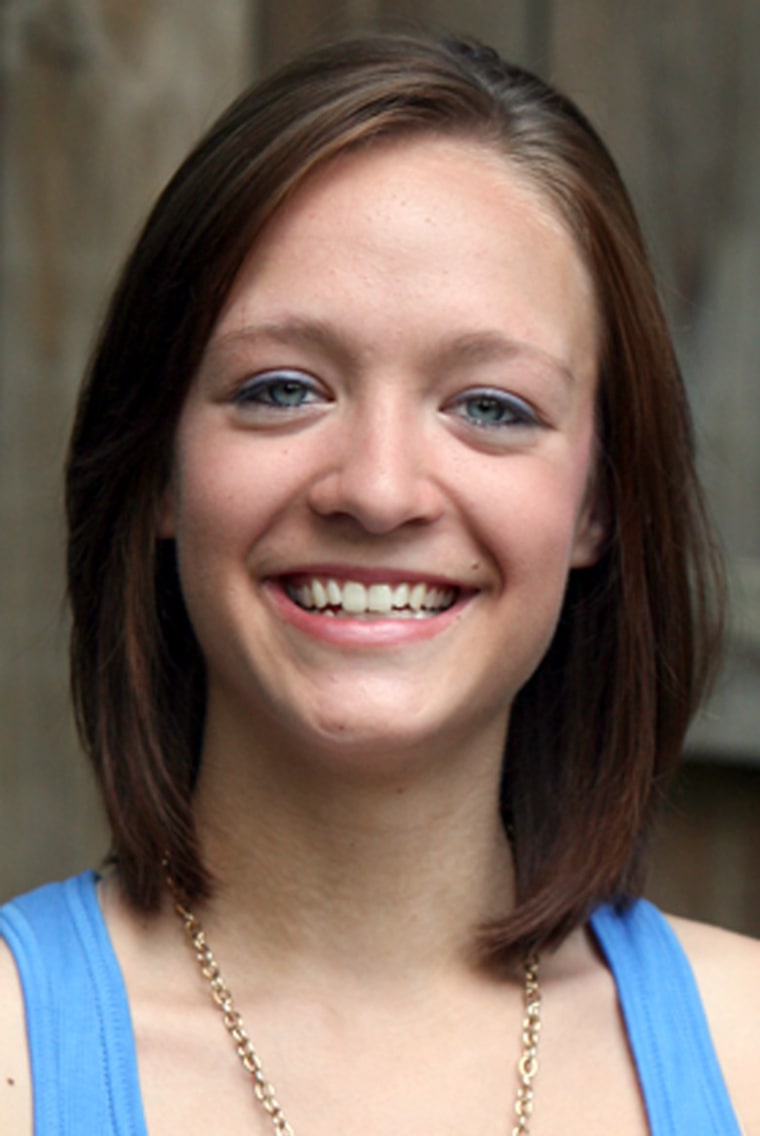 In Alexa Sieracki's case, the girl with the 4.55 grade-point-average and SAT scores of 2,060 was one of about 100 students in the country invited to skip her senior year of high school and attend the prestigious Resident Honors Program at the University of Southern California in Los Angeles. Only between 20 and 30 students are accepted annually, a school official said.
But in a year when father Tim Sieracki's hours as a letter carrier dwindled with cutbacks at the U.S. Postal Service, and when health insurance couldn't quite cover her mother Kris' bout with breast cancer, the $51,000 annual tuition for the USC program was a looming obstacle.
"It's the only determining factor for me," said Sieracki, who spent a tense week this spring waiting to see if her financial aid package would cover costs. "It's not my grades, it's not my desire."
Although neither Tim nor Kris Sieracki went to college themselves, they always intended that Alexa and her older sister, Nastasha, 21, would have that chance. They didn't want to borrow against their retirement funds, even for the girls' schooling, and they didn't want Alexa to take out more than $10,000 a year in loans.
So when she logged onto the USC site one April afternoon, her future hung in the balance. Her computer was slow, of course, and the seconds stretched unbearably. Finally, though, the file opened. And Alexa squealed.
She'd been granted one stipend of $37,000 a year to pay for school next year — and every year for the next three. Another annual scholarship will total $4,000 a year.
She'll have to work, and she'll have to take out small student loans, but if her parents can come up with $4,618 next year — which they can — Alexa is on her way.
"See, honey?" her mother said. "Dreams do come true."
The four other students msnbc.com is planning to follow have different, but no less striking stories:
Karvel Anderson, 17, a high school basketball player helping support his family
Yamilette Colon, 18, formerly on the verge of dropping out, graduated with honors
Nate Howell, 19, a football player who hoped for a college athletic scholarship
Kelsie Draper, 18, honor roll student with college plans when her dad was laid off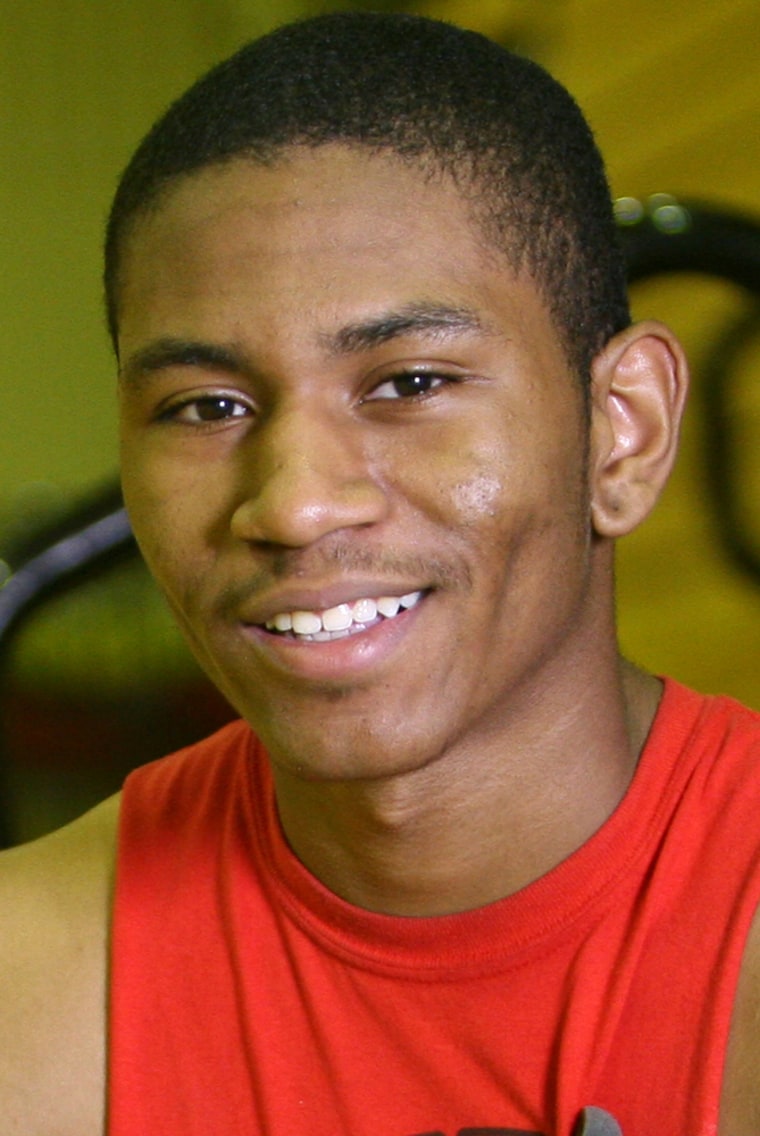 Karvel Anderson, a 17-year-old basketball player at Elkhart Memorial High School, knew his only chance was to work hard to develop skills that could land him a spot on a top college team. That's why he was in the school's huge gym at 6:15 a.m. many mornings, one of a handful of kids willing to practice layups and endure shirt-soaking scrimmages with Mark Barnhizer, the school's tough head basketball coach.
"He's from absolutely as bad a situation as you can find," said Barnhizer. "But I think he's got the potential to play at the D1 level."
That's no small feat for a kid whose mother went to prison for drug trafficking when he was a freshman, leaving him and his 15-year-old sister, Mylikea, nearly on their own. His dad went to jail when Anderson was 3; he lives now in a tiny rented cottage with his maternal grandparents, Paul and Pamela Adams. Pamela Adams suffers from uncontrollable high blood pressure, fibromyalgia and other ailments that keep her in and out of the hospital.
In March, Karvel Anderson was set to play in a tournament in front of college recruiters, when his 56-year-old grandfather, the family's sole means of support, abruptly lost his job in the RV industry when work dried up. Instead of attending the tournament, Anderson got a $9.50-an-hour job working for a local recycling company. He was so grateful for the chance to earn money, he didn't want to ask the owner, Chris Heims, for time off.
"We're just all taking care of each other," said Anderson, who wants to play college ball but worries that he should stay home and work. "You know you've got to work twice as hard as people used to."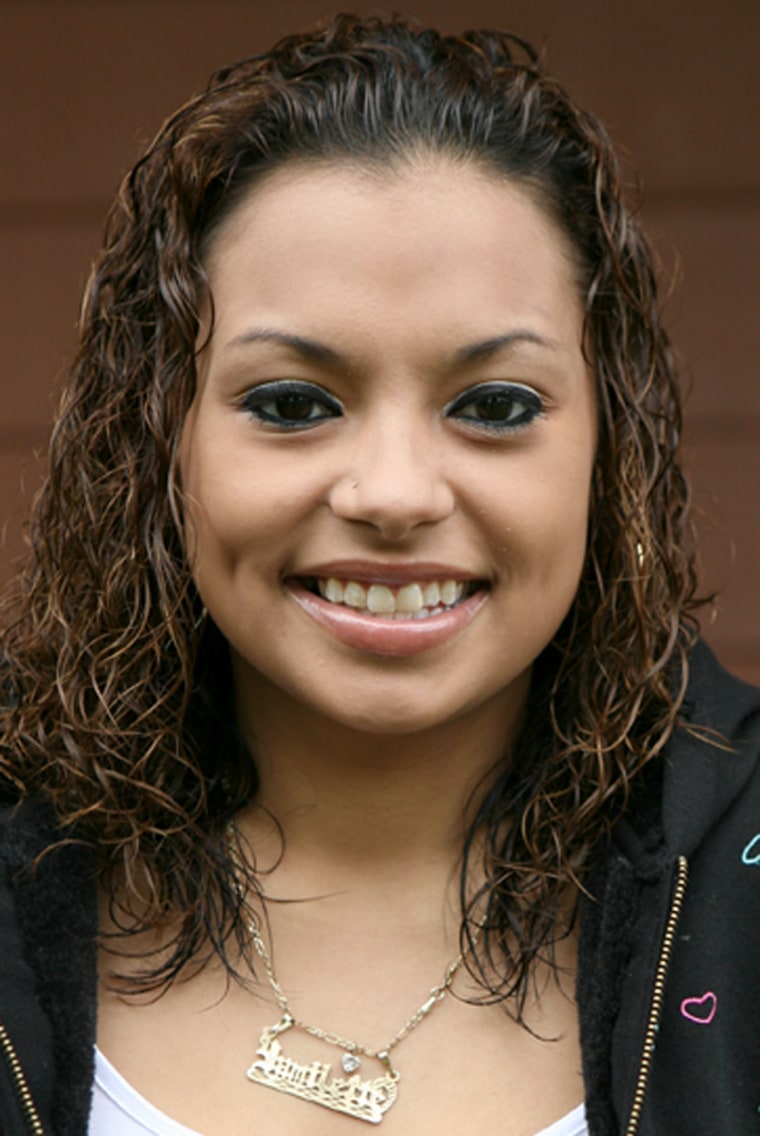 Yamilette Colon, 18, was on the verge of dropping out of high school as far back as ninth grade, when skipping class and fighting got her expelled. Enrollment in an alternative high school, strong talk from her mother and a shift in her own attitude propelled Colon to graduation last month, where she was honored as the Tipton Street Center's student of the year.
But with three younger siblings and a single mom, economic realities will keep her living at home, working at the local Taco Bell, even as she enrolls at nearby Indiana University South Bend to study nursing.
"I am a strong person," Colon said. "I don't want to mess up."
She'll share the struggle with her mom, Linda Delgado, 35, who is also going to college, taking one class at a time toward an associate's degree in human resources at the Elkhart campus of Ivy Tech Community College.
So far the pair say they've felt supported by the Elkhart community, who heard about Colon's efforts in an earlier msnbc.com story.
"It feels good when someone recognizes our children and ourselves for change," Delgado said.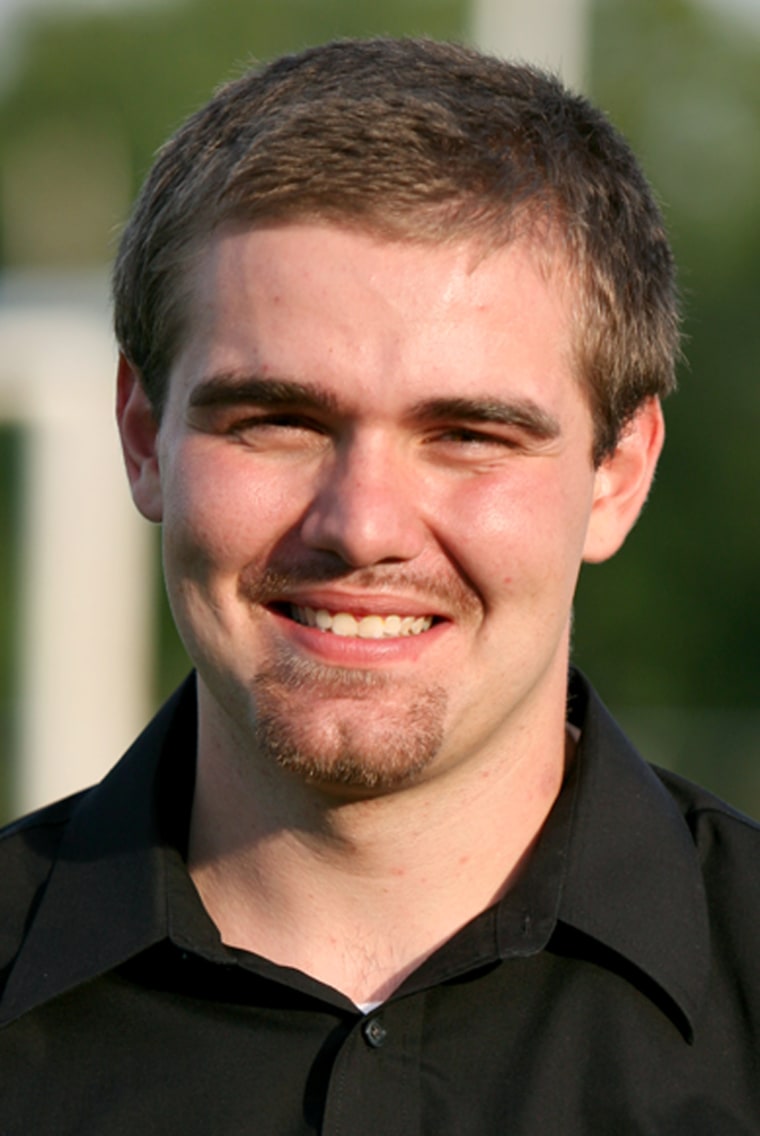 Nate Howell, 19, was a football player and track star at Elkhart Central High School who always imagined he'd go to college on a sports scholarship. He said he could have gotten in at Ohio Wesleyan, a Division 3 school, which offers academic scholarships, but no athletic scholarships. Officials there said if he came for a year and kept his grades up, there was a good chance he'd get some help, Howell said. He talked to coaches at state schools but no offers were made.
This year, however, there's no way Howell's family can afford any part of the school's $34,570 annual tuition, plus room and board. Howell, his mother, and his two brothers and a sister are all sharing space in his grandmother's Elkhart house. They moved there after his mother, Angelique Howell, 39, lost her job last October at Elkhart Tool & Die, a manufacturer of metal steps for the declining recreational vehicle industry.
That came on the heels of more than $40,000 in medical bills that followed her diagnosis for skin and ovarian cancer five years ago.
"I was going to stay and help her out if she needed it," Nate Howell said.
And he has. Howell is working full time at the local Kroger grocery store and soon plans to start another full-time job at Plumrose, a local meat plant that packs and ships bacon and other products.
Part of his earnings go for a typical teenage expense: a car.
"I saved the down payment myself; I saved every dime," Howell said of the 1999 Mercury Cougar he bought for $7,500.
After the $250-a-month car payment and another $250 for insurance, Howell uses the rest of his paycheck to help pay for family groceries and other bills.
He figures he'll spend at least the next year working two jobs, with hopes of helping out at home and maybe saving a little to make another try at college. He thinks he'd like to be a teacher one day, or maybe a physical therapist or an auto mechanic.
If Howell chooses to be a teacher, he'll be a good one, said Matt Erlacher, 23, a football coach and physical education teacher at Elkhart Central. Nate Howell was Erlacher's student assistant all year and he brought a work ethic beyond his years to the job.
"All the kids looked up to him," Erlacher said. "He is such a hard worker, you just want to see him succeed."
Howell knows he has shouldered more responsibility than a typical high school student, especially in Elkhart's hard-hit economy. But he said he uses the lessons he learned on the football field to put the downturn in perspective.
"Bring it on," he said. "It might seem down and everything, but if you're a hard worker, it'll be OK. I'm ready for any obstacle."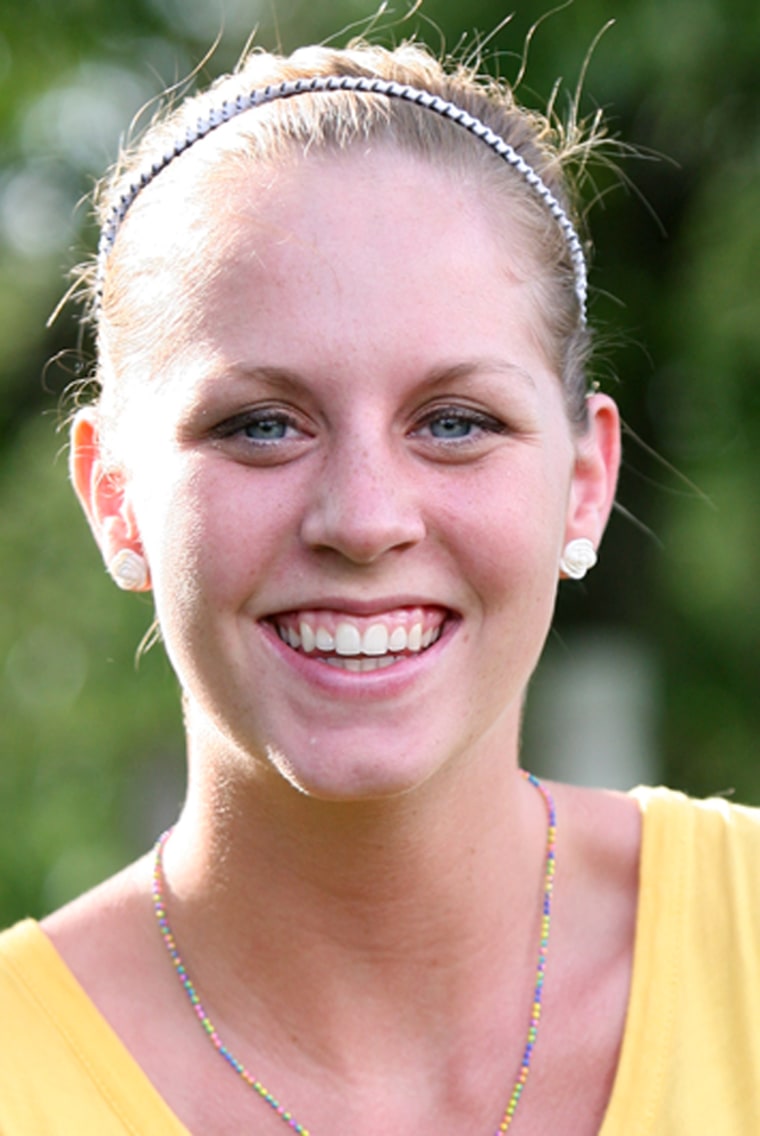 Kelsie Draper, 18, who plans to graduate next week from Northridge High School in nearby Middlebury, thought her future was on track. An honor roll student and strong swimmer, she had enough accolades to consider attending a few small private colleges. Until last summer, that was fine. Her dad, Russ, 52, was a salesman at a local recreational vehicle plant, where his salary and commission totaled $175,000 a year. Her mom, Gail, earns about $50,000 a year as the head of the guidance department at Elkhart Central High School. That was more than enough to support a comfortable lifestyle and pay for college for their older daughter, Aubree Draper, 21, who's graduating this year from a nursing program at Bethel College in nearby Mishawaka, and to plan for Kelsie's expenses.
But Russ Draper lost his job last summer and was out of work for five months, exhausting most of the family's savings. He found a job in January selling fabric for RVs, a position that offers a base salary of $27,000 a year. The dramatic change in the family's income has forced the Drapers to think hard about Kelsie's future.
"I have a senior in high school and a senior in college and my older student is worried about getting a job and the younger one is worried about how we're going to pay for college," said Gail Draper, 52.
Kelsie recently settled on Hope College, a small, private Christian liberal arts college in Holland, Mich. The school offered her a financial package that will bring the cost down to the level of a state school, about $18,000 a year for tuition and living expenses.
"She truly preferred the atmosphere that Hope offered so we are going to try and obtain loans to be able to send her," Gail Draper said. "I don't know how difficult or not it will be to obtain loans for schooling, but we are going to go for it."
It's an opportunity both exciting and scary for Kelsie, who is a little daunted at the idea of living on her own. She might consider a career in nursing, like her sister, but she also sees that Aubree will have to move out of state to find work, despite her newly minted degree.
"I don't really look too far ahead," said Kelsie Draper. "I hope it gets better when I graduate."
Still optimistic
She's not alone in her hopefulness, despite the grim economy. Students in the Class of 2009 are more worried about the future, but they're also surprisingly optimistic, said Steve Schneider, president of the Wisconsin School Counselor Association and an active counselor at Sheboygan South High School in Sheboygan, Wis.
In that economically troubled city, where the manufacturing industry is also seeing big layoffs, high school seniors remain as enthusiastic about their own futures as any 18-year-olds ever are, Schneider said.
They've gotten the message that education will be key to their futures, even if that education might have to come in the form of less-expensive options such as enrolling first at two-year colleges and then transferring, Schneider said.
"They're hopeful, they're idealistic. They really look at this and think, 'It's not our problem,' or 'It's going to be fixed by the time it's really going to impact me,'" he said.
"I'm not going to be the one to say, 'Pull your head out of the clouds.'"