It was hardly the kind of endorsement Nike envisioned when it gave Tiger Woods $125 million to market its golf clubs.
LAST AUGUST, mired in a major tournament malaise, the game's greatest and most visible player dumped his Nike driver and went back to his trusty Titleist.
"When he went away from the Nike clubs — in particular the Nike driver — it was a huge embarrassment and you knew that their marketing people were desperate to get him back into the fold," said Marc Ganis, president of Chicago-based consulting firm SportsCorp Ltd.
So desperate, that Nike engineers went back to the drawing board and came up with a new driver called the "Ignite.".
Woods liked it so much during practice rounds that he decided to use it during this week's American Express championships.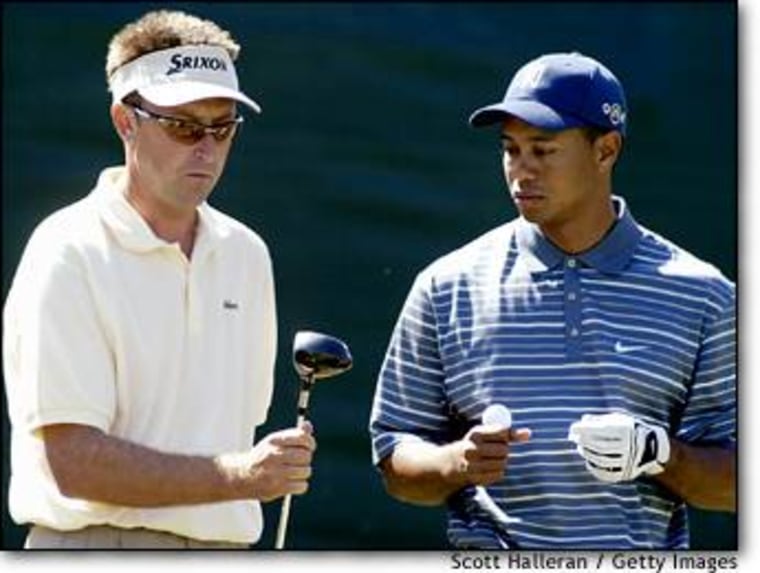 Sports marketing experts say Nike needs Woods' brand loyalty to become a bigger player in the $24-billion-a-year golf-equipment industry. It currently claims only four percent of the overall driver market.
"I think it's absolutely critical that they get their golf club business and their driver business going again," said John Horan, publisher of industry newsletter Sporting Goods Intelligence.
Tiger's switch back to "the swoosh" comes at a time when the Nike business is doing very well.
Last week, the company solidly beat earnings expectations for its fiscal first quarter, and future U.S. orders — a closely watched barometer by analysts — were down, but better than most had expected.
Nike's share price has also been on the fast track in recent months, steadily climbing close to a 52-week high. And this week, analysts from three different brokerages raised price targets on the stock, a sign that Wall Street remains bullish.
Sporting-goods industry experts say Nike has succeeded by transforming itself into a global business — especially helpful at a time when the U.S. dollar is weak.
"Obviously with the dollar as weak as it is now, whenever they're selling overseas it comes back to the United States with a big currency boost," Horan said.
And Nike wants to be an ever bigger global player.
At its recent shareholders meeting, CEO Phil Knight said the company is readying an assault on the global soccer market, warning the world that it wants to unseat leader Adidas by the 2006 World Cup.
"They realize that to be a global brand it's important to be a player in the soccer business," Horan said.
Precisely why Nike paid a record $440 million to convince Manchester United the most financially successful soccer club in the world to wear the swoosh.