Now that the Palm operating system is catching up with Pocket PCs, it was time for Palm to come up with some modern hardware designs to go along with their improved OS. This week they announced three new designs at three important price points, hoping to appeal to the gazillions out there who don't own a handheld computer — and to the Palm faithful who can't do without the latest and greatest.
InsertArt(2029666)TO GO ALONG with all the new hardware is a new name for the company. Palm is now called palmOne. Soon it will incorporate former rival Handspring's technologies and that company's new Treo 600 phone.
ZIRE 21: FAST AND CHEAP As for palmOne's first offerings, the least expensive of the new bunch is the Zire 21. It's looks a like the old Zire, except there's a much better processor inside (a 126 MHz ARM chip), OS 5.2.1 and 8MB of memory versus the 16MHz brain in the older model which was mated to OS 4.1 with 2MB of memory.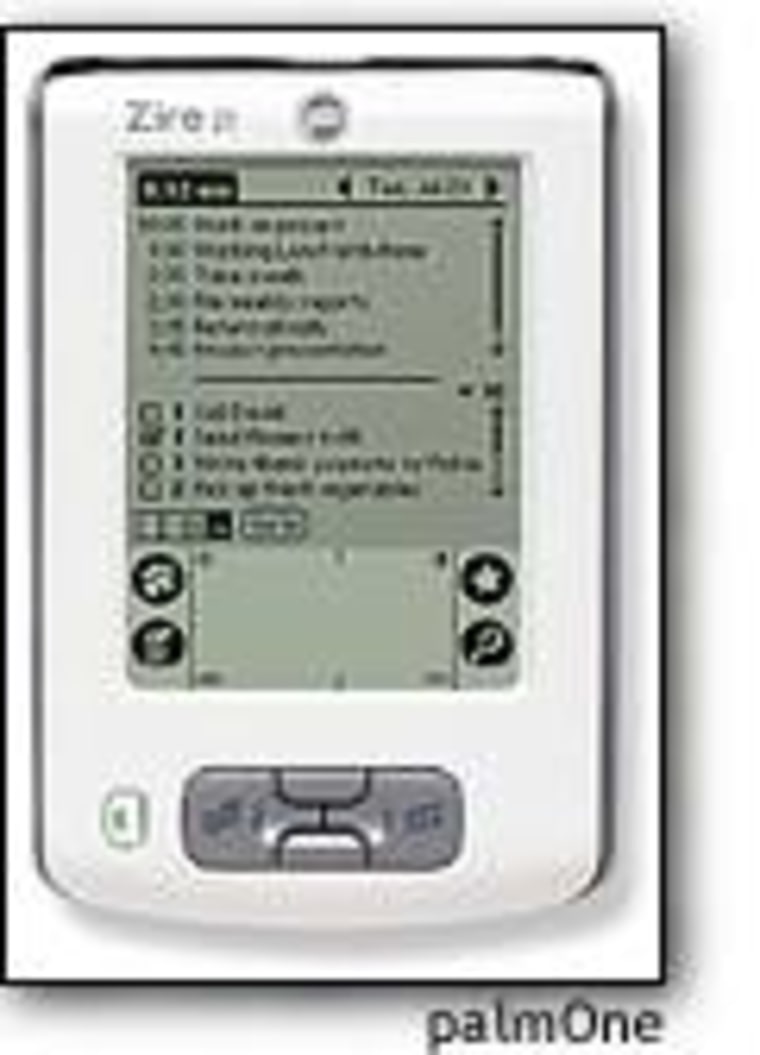 The new Zire is the same size as the old, 4.4 inches by 2.9 inches by 0.6 inches, and the same weight as well, 3.8 ounces. They both have a monochrome (that means black and white) screen which has no backlighting. The Zires are meant to be starter PDAs and that's exactly how people are using them — only now they're a lot more powerful.
The new Zire 21 sells for $99, a price to get even the most stubborn Luddite to try an electric organizer. Even better news, the original Zire is now selling for $79 while they last! Can't think of a better holiday gift (either the old or the new) for under a hundred bucks.
TUNGSTEN E: COLOR FOR UNDER $200 Unless, of course, you or someone you love must have a reasonably-priced color screen model. Enter the new Tungsten E. It has a good-looking transflective screen, the 126 MHz ARM processor, Palm OS 5.2.1 and 32 MB of memory. It's a little bit bigger than the monochrome models, 4.5 inches by 3.1 inches by 0.5 inches and weighs in at 4.6 ounces.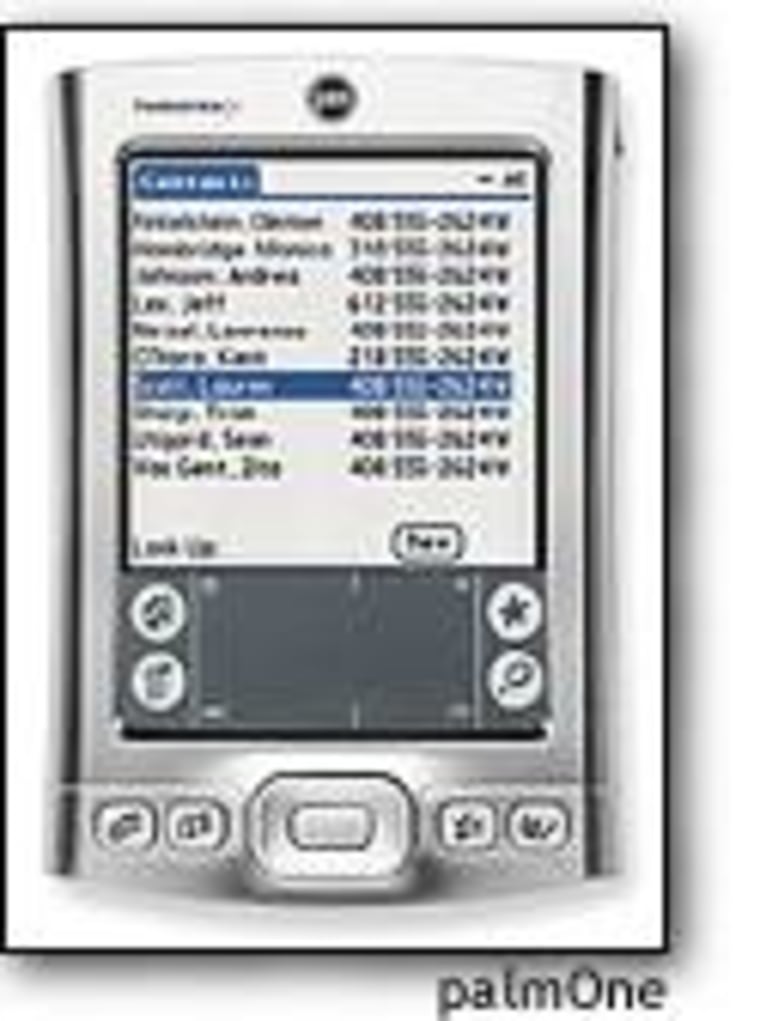 The E has two other benefits over the Zires: the SD card slot (a help with MP3 and video playback via the built-in software) and a stereo headphone jack. It also comes with DataViz's Documents to Go 6 software, which allows you to handle Microsoft Office documents (Word, Excel, Power Point) on your Palm (or is that on your palmOne?).
Here's the best part. The spiffy new Tungsten E has a suggested retail price of $199. We're still talking affordable for gifts this holiday season.
TUNGSTEN T3: TOP OF THE LINE Unless, of course, you have to own or give the very best. Palm has a new handheld for that segment of the market too.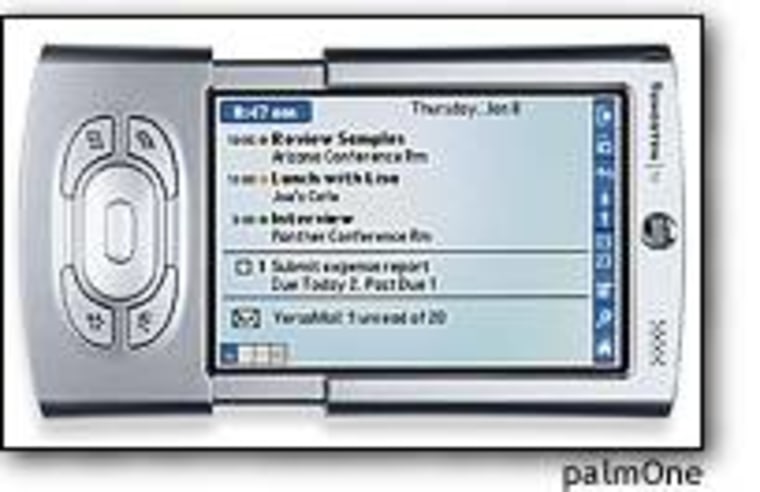 The Tungsten T3 looks to me like the best device Palm has ever made. First of all, the screen. It's the first Palm with a stretch color screen: 320-by-480 pixels versus 320-by-320 pixels on all the others. With its rectangular shape, the T3's screen is also the first from Palm that you can use in either the portrait (vertical) or landscape (horizontal) orientation.
This new screen is housed in a wonderful slide-out enclosure. Slide the bottom out and you get to use the entire screen. Slide it closed and you have the famous 320-by-320. You can use Graffiti 2 anywhere on the screen, open or closed, or on the familiar Graffiti screen on the bottom when it's open. There's also a new software toolbar at the bottom of the screens (open and closed) which lets you control many of the programs and hardware options that your new T3 can handle.
Included is audio and video, photo and Documents to Go software, a stereo headphone jack, a built-in voice memo recorder, a detachable suede flip-over screen protector and Bluetooth wireless connectivity. There's also an optional, very cool wireless keyboard available.
The T3 is only 4.3 inches by 3.0 inches by 0.66 inches in size and weighs 5.5 ounces. This beautiful PDA — its fit and finish are top-rate — has a retail price of $399.
The one thing I was surprised about was the fact that the new Palms could not sync with the fabulous new version of the soon-to-be-released Microsoft Outlook 2003 which I've been testing for months. (MSNBC is a Microsoft - NBC joint venture.) In the past few weeks I've synchronized two new phones and two new PDAs from other makers without a problem.
When pressed, Palm directed me to a soon-to-be-released fix to allow the sync conduits to do their thing. The software patch should be available when Outlook 2003 is released later this month.