Hunched with his troops in a dusty, windswept courtyard, the squad leader signals the soldiers to line up against a wall. Clasping automatic weapons, they inch single-file toward a sandy road lined with swaying palm trees. The squad leader orders a point man to peer around the corner, his quick glance revealing several foes lying in wait behind a smoldering car. A few hand signals, a quick flash of gunfire, and it's over. The enemy is defeated, but no blood is spilled, no bullet casings spent: All the action is in an upcoming Xbox-based training simulator for the military called "Full Spectrum Warrior."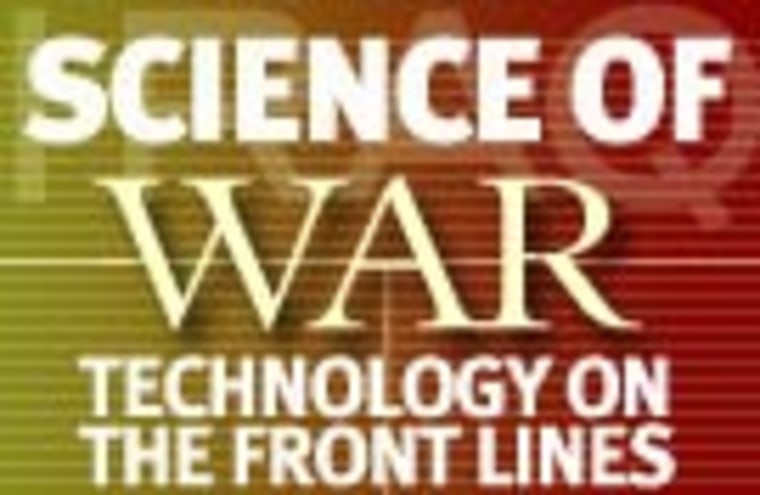 INCREASINGLY, THE PENTAGON is joining forces with the video games industry to train and recruit soldiers. The U.S. Army considers such simulators vital for recruits who've been weaned on shoot 'em up games.
Even the Central Intelligence Agency is developing a role-playing computer simulation to train analysts.
"We know that most of our soldiers know how to use a game pad," said Michael Macedonia, chief scientist at the Army's Program Executive Office for Simulation, Training and Instrumentation in Orlando, Fla. "Every kid figures out the controls pretty fast."
For years, the U.S. armed forces have used big, sophisticated simulators with hydraulics, wall-sized video screens and realistic cockpits. But such gear costs millions of dollars — far too pricey even by military standards to be widely available.
And that's why video games make sense.
THE VIDEO GAME CONNECTION
"Full Spectrum Warrior" was created through the Institute for Creative Technologies in Marina Del Ray, Calif., a $45 million endeavor formed by the Army five years ago to connect academics with local entertainment and video game industries. The institute subcontracted game development work to Los Angeles-based Pandemic Studios.
The institute's other training program, "Full Spectrum Command," was released for military use in February.
That game, for the PC, is geared toward light infantry company commanders who lead about 120 people. Set in eastern Europe, it tests organization, decision-making and the ability to recognize threats in a peacekeeping setting.
With "Full Spectrum Warrior," currently in testing at Fort Benning, Ga., squad leaders learn how to command nine soldiers in complex, confusing urban warfare scenarios. The game isn't not about sprinting, "Rambo"-like, through alleys with guns blazing.
"It's not really about shooting at things," Macedonia said. "Learning how to shoot your weapon is easy. The challenging thing is leading."
The game the Institute for Creative Technologies has been working on with the CIA for about a year — at a cost of several million dollars — will let agency analysts assume the role of terror cell leaders, cell members and operatives.
"Our analysts would be accustomed to looking at the world from the perspective of the terrorists we are chasing, and learn to expect the unexpected," CIA spokesman Mark Mansfield said.
RECRUITMENT TOOL
Training aside, video games are increasingly viewed by top brass as a way to get teenagers interested in enlisting.
Games such as "America's Army," developed and published by the Army, and "Guard Force," which the Army National Guard developed with Alexandria, Va.-based Rival Interactive, can be downloaded or picked up at recruitment offices.
"America's Army" has been a hit online since its July 2002 release, attaining 1.5 million registered users who endure a basic training regiment complete with barbed-wire obstacle courses and target practice.
"Guard Force" has been less successful. Released last year, it features bland synth-rock music that blares in the background. Between video commercials touting the thrills of enlisting in the Army National Guard, gamers pluck flood victims from rooftops or defend a snowy base. In the training mission, gamers deploy helicopters, even tanks, to rescue skiers trapped in an avalanche.
The creators of "Full Spectrum Warrior" hope their stint with the Army will also spur commercial sales.
Pandemic is already busy creating a retail version that will add multiplayer capability, streamline the controls and dispense with such realities as death from a single gunshot wound.
"The explosions will be bigger. Smoke will develop more quickly. A squad leader could call in an F-16 strike," said Jim Korris, creative director for the Institute for Creative Technologies. "That doesn't happen in the real world."
THQ Inc. is expected to release the public version early next year. An early demonstration in May at Electronic Entertainment Expo, the video game industry's annual trade show, won "Best Original Game" and "Best Simulation" awards.
There are no plans for commercial release of the CIA game.
© 2003 Associated Press. All rights reserved. This material may not be published, broadcast, rewritten or redistributed.