So far, the cell phone's primary contribution to driving has been the emergence of the even more oblivious driver, distracted, eyes wandering, meandering in the lane sometimes like a drunk. But the phone — or more specifically, the smartphone, handheld computer or other mobile computing device — is poised to give drivers the futuristic capabilities of the Batmobile's remote control.
Recent concept cars such as the Rinspeed iChange and the Chrysler Global Electric Motorcars Peapod have embraced Apple's popular iPhone as a device not only for making phone calls or playing music, but as the key to starting the car.
That might sound like an impractical futuristic application of smartphone technology, but in fact, that and many more innovative uses of handheld computers are coming to market in the near future.
How near? This fall the car-sharing service Zipcar will launch a free iPhone application that will let its customers ("Zipsters") locate available cars in their vicinity, reserve the one they want — after reviewing relevant information if they are unfamiliar with the car — and pay for it.
It gets even more interesting when the customer approaches the reserved Zipcar. It's hard enough for an owner and driver to find a car in a parking lot, but it's even tougher to find a shared car that was parked by the previous driver.
Go ahead, honk the horn
Zipcar's iPhone app will let customers honk the horn on the car they have reserved so they can find it more easily. The press of another on-screen virtual button unlocks the door so the customer can get in and drive away.
"From inspiration to ignition, we want to make the Zipcar experience as seamless, distinct and fun as possible," said chief technical officer Luke Schneider. "Smartphones make that even easier."
Zipcar is able to do this because of the specialized electronic controller the company installs in its shared cars that lets customers unlock and drive away cars without concern about them being stolen.
"We've seen our fair share of fraud and attempted theft," said Schneider, explaining that its new iPhone program will continue to provide Zipcar's current degree of security to prevent unauthorized use of its cars.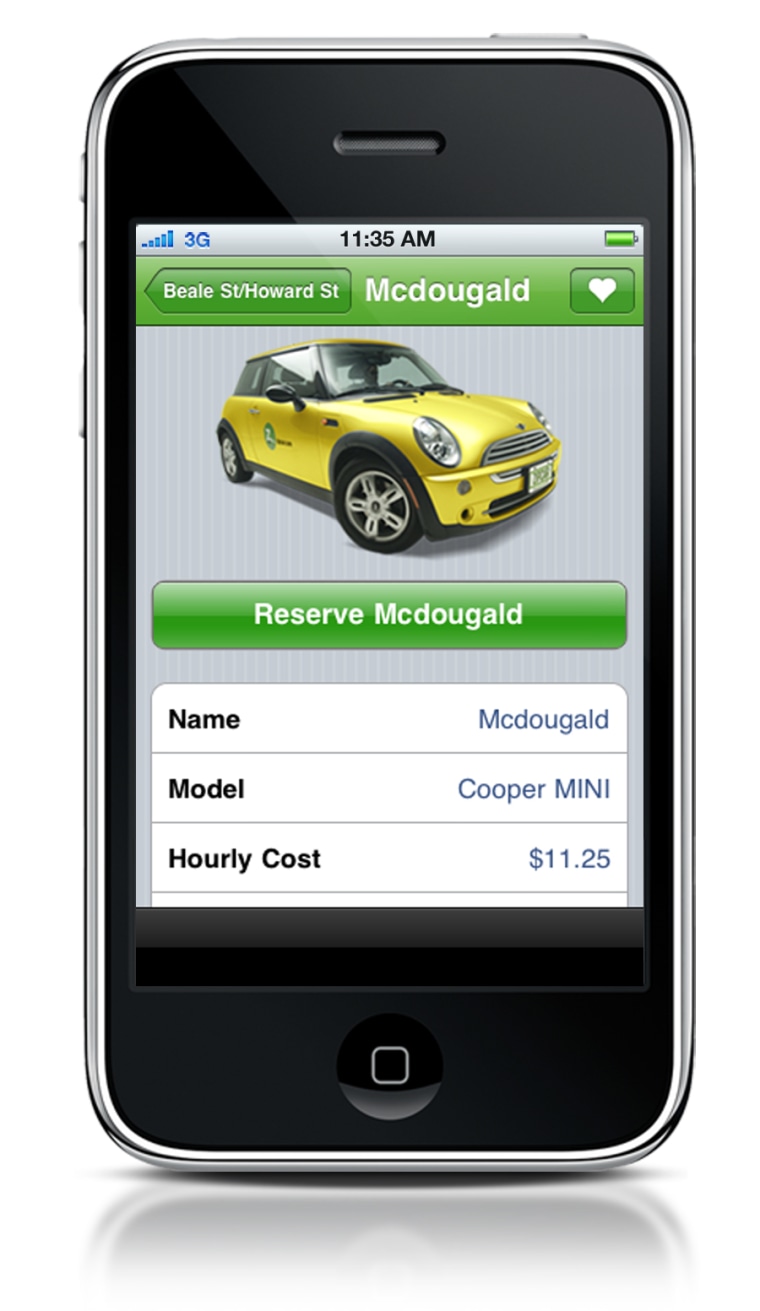 Car manufacturers could build in their own specialized equipment that extends other smartphones' capabilities beyond that of Zipcar's iPhone application to include things such as using the phone as the key to start the car, or using it start the car remotely, as some cars do today using a radio transmitter built into the key fob.
"In theory, (the possibilities) are endless, but for security reasons a lot of things can only be done in concept cars," said Hans Roth, director of business development and marketing for Harman Becker Automotive Systems GmbH. The company provided the iPhone interface and infotainment system in the iChange concept car.
The iChange, a concept car by Swiss specialty car maker Rinspeed, is a lithium-ion battery-powered electric car. It uses a futuristic, high-efficiency Harman-Becker infotainment system which incorporates an iPhone dock. When docked, the iPhone authenticates the driver just like a key would, letting the driver start the car.
The Peapod is a neighborhood electric vehicle planned for production, and it uses a similar iPhone dock to start the car.
"Such concept cars are there to show what is possible," Roth said. But for production vehicles used by real drivers in traffic, "usability is more important than feasibility," he said.
"There is a lot of richness consumers are used to in their handheld devices and they want to use that in their cars," he said. The challenge is making those features accessible to a person who is driving the car, considering the small screen size and the distraction.
Voice control
Ford has developed its Sync technology in conjunction with Microsoft to make many smartphone functions available by voice control in cars and is planning still more ways to integrate phone functions into cars, according to Sync's chief architect, Joseph Berry. (Msnbc.com is a joint venture of Microsoft and NBC Universal.)
Ultimately, that same voice technology could be harnessed to read e-mails out loud to drivers and even to let them respond with dictated voice mails automatically converted to text, he said. Alternatively, spoken replies could be sent as an MP3 file attachment. "With voice control, any app becomes a potential Sync app," said Berry.
"One of our goals is providing the experience in the car you are used to from home or the desk," said Roth. "This means not only downloading audio or video, or streaming that, but also all the office functions. Very soon we will have these things production ready."
Drivers who are interested in the fuel consumption characteristics of their car, and of their driving, could potentially run a fuel economy application on a smartphone linked to the car that could report on their driving efficiency, much as the dedicated in-dash computers of some hybrid models do today, letting drivers compete and compare fuel economy, Berry said.
The phone also could be used as the driver's personal identification to the car, much as the key fob is in some cars today, directing the car to adjust seats, mirrors and maybe even radio presets to suit the driver automatically, he said.
Among the phone-related features that Ford has recently added to Sync is the ability for the car to use the driver's Bluetooth-connected phone to automatically dial 9-1-1 when there is a crash that causes the car's airbags to deploy. A future extension of this capability could be for an automatic call to a pre-designated emergency contact in the phone's directory, Berry added.
Telling mom and dad
Ford also offers the "MyKey" peace of mind option on its 2010 Taurus so parents can limit the family car's top speed, the ability to use the phone while driving and the volume of the stereo when "at-risk" (read "teenage") drivers are behind the wheel. Sync could use a connected phone to call home to parents and "tell on" the teen driver faster than an annoying little sibling if the driver exceeds preset thresholds while driving.
Navigation on phones is a popular emerging use, as GPS is increasingly embedded in mobiles. But trying to drive while looking at a map on the diminutive phone screen is not ideal.
"The (phone's) screen itself and the resolution is too small to use it in the car while driving," Roth said.
Today, Sync relays audible turn-by-turn directions to the driver using a route gathered over Sync's data-over-voice connection, which works more or less like an old dial-up modem, but without the wires (or the squawking connection).
On-screen mapping is valuable too, though it has the problem of being very expensive and requiring regular updates to its on-board maps. Such systems must be specified years ahead of production, causing them to be old, if not obsolete at launch, said Berry. An alternative is for cars to have in-dash monitors that can display information provided by the handheld device.
Similarly, rear-seat entertainment systems could provide video content by the phone rather than through built-in video players. Passengers "can play movies or go online," said Roth. "There is a lot of functionality that until now we have been doing in the head unit in the car."
With the phone serving as the car's key, entertainment system, navigation and distress signal, the only remaining question is when our phones will give us the Batmobile's automatic valet service that delivers the car to the waiting driver, and always in a timely fashion.