/ Source: msnbc.com news services
The emergency brake was pushed down on a Washington Metrorail train that smashed into a second subway train, killing nine people, federal safety officials said.
A National Transportation Safety Board investigator, Debbie Hersman, says it was not clear if the emergency brake actually was engaged when the crash occurred Monday. But she said the button that turns it on was found pushed down in the operator's compartment.
Hersman told a news conference that investigators also determined that the striking train was under automatic, rather than manual, control.
Twenty-four hours after the deadly accident, crews dismantled the wreckage from the subway train collision that killed nine people and injured scores of others in the nation's capital, and a federal investigator revealed an old train involved in the crash should have been replaced because of safety concerns.
The Metrorail transit system kept the old trains running despite warnings in 2006, said Debbie Hersman of the National Transportation Safety Board. It wasn't immediately clear what caused the crash and whether age played a role in the rush-hour collision Monday.
The crash sent more than 70 people to hospitals. Metro officials said two men and seven women, all adults, were killed.
Mayor Adrian Fenty said at an earlier news conference that he hoped the death toll did not climb any higher.
Hersman said investigators expect to recover recorders from a newer train that was stopped along the tracks waiting for another to clear the station ahead. But the old train that barreled down the track was part of aging fleet and not equipped with the devices, which can provide valuable information on the cause of a crash.
Warned of safety problems
Hersman said that the NTSB had warned of safety problems and recommended the old fleet be phased out or retrofitted to make it better withstand a crash. Neither was done, she said, which the NTSB considered "unacceptable."
Metro officials planned to replace the old trains but were years away from them rolling on the tracks.
It was the worst crash in the history of Metrorail, the pride of the District of Colombia tourism industry that has shuttled tourists and commuters around Washington and to Maryland and Virginia suburbs for more than three decades.
NBC News reported that among the dead was the former commander of the District of Columbia National Guard, Maj. Gen. David F. Wherley Jr., and his wife, Ann. Both were 62 years old.
Metro officials identified the other victims on Tuesday. They said passengers killed were Mary Doolittle, 59, of northwest Washington; Ana Fernandez, 40, of Hyattsville, Md.; Dennis Hawkins, 64, of southeast Washington; Lavonda "Nikki" King, 23, of northeast D.C.; Veronica Dubose, 29, of Washington; and Cameron Williams, whose age and hometown were not released.  
The operator of the train that was moving, who also died, has been identified as Jeanice McMillan, 42, of Springfield, Va.
McMillan was hired in March 2007 as a bus driver and was tapped to become a train operator in December, but it wasn't immediately clear whether she had control of the cars.
Metro has a computerized system on most trains during rush hour that is supposed to control braking, speeds and prevent collisions. The system, however, has failed before.
In June 2005, in a tunnel under the Potomac River, a train operator noticed he was getting too close to the train ahead of him even though the system indicated the track was clear. He hit the emergency brake in time, as did the operator of another train behind him.
Metro spokeswoman Candace Smith didn't know the outcome of the investigation into that incident, which she called "highly unusual."
The crash Monday occurred on the red line near the D.C. and Maryland border, in an area where higher train speeds are common because there is a longer distance between stops. Trains can go 55 to 59 miles per hour, though the train's speed hasn't yet been determined.
One of McMillan's neighbors said she was proud of her job and was a meticulous mother who ironed her Metro uniform every night.
"If she could have stopped the train, she would have done everything in her power," said Joanne Harrison, who lives across the hall from McMillan.
Passenger Maya Maroto, 31, was riding on McMillan's train.
'Going full speed'
"We were going full speed — I didn't hear any braking. Everything was just going normally. Then there was a very loud impact. We all fell out of our seats. Then the train filled up with smoke. I was coughing," Maroto said.
Maroto, of Burtonsville, Md., said there was confusion after the impact because no announcements were immediately made. She said some passengers wanted to climb out, but others were afraid of being electrocuted by a rail.
Tijuana Cox, 21, was in the train that was hit. She had her sprained arm in a sling Tuesday.
"Everybody just went forward and came back," with people's knees hitting the seats in front of them, said Cox, of Lanham, Md.
Each train had six cars and was capable of holding as many as 1,200 people. The trains were bound for downtown, officials said, which would would mean they were less likely to be filled during the afternoon rush hour.
The trains had pulled out of the Takoma Park station and were headed in the direction of the Fort Totten station.
More than 200 firefighters from D.C., Maryland and Virginia eventually converged on the scene. Sabrina Webber, a 45-year-old real estate agent who lives in the neighborhood, said the first rescuers to arrive had to use the "jaws of life" to pry open a wire fence along rail line to get to the train.
Webber raced to the scene after hearing a loud boom like a "thunder crash" and then sirens. She said there was no panic among the survivors.
Survivors describe scene
Passenger Jodie Wickett, a nurse, told CNN she was seated on one train, sending text messages on her phone, when she felt the impact. She said she sent a message to someone that it felt like the train had hit a bump.
"From that point on, it happened so fast, I flew out of the seat and hit my head." Wickett said she stayed at the scene and tried to help. She said "people are just in very bad shape."
"The people that were hurt, the ones that could speak, were calling back as we called out to them," she said. "Lots of people were upset and crying, but there were no screams."
One man said he was riding a bicycle across a bridge over the Metro tracks when the sound of the crash got his attention.
"I didn't see any panic," Barry Student said. "The whole situation was so surreal."
At Howard University Hospital, Dr. Johnnie Ford, an emergency room doctor, said a 14-year-old girl suffered two broken legs in the accident. A 20-year-old male patient "looked like he had been tumbled around quite a bit, bumps and bruises from head to toe," Ford said.
Homeland Security Department spokeswoman Amy Kudwa said less than two hours after the crash that federal authorities had no indication of any terrorism connection.
Third major crash in recent months
Monday's crash was the third major subway or commuter rail crash in a big city in the past nine months. In the earlier accidents:
In September 2008, a commuter rail train and a freight train crashed in Los Angeles, killing 25 people. The crash was blamed on an engineer on the commuter rail sending text messages on a cell phone.
Last month about 50 people were injured in Boston when one trolley rear-ended another. The conductor admitted to sending a text message when the crash occurred.
No reason was given for the Washington crash, but some safety experts are concerned about the recent increase.
"I'm not sure if everyone in the safety system is paying the proper attention that needs to be paid," said Barry Sweedler, a San Francisco-based safety consultant and former investigator and manager at the NTSB. "These things shouldn't be happening."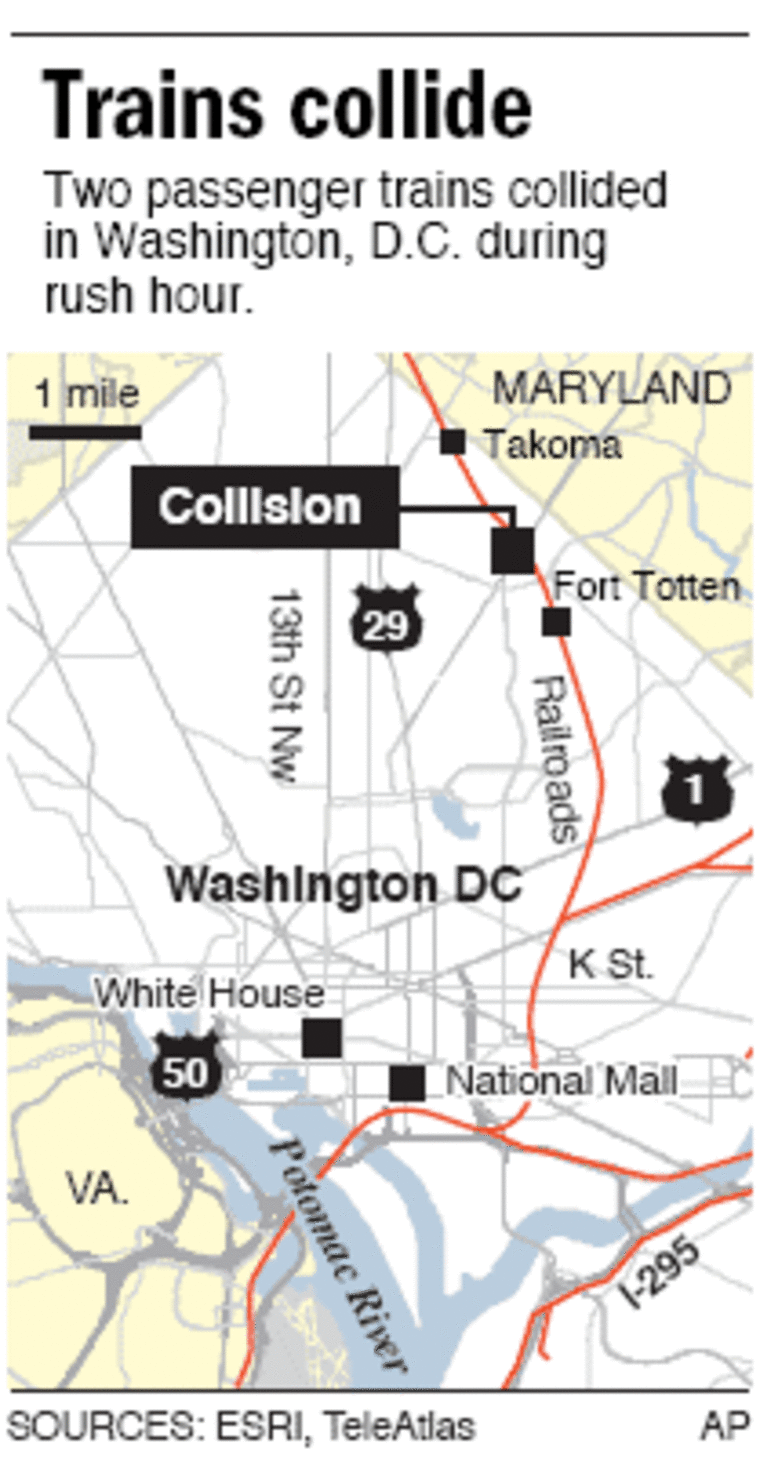 However, Robert Lauby, a former NTSB rail investigator, said the increase in accidents could well be mere coincidence.
"Just because you had them doesn't mean there's a specific issue that caused them," Lauby said.
The only other fatal crash in the Metro subway system occurred Jan. 13, 1982, when three people died as a result of a derailment. That was a day of disaster in the capital: Shortly before the subway crash, an Air Florida plane slammed into the 14th Street Bridge immediately after takeoff from Washington National Airport. The plane crash, during a severe snowstorm, killed 78 people.
In January 2007, a subway train derailed in downtown Washington, sending 20 people to the hospital and prompting the rescue of 60 others from the tunnel. In November 2006, two Metro track workers were struck and killed by an out-of-service train. An investigation found that the train operator failed to follow safety procedures. Another Metro worker was struck and killed in May 2006.