News of Michael Jackson's death broke on the Internet late Thursday afternoon. Not long after that, the Internet broke too. Twitter crashed, as did Michael Jackson's Wikipedia entry. Facebook lumbered under countless Michael Jackson video uploads retrieved from an over-accessed YouTube, and both ground to a halt.
Everything else online, including the historic battle over democracy currently being raged in Iran, paled as people clambered onto social networks to confirm what they were hearing was really true.
Eventually, the World Wide Web recovered, Jackson traffic revved up, and per their predictable nature, Internet cranks made their feelings known.
"'Micheal Jackson' (sic) is the trending topic. Good job, America," one unusually adroit culture critic posted on Twitter, in reference to the microblogging site's leading topics (and the misspelling). Most were more typically ranty about Michael Jackson usurping Iran as the latest historical moment in both the news and social networking history, such as this tweet:
"It's pitiful how fickle the American people are. People ate, slept and breathed Iran until Michael Jackson died. Really?! Good grief."
Or this "Not that this is more important than Michael Jackson dropping dead...Iran doctor tells of Neda's death."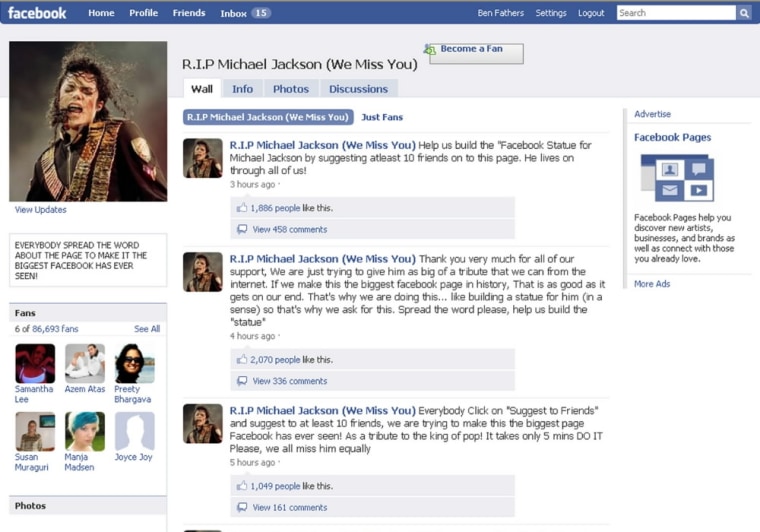 Yep. For every social network, there are countless passive-aggressive jackasses who seem to believe anyone expressing a thought on a single topic is obviously incapable of multitasking interests and emotions. If anything, social networks prove that we as a species are not mono-themed. Maybe the news is wall-to-wall MJ, but social networks can chew gum and walk at the same time.


When Twitter support for the protesters in Iran hit critical mass, author and Internet smartypants Clay Shirky pointed out once again that Twitter's immediacy meant it wasn't the best source for accurate information, but a perfect gauge of universal emotion.
Our concerns, both internal and external, do not operate on zero-sum balance. While #Michael Jackson, #RIP MJ, #Thriller, #Pop (as in "Prince of…"), and even #Farrah Fawcett take up most of Twitter's current trends, #iranelection never left the list. (Pretty much, neither did .)
Social networks are a collective brain that, like individual brains, allow for dissimilar ideas to occur simultaneously: A pop star who died. A historic battle for demoracy in a region devoid of it. This is social networks on mourn.
Rest assured, those who temporarily switch their green-shaded Twitter avatars to a Michael Jackson headshot are not dooming Iranian protesters any more than re-tweeting every piece of information and/or misinformation about Iran and changing your Twitter location to Tehran will save them. 
Meanwhile, this sudden wave of mournful nostalgia, all these videos and songs posted on personal profiles, come from three generations of Americans that grew up with Michael Jackson as a constant. To spite ourselves, we feel like we know him.
As much as it pains me to draw attention to John Mayer's generally insipid tweets, his anomalous comment about MJ is true, no matter what you think about Jackson, he is "a major strand of our cultural DNA."
(Ten hours later, Mayer was back to his regular Twitter form, updating the world on his NyQuil intake.)
It was as if the past 20 years had been erased. As always the case with grief, Jackson's death gave us permission to ignore decades of weirdness, forget the haunting and unproven allegations, and appreciate everything that was great about him. And there was a lot great about him. We listened to his music and watched his videos with an enjoyment that can only be described as pure.
"It's amazing how music can store so many memories," Shantae Joseph posted on her Facebook status.
"It's amazing how many stations can all play 'Thriller' at the same time," her friend Angel responded, aptly.
Unlike two days previous, nobody was interested in making jokes about the plight of South Carolina Governor Mark Sanford. No more punny lines such as "Appalachian Tail" or "Don't Cry for Me Argentina." Even those given to Internet cynicism weren't in the mood.
"Please Note: If you feel the need to bitch about Michael Jackson getting coverage, know you will be blocked. Emo is being EMO." tweeted @emokidsloveme, whose avatar still features an Iran-supporting fist wrapped in green.
This isn't just about a pop star of talent directly inverse to his oddness. This is about us too. When a childhood totem dies, we feel the wind blow across our graves.
What's more, as blanket pooh-poohers on Twitter, Facebook and everywhere else criticize what they see as America's fickle tweets, they succumb to their own Western centrism. The United States is far from alone in this social network wake.
More than any entertainer ever, Michael Jackson is an international phenomenon, perhaps even more beloved beyond this hemisphere, where news about his increasingly problematic behavior was overshadowed by his music and glamour.
The morning after Jackson's death, it seemed the whole world shared their grief. Even Iran. Friday on MSNBC, Iranian-born international affairs author Reza Aslan talked about how strange it was, monitoring Twitter feeds from Iran, seeing tweets about horrific gun fire interspersed with those about Michael Jackson. "It shows not just what a big influence (Jackson) had in the world but how much we have in common with Iranians," he said.
Like the international support for Iran, Jackson's death marked an historic point in social networking. His death generated the most tweets per second on Twitter since Barack Obama was elected president.
"We saw over twice the normal tweets per second the moment the story broke as people shared their grief and memories," Twitter co-founder Biz Stone told the Associated Press via e-mail.
Of course, it wasn't all about memories. Along with the "Is this the only thing we care about?" monothoughtist sect, there were plenty of gallows guffaws ranging from giggle-inducing to tasteless.
Then there were the pranksters who slammed Twitter with rumors about actor Jeff Goldblum's fictional demise, enough to get the actor's name briefly in the site's top trends. Once the Internet recovered from the initial slam, budding urban legends about the "facts" of Jackson's death hit warp speed.
On "Oh No They Didn't," which suffered various crashes along with other celebrity gossip sites, snarky users expressed their collective grief by posting a gif, in which the American Idol star wails and flails her arms wildly. Many bemoaned how the humor was now gone from another popular image taken from "Thriller," featuring , commonly posted by an uninvolved party when a flame-worthy topic hits the forum.
This too is grief. Grief is weird. It expresses itself in often odd, seemingly inappropriate ways. Grief permeates in all areas of life, including the Internet. And that's no sin.
Follow Helen A.S. Popkin on or friend her on on .