/ Source: Newsweek International
South Korea: Seoul Searching on Iraq Washington's efforts to enlist troops from other nations to help out in Iraq continues to hit snags. While the Turks have agreed in principle to send 10,000 soldiers, the deployment has run into fierce resistance from the Iraqi Governing Council, suspicious of Ankara's intentions. Now even South Korea is sending Washington mixed signals. Just weeks ago, Seoul was tilting toward deploying thousands of combat troops in Iraq. That commitment now looks less than firm—and delay inevitable.
The reasons are several. First, South Korean President Roh Moo Hyun has needs, too. He has repeatedly suggested that he wants Washington to soften its line on North Korea in return for sending troops to Iraq. Second, an official Korean fact-finding mission to Mosul, where Korean soldiers would likely be based, backfired last week. Team member Park Gun Young complained that the U.S. military hosts didn't show them nearly enough. Park says that his group had just four hours on the ground in Mosul, hardly enough time "to see everything for our own eyes." He now wants another investigation team, and Korean civic groups want to be included as well.
Roh's rapidly eroding popularity, exacerbated by economic woes and corruption scandals surrounding his cabinet, could prove the biggest obstacle. Last week his entire cabinet offered to resign (Roh turned them down), and each downtick in his approval rating makes it tougher for him to dispatch troops. Among the nation's younger lawmakers there is growing—and vocal—opposition to the move. According to a well-connected Korean scholar, a "huge debate" has erupted inside Roh's national-security team between political advisers, who see a deployment hurting him in next spring's elections, and the Defense and Foreign ministries, which see it as a golden opportunity to shore up military relations with the United States.
To sway the debate, Roh needs to make his case quickly. One indication that he hasn't: U.S. Defense Secretary Donald Rumsfeld's decision to delay a visit to South Korea originally scheduled to follow this week's APEC meeting in Bangkok. No official reason was offered, but analysts in Seoul think the outspoken Defense don delayed the trip to avoid giving the impression that he was in town to negotiate the deployment. Indeed, many observers say his presence might have undermined that cause. As a leading hawk in the Bush cabinet, Rumsfeld is deeply unpopular among young South Koreans. And the last thing Roh needs right now is another blow to his popularity.
—George Wehrfritz and B. J. Lee
GERMANY
'Big Bang' Or Bust?
In recent months, Germany has drawn heated criticism from the European Union for failing to revive its economy and comply with the EU's budget rules. Further infuriating his EU counterparts, German Chancellor Gerhard Schröder has stubbornly avoided necessary reforms during his first five years in office. But with Germany's 2003 growth forecast now scaled back to an anemic .25 percent and fear spreading that unemployment could shoot past 5 million this winter, the chancellor suddenly seems in a hurry to right his wrongs. He recently passed his first major reform bill, which will put an 18-month cap on the time workers can stay on the dole. This Friday, lawmakers will vote on an even bigger reform package: the "big bang," as Berliners are calling it. On the menu: major cutbacks like an 18 billion euro income-tax cut, a drastic slimming down of welfare entitlements and a reorganization of the country's notoriously ineffective labor bureaucracy.
Can Schröder pull it off? It'll be tough. Left-wing rebels in Schröder's own party have threatened to vote against what they see as a treasonous watering down of their cherished welfare state. Thousands of rank-and-file members have actually abandoned the party in protest. That said, Schröder's chances for success are better than ever. The biggest foot-draggers on reform, Germany's labor unions, have been sidelined since losing a landmark strike in June. Even the opposition could come to Schröder's rescue. The Christian Democrats last week announced that they would embrace radical reform, individual freedom and free-market enterprise, increasing Schröder's chances of passing measures in Parliament. "Germany is on its way to becoming a different republic," exclaimed news magazine Die Zeit.
More major reforms are scheduled for early 2004. If Schroder succeeds then, the country will be reborn. If not, then Germany can say hello again to economic despair—and auf Wiedersehen to its chancellor.
—Stefan Theil
ARAFAT
He's Fine, Likes Fish
Is Yasir Arafat dying? After he looked haggard at a news conference last week, media in Israel (and abroad) reported that the Palestinian leader had a heart attack or stomach cancer. With his second prime minister in four months threatening to resign, and no clear successor, Arafat would have a motive to play down any illness. But his Jordanian doctor, Ashraf al-Kurdi, tells NEWSWEEK's Dan Ephron that Arafat's fine.
On his general condition:
Arafat is "in good health. They've put all the tumors on him in existence, but all he has is acute gastritis."
On his health compared with other men his age:
"He's normal. He's tired, and I don't blame him. He lives in abnormal conditions. His room is tiny and has no window. The oxygen level is low. He doesn't see the sun. [But] he's in good spirits. Whenever I feel low, believe me, I call him."
On reports that he'd been deliberately poisoned with a substance that's hard to trace:
"I took along an expert in blood examination and we took blood samples and tested them for several days. He said he couldn't find any abnormality."
On whether his tremor is Parkinson's disease:
"No. It's a benign positional tremor. Sometimes the tremors increase with tension and anxiety. He never had Parkinson's."
On what kind of patient Arafat is:
"He mainly likes to eat vegetables and occasionally fish and chicken. He gives himself to God and says, 'Let God do whatever needs to be done.' He has no phobias."
TERROR
Targeting U.K. Jews
Scotland Yard has warned Britain's Jewish community of the threat of imminent terrorist attacks. British security officers say that while they can't predict specific attacks, urgent measures are needed to protect potential targets such as synagogues and community centers. Some U.S. State Department officials are considering issuing an official warning to U.S. travelers to Britain. U.S. officials say that no comparable intelligence has recently surfaced about threats to Jewish targets in America.
Some of the terrorism concern in Britain appears to relate to suspicious Iranian activities. Security sources say that in recent weeks police questioned a carload of Iranian "tourists" who were spotted covertly taking video pictures of Jewish community buildings in London. Sources said that about a year ago, Swiss authorities traced a similar apparent attempt to surveil a Jewish target in Geneva to an Iranian diplomatic mission. Some U.S. officials say that recent intelligence indicates backsliding in official Iranian attitudes toward Islamic terrorism and Al Qaeda. Earlier this year Tehran claimed to have arrested significant Qaeda suspects. U.S. officials believed that Qaeda operatives then in Iranian custody were top aides to Osama bin Laden, including his son Saad and Qaeda military chief Saif al-Adil. But recent intelligence suggests these suspects have been released and have returned to hideouts in Afghanistan and Pakistan.
—Mark Hosenball
BOOKS
Philanthropic Profits
With 10,000 new children's books published each year, it's tough to stand out if your name isn't J. K. Rowling. So this fall, authors are marketing a feel-good reason to pick their titles: they're giving some of their proceeds to charity. Madonna's donating "every penny" of her profits from "The English Roses" to the Spirituality for Kids Foundation, a Kabbalah group. American Second Lady Lynne Cheney's net proceeds for "A Is for Abigail" will be donated. And on the jacket of his latest book, "I'm a Manatee," John Lithgow plugs the Save the Manatee Club. Celebs aren't the only ones hooking up nonprofits. Longtime zoo fan Betty Lou Phillips, who wrote "Emily Goes Wild," about a pet monkey, is giving some of her profits to the American Zoo and Aquarium Association.
Not that there's nothing in it for the authors. "Cause-related marketing" is good PR, particularly when it's a pricey hardback, says Christie Nordhielm of Northwestern's Kellogg School of Management. In Phillips's case, the benefits could be substantial: next month the AZAA newsletter is plugging the book. "Potentially millions could see this book in zoo and aquarium gift shops," says AZAA's Jane Ballentine. So are these authors true philanthropists, self-promoters or a bit of both? And does it even matter? Cheney did give away $370,000 from her two children's books. Rabbi Yehuda Berg, codirector of the Spirituality for Kids Foundation, claims Madonna's newest headline-generator is "not a stunt." And whether you buy that or not, purchasing her book only increases the cash in the hat.
—Karen Springen
DYLAN
Sights and Sounds
Look at that face: Bob Dylan at about 20. Photographer-musician John Cohen took it in 1962, and he's just put out a book of these images (many never seen before) called "Young Bob." It's hard to reconcile these sweet-funny images with the savage ironies of "Like a Rolling Stone" three years later. Not to mention what's come after.
Dylan's still working, we're told, on his autobiography—and that's all we're told. Meanwhile, Columbia Legacy has just dropped a 15-CD set of remastered albums, from "The Freewheelin' Bob Dylan" (1963) to "Love and Theft" (2001). It's the first time anyone's worked from the original tapes: previous CDs simply digitized tapes that were equalized to be pressed on vinyl and played on yesterday's stereos; they're missing some frequencies and details. The new discs have a two-channel CD layer, with much better sound, a two-channel Super Audio layer, with even more aural information—and a high-density layer for 5.1 multichannel Surround Sound, which puts you in the studio with the musicians around you.
—David Gates
MOVIES: LUKEWARM ABOUT 'THE PASSION'
Mel Gibson's "Passion"—a traditional Roman Catholic portrayal of Jesus' death—has inspired more hostile attention than any movie in recent history, with accusations that it could foster anti-Semitism, even when few have seen it. Although supporters of the film are just as vocal, the film could prove a PR ulcer for any large, publicly held movie studio. "It's not worth the aggravation," says a studio head. "Even if it makes money, it's not going to be 'Titanic'."
So who's going to put it out? Gibson's company, Icon Productions, hasn't sought out buyers, but waited to see which suitors came knocking. The studios didn't, apparently. (Fox, which has a first-look deal with Icon, is the only studio that officially passed.) Icon, however, did get interest from small, independent companies without public shareholders or other assets, like music companies and theme parks, that could be hurt by boycotts or protests—companies "that have nothing to lose," as one executive puts it. The top contender now appears to be Newmarket, which released "Memento." It has made a formal bid, but will not confirm if it has seen the film. Two higher-profile independents, Lions Gate and Miramax, have expressed interest in the film and have asked to see it. They have yet to be invited. The film could prove problematic for Miramax, as its parent company, Disney, dislikes controversy.
Meanwhile, the press surrounding the film—in particular a New Yorker profile that delineated Gibson's rigid religious beliefs—has done some damage to the actor's reputation. Says a studio head, "People feel like his character in 'Lethal Weapon' isn't that far from who he is. It's like, 'Wow, he's way out on a limb'." So is his film.
—Sean Smith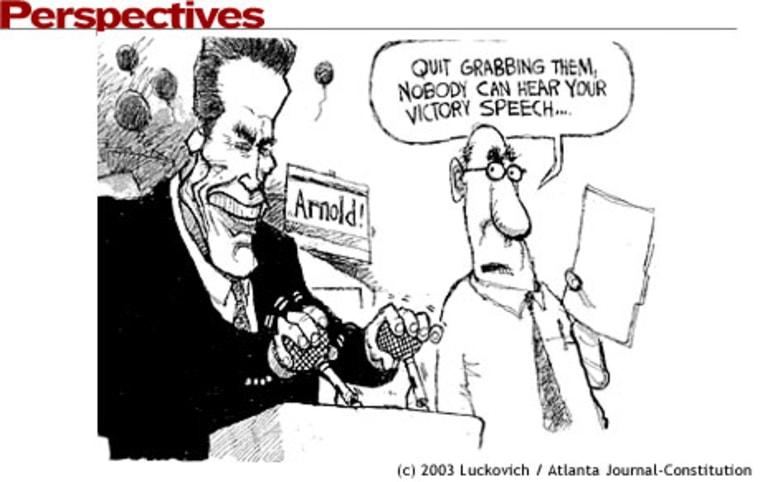 "Real power rests with God, not with wretched America."
Sheik Abdel Hadi al-Daraji, addressing a crowd of up to 10,000 Iraqi Shiites in Sadr City, during the funerals of two Shiites allegedly killed by U.S. soldiers
"The spermatozoon can easily pass through the 'net' that is formed by the condom."
Cardinal Alfonso Lopez Trujillo, the president of the Vatican's Pontifical Council for the Family, telling people in countries stricken by AIDS not to use condoms, despite a widespread scientific consensus that condoms block the HIV virus
"I represent a ghost."
Christine Huskey, an American lawyer representing 28 Kuwaiti detainees held by the U.S. government in Guantanamo Bay. Huskey has no access to her clients.
"Cuba must change."
U.S. President George W. Bush, announcing a new effort to pressure Fidel Castro by curbing Americans' travel to the country and hiking the number of Cuban dissidents allowed into America
"I can't say I feel any special joy at my victory."
Akhmad Kadyrov, the new Kremlin-backed president of Chechnya, on taking power after an election derided by many, including the United States and human-rights groups, as a sham
"You cannot go around sodomizing people."
Malaysian Prime Minister Mahathir Mohamad, referring to one of the charges against his former deputy and political rival Anwar Ibrahim, who is in jail
"A middle-size figure, nimble movement, the ability to withstand hardships and a teamwork mind set."
The ideal attributes of a Chinese astronaut, according to an unnamed Chinese official who helped select the finalists for the upcoming manned mission to space
"This is not good for the monarchy."
Dutch Prime Minister Jan Peter Balkenende, referring to Prince Johan Friso's decision to give up his right to the throne in order to marry a human-rights activist accused of having an affair with a known gangster
"I don't see it making the schedule in the near future."
Rob Stutzman, spokesman for California Gov.-elect Arnold Schwarzenegger, on an offer from the former Soviet Republic of Georgia to have a mountain named after him—on the condition that he visit the country

Quotation sources from top to bottom: BBC, The Guardian, BBC, The Washington Times, BBC (2), People's Daily, The Scotsman, Associated Press
© 2003 Newsweek, Inc.