This has been a great month for PDAs. First, Palm's new top-of-the-line Tungsten T3 with its larger screen; and now Hewlett-Packard's h4150 — the thinnest/lightest Pocket PC to include Wi-Fi (802.11b) and Bluetooth wireless capabilities in the same device. Best of all, you can use both wireless services at the same time with no interference.
InsertArt(2039907)THERE WERE ACTUALLY two new HPs announced Monday. The h4150 that I've been testing and its bigger brother the h4350 — which is a 4150 with a small QWERTY keyboard attached to the bottom. HP is currently taking orders for the h4150 now while the keyboard version is due in stores next month.
Both run on Microsoft's Windows Mobile 2003 operating system. (Microsoft is a partner in MSNBC.) Both have Intel's 400MHz Xscale processor, 64MB of SDRAM and 32MB of flash ROM memory (55MB is user accessible), and a 3.5-inch TFT (64K colors) display. Both have a built-in SD slot, IR port, microphone, speaker and stereo headphone jack and come with a USB desktop cradle/charger, AC adapter and slip-on cover.
The h4150 is barely 4.5 by 2.8 by 0.5 inches and weighs in at just under 4.7 ounces. It comes with a removable, rechargeable 1,000 mAh Lithium-ion battery. The h4350 is 5.4 by 2.9 by 0.6 inches, weighs 5.8 ounces, and comes with a 1,560 mAh battery.
HP's new devices feature the standard Pocket PC built-in software. Then HP adds a bunch of interesting stuff including iPaq File Store (information that won't be lost if you run out of power) iPaq Backup utility, Task Manager (find/launch programs easily), Image Zone (view images and creating slide shows) and Bluetooth Manager.
HP has also made it very easy to set up wireless networking . Turn on your Pocket PC, open the iPaq Wireless applet and activate either Bluetooth or Wi-Fi. There are also buttons to turn them both on or off with one stylus stroke. If you started Bluetooth, the Bluetooth Manager opens and shows you what devices are nearby. Double-click on the one you want and you're up and running. For Wi-Fi, Windows Mobile automatically finds wireless access points. Just press a button and you're in.
In during my few days of testing, the h4150 did everything I asked it to, did it quickly and did it well. I also have to commend the OS engineers for improving Pocket Internet Explorer so pages on MSNBC can be easily read - something I've been complaining about for a long time.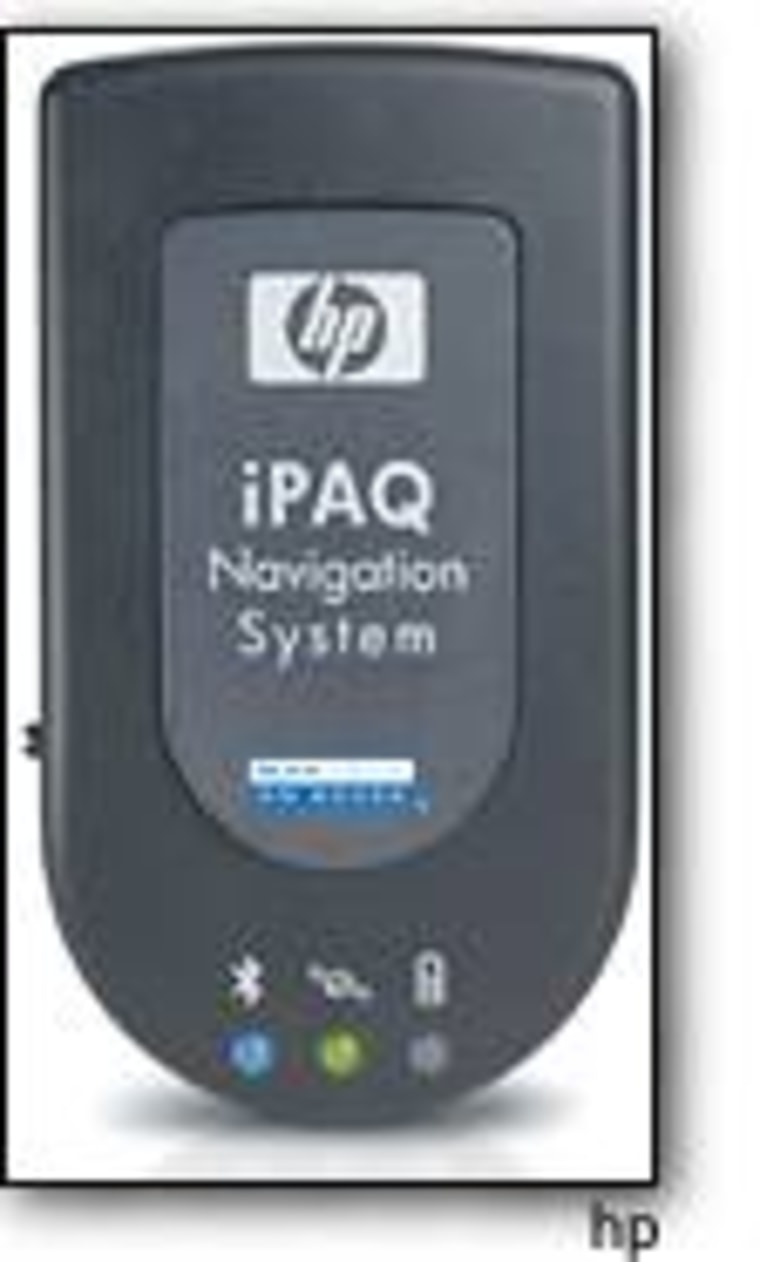 This new iPaq also helped me get around this past weekend. In addition to the new PDA, HP sent their new iPaq Navigation System ($329) for me to try. Instead of cramming a talking GPS system into a PDA (like in Garmin's fabulous new handheld), HP uses the Pocket PC to store the maps and voices — and puts the receiving equipment in a separate dashboard enclosure, connecting the two with Bluetooth.
After making sure the iPaq and Nav System were both fully charged (their batteries use the same AC charger) I downloaded the maps I needed from the enclosed CDs onto a SanDisk 256MB SD card and headed for my car. I started the Navigation software, Bluetooth found the device, I double-clicked and a minute later a map showed me exactly where I was.
The system was flawless. I set a destination and a lovely female voice told me when and where to turn. It even gently prompted me to make a U-turn when I strayed off the chosen path (on purpose). I drove (with stops) for more than 4 hours — never turning off the iPaq system — and still had plenty of battery life in both devices. HP claims up to 8 hours of constant battery life for the Navigation system. They also supply a cigarette lighter charger (which also works on the PDA) just in case. It's more a more expensive solution than the Garmin, but it's just as elegant - plus you can leave the GPS unit in the car and take your PDA with you.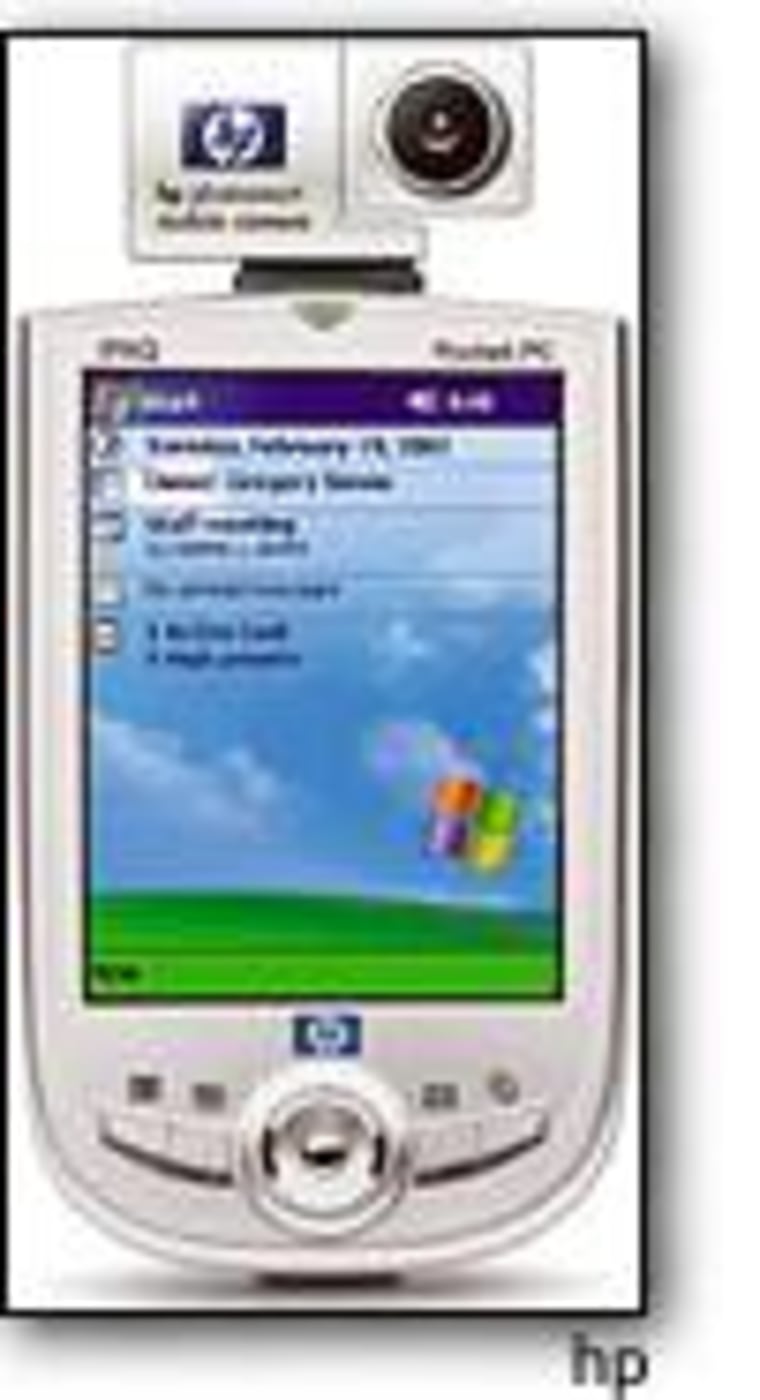 Finally, HP also let me test their new Photosmart Mobile Camera, a little 1.3-megapixel device with a 4x digital zoom that slides into the SD card slot. It also works on any other iPaq with a SD I/O (in/out) slot. Pricing is expected to be under $150.
The h4150 will retail for $449 and the h4350 for $499. Both are much smaller than previous feature-laden models and don't need slide-on cradles to add oodles of connectivity. Overall, the new iPaqs should be on your short list if you're in the market for a top-of-the-line handheld computer.