Tai Robinson, a 28-year-old former ski racer, wants to be Arnold Schwarzenegger's go-to guy if the California gubernatorial candidate goes through with his plan to convert one of his diesel Hummers to run on hydrogen. Having converted his own vehicle, Robinson says he's ready and able to do a Hummer.
Robinson is one of four bidders for the conversion, which Schwarzenegger touted when he unveiled his environmental platform last month.
After noting he convinced General Motors to produce a civilian version of the 11 years ago, Schwarzenegger said he aimed to do the same with vehicles that run on hydrogen, a much cleaner fuel than diesel or gasoline but one that's still expensive to extract given its chemical characteristics.
"I want to show them my car when it's done and inspire Detroit and let them know that this is what we can do," Schwarzenegger said at the event in Carpinteria, Calif.
"By the end of this decade," he added, "we will have hundreds of thousands of cars driving with hydrogen fuel rather than fossil fuel."
Robinson, a former U.S. Ski Team racer who has become a hydrogen junkie, was at the event along with his pickup, and is quick to show off where Schwarzenegger signed his name on a wheel panel.
He's also quick to share his enthusiasm for hydrogen, which can be used directly in internal combustion engines or even more efficiently in fuel cells, which mix hydrogen and oxygen to create electricity.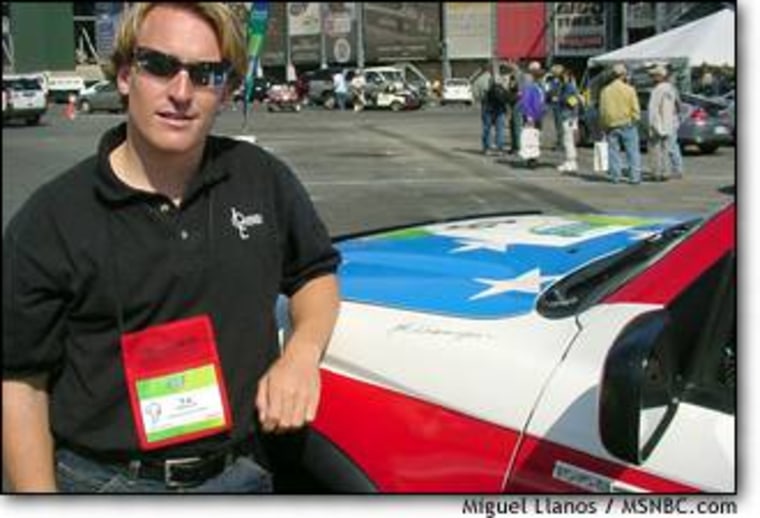 "Hydrogen is the future, that's where we have to get to," he says, and converting vehicles now gets around the barrier of what comes first, the cars or the filling stations for them. "These vehicles will solve the chicken or egg dilemma," he says.
He's also determined to get away from using the term "alternative fuels" and instead talks of "American fuels" to emphasize the fact that they are not dependent on foreign sources. "If we call it alternative it's never going to go mainstream," he adds.
Schwarzenegger's campaign likes Robinson's drive.
"We really admire Tai," says Terry Tamminen, an unpaid environmental adviser to the Schwarzenegger campaign.
But he notes that others are competing and that Robinson's low-budget operation has its drawbacks. "He would be the first to tell you that there are limitations to his shop," Tamminen says.
Dream to reality?
Robinson's journey on the road to hydrogen began four years ago with the birth of his son.
That's when he decided he needed to make a difference, so he gave up professional skiing and took seriously the hydrogen skills his father had forged in his own career as a mechanic. "When I was 10 months old, my dad was converting a diesel boat engine to run on hydrogen," he says.
Robinson dove into conversions, spending about $5,000 in parts to prepare his pickup truck for a cross-country trip over the summer along with other environmentally friendly vehicles.
He picked up hydrogen in tanks from welding shops along the way in order to refuel the tanks installed in the bed of his truck. While on the road, he periodically "hyboosted" the truck by running it on gasoline with two percent hydrogen — a trick that took his top speed to 110 mph, he says, and his mileage from 17 miles per gallon to 23.
Robinson says he pays for his passion via his window cleaning business in Snowbird, Utah. "I make my money washing windows and spend it all on hydrogen," he says.
He also opened a business, Intergalactic Hydrogen, to do conversions and said his next project is converting a diesel Hummer to run on vegetable oil and biodiesel, which is reformulated from animal fat or vegetable oil.
The $8,000 conversion is for a yoga retreat center that aims to be self sufficient. The engine will fire up on biodiesel, which then warms up the thicker vegetable oil so the Hummer can run directly off that.
Robinson has also moved to Southern California to be where the hydrogen action is, and he hopes to eventually do fleet conversions — a niche market that he doesn't think will attract carmakers, who are developing long-term prototypes like GM's hydrogen and fuel cell Hy-wire.
"We can make a profit off of doing 20 to 30 vehicles, whereas automakers they need thousands," he says.
He's hoping for conversions that cost between $12,000 and $20,000 but is quick to say a Hummer conversion like Schwarzenegger's requires "serious upgrades" and will cost more than he originally bid on.
Unless equipment makers kick in parts, Robinson says, the price will be closer to $100,000, about what Schwarzenegger paid when he first converted a military Hummer to civilian use.
But he expects a big payoff. "The Hummer gets about 11 mpg and we should be able to get double that," he says. Moreover, "the emissions will actually be cleaner than the air in downtown Sacramento," where Schwarzenegger would have his office if elected governor.
Schwarzenegger's promised path
Tamminen says a decision on who'll get the conversion job is expected by mid-October. The work itself should take one to two months and Tamminen says Schwarzenegger intends to go ahead win or lose California's Oct. 7 election.
Schwarzenegger's conversion, he adds, is not a media stunt. "We knew it wasn't going to get done before the election," he says.
Tamminen says converting a Hummer to fuel cells and hydrogen was considered but dropped due to the estimated $100,000 cost. The bids for converting the Hummer's diesel engine to use hydrogen run from $21,000 to $35,000, he adds.
Acknowledging that the final cost could near $100,000, he insists that won't affect the outcome. "Even a man of Arnold's resources has an ouch factor," says Tamminen, "but we're not going to reach that on this project."
The conversion is part of a broader "hydrogen highways" program unveiled by Schwarzenegger at the Carpinteria event. It largely mirrors proposals from Energy Independence Now, a group headed by Tamminen.
The cornerstone of that plan is to build hydrogen filling stations every 20 miles along major highways in California.
California has more hydrogen stations than any state, 12 and a new one opening this month at Los Angeles International Airport, but that's still a pittance and Tamminen is anxious to jump start the industry.
"These vehicles are ready for prime time if we can get the fueling infrastructure in place," he insists.
Real green, or coating?
As bold as Schwarzenegger's hydrogen plan is, he has not been embraced by environmentalists.
They cite his SUV image and recent statements, particularly the suggestion that California's Environmental Protection Agency was one of those "overlapping agencies" that could be eliminated because "we have to strip that down and get rid of some of those agencies."
"Any college student who cares about the environment could have explained why we need Cal EPA," responded Rico Mastrodnato, head of the California League of Conservation Voters. "We need Cal EPA to push for stronger protections for California's air and water and because it is our best defense against the destructive environmental rollbacks of the Bush administration."
And at his Carpinteria event, Schwarzenegger was interrupted at times by a few protestors, one using a megaphone to shout, "A Hummer isn't clean and Arnold isn't green."
Asked by reporters if his own SUV passion — he owns five and arrived at the event in a — didn't undermine his environmental credentials, Schwarzenegger said he was only now becoming aware of the possibilities of green technologies.
"The things I've learned in this last month running for office have been spectacular," he said.
Robinson, for his part, is determined to stay on the hydrogen highway no matter what. "It's the right thing to do," he says. "I have a son and we have to change what we're doing ... the price of gasoline isn't enough to truly respect it."