/ Source: The Associated Press
Despite unprecedented efforts to improve minority achievement in the past decade, the gap between black and white students remains frustratingly wide, according to an Education Department report released Tuesday.
There is good news in the report: Reading and math scores are improving for black students across the country. But because white students are also improving, the disparity between blacks and whites has lessened only slightly.
On average, the gap narrowed by about 7 points from 1992 to 2007, so that black students scored about 28 points behind white students on a 500-point scale.
The divide between minority and white students is considered one of the most pressing challenges in public education. Experts say it stems from entrenched factors that hinder learning.
More black children live in poverty, which is linked to an array of problems — low birth weight, exposure to lead poisoning, hunger, too much TV watching, too little talking and reading at home, less involvement by parents and frequent school-changing.
The gap exists even before kids start school. But schools don't mitigate the problem, said Kati Haycock, president of the Education Trust, a children's advocacy group.
"African-American students are less likely than their white counterparts to be taught by teachers who know their subject matter," Haycock said.
"They are less likely to be exposed to a rich and challenging curriculum," she said. "And the schools that educate them typically receive less state and local funding than the ones serving mainly white students."
Color gap
Closing the achievement gap was a central element of the 2002 No Child Left Behind law, which holds schools accountable for progress among every group of kids — including minorities, those who have disabilities and those who are learning English.
The gap between black and white students shrank by 2 points after 2003, when accountability measures under No Child Left Behind took effect.
The implications of the disparity reach far beyond school walls. Minority students are also much more likely to drop out of high school — half of minorities drop out, compared to about 30 percent of students overall. The future is bleak for dropouts; they are the only segment of the workforce whose income levels shrank over the past 30 years, according to the children's advocacy group America's Promise Alliance.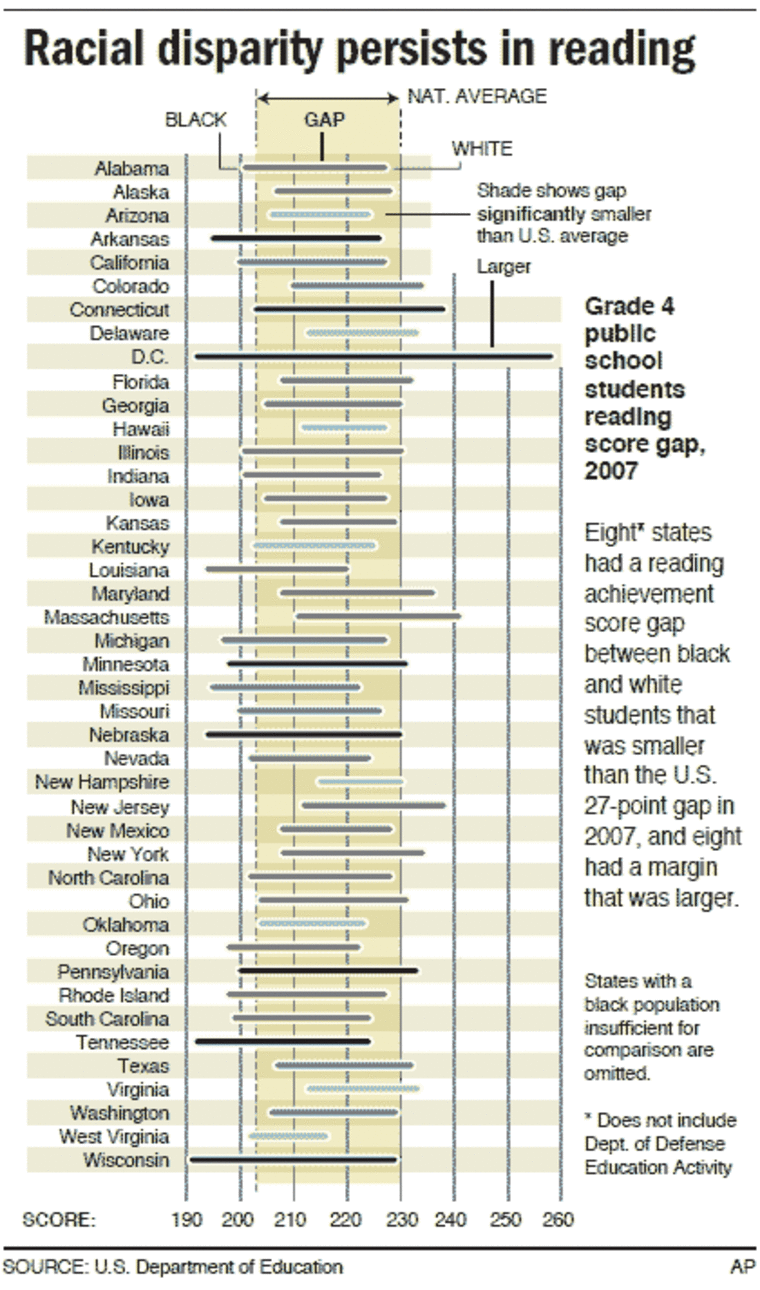 A huge percentage of minority students lack the simple skills they need to function in society, said Hugh Price, professor at Princeton's Woodrow Wilson School and a former president of the Urban League.
Only about half of black and Hispanic fourth graders perform at or above "basic" in reading on the tests used in the study, the National Assessment of Educational Progress, Price noted.
Price argues schools would do well to borrow from the military, emphasizing belonging, teamwork, motivation and self-discipline, structure and routine and accountability and consequences, among other things. He described the successes of military academies in Philadelphia and in South Carolina.
"I'm not proposing that we militarize schools," he said. "But I think there are promising ideas to consider."
Gains in Delaware, Arkansas
Haycock singled out two states that made strong achievement gains: Delaware has significantly narrowed the fourth-grade reading gap, from 26 points to 20 points, and Arkansas substantially narrowed the eighth-grade math gap, from 35 points to 28 points.
Delaware officials have focused heavily on literacy, putting reading specialists in schools to coach teachers and help struggling students and beefing up vocabulary and writing in its curriculum, Haycock said. The state also raised expectations for students and put tougher accountability measures in place for schools.
Arkansas, while it has a long way to go to reach the national average, raised expectations along with minimum scores required on annual state tests, Haycock noted.
The report found that states generally mirrored the national trend.
The findings constitute the first major Education Department report since President Barack Obama took office, though it was done by the agency's nonpartisan research arm, the Institute of Education Sciences. The report was based on test results from nationwide assessments from the early 1990s to 2007.
A separate report comparing Hispanic and white children is due out next fall.