/ Source: The Associated Press
Turkmenistan has begun channeling water across hundreds of miles to create a lake in the heart of a barren desert, state media reported Thursday, in a Soviet-style engineering feat that some experts fear could unleash an environmental catastrophe.
Turkmen engineers are pumping in run-off water through a network of canals from irrigated cotton fields across the country, filling up the natural Karashor depression in remote northern Turkmenistan to create Golden Age Lake and, they say, bring life to the searing Karakum Desert.
At an opening ceremony Wednesday, President Gurbanguli Berdymukhamedov used a spade to dig a breach allowing the flow of water from a tributary canal. He declared the lake would make the desert bloom.
"We have brought new life to these once-lifeless sands. I am convinced that our great deeds will be recalled with glory," he said in comments published in the state-run Neutral Turkmenistan newspaper.
After the ceremony, Berdymukhamedov mounted a jewelry-adorned horse given to him by water industry workers, waved to the crowd and rode to a helicopter waiting nearby.
Turkmen leaders say the massive lake will help drain water-logged cotton fields and encourage plant life and attract migratory birds to the desert.
Cotton chemicals in run-off?
Critics have heaped scorn on the project, saying that cotton field run-off is full of poisonous insecticides and fertilizers. Some experts also believe the desert heat will quickly evaporate the water.
The project's grandiosity is not unusual in Turkmenistan, the former Soviet Central Asian republic that gained a reputation for the eccentricity of its late leader, the dictator Saparmurat Niyazov, who proposed the project before his death in 2006.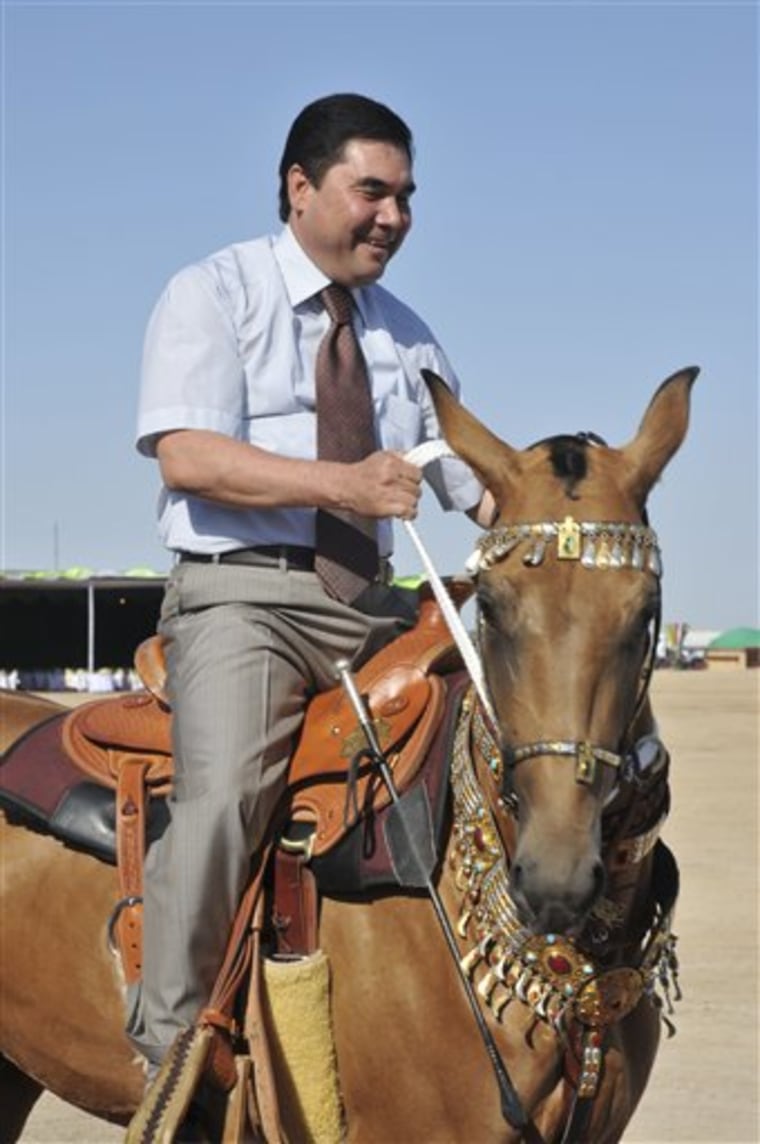 Niyazov's reign was marked by numerous outlandish building projects, including a soaring tower topped by a golden statue of himself that rotates to constantly face the sun.
Once completed, the lake will span 770 square miles, reach a depth of around 230 feet and hold more than 4,600 billion cubic feet of water. Filling the lake could take 15 years and cost up to $4.5 billion.
According to ambitious government plans, the lake will be filled by a 1,650-mile network of tributary canals.
"These canals will serve as a major source of irrigation to turn the Karakum into a blossoming oasis," Berdymukhamedov told a crowd of more than a thousand people that included top government officials, diplomats and local dignitaries.
Another Aral Sea?
For decades, Central Asia's environment has suffered as a result of Soviet-era irrigation projects. The Aral Sea, which once lay on the border between the former Soviet republics of Kazakhstan and Uzbekistan, was the world's fourth-largest lake, but has since shrunk by almost 90 percent, devastating fisheries as salinity levels spiked.
The Turkmen government says, however, that the Golden Age Lake will promote the conservation and sensible use of water resources, in addition to preventing damage to archaeological sites near agricultural fields.
Growing populations and income levels coupled with poor coordination of water have strained Central Asia's water supplies. Communities throughout the region routinely suffer water shortages, which ruin crops and force up prices for staple foods.
Although Golden Age Lake is only expected to rely on irrigation run-off, some observers fear that Turkmenistan may seek to siphon water from the Syr Darya River, which runs along the country's northern border with Uzbekistan. That could trigger a dispute between the two countries and inflict further damage of the environment.