/ Source: Forbes Traveler.com
Zoom, zoom, zoom. The speedy growth in popularity of high-end driving schools still remains on the fast track. Some serious wheel spinning reveals a wide range of both luxury vehicle driving "schools" and revved-up racing programs. Participants generally, but don't always, get what you pay for in these programs, but we've done the homework, focusing on the quality side of the road.
From hugging curves in a souped-up "Beemer" to taking an actual racecar around the steep banks of an actual NASCAR track, driving schools make better (and happier) drivers. That's why these high-end driving schools are more popular than ever.
Those who feel the need for speed have two basic options: driving schools that put students inside luxury autos and "racing" programs that offer a genuine NASCAR or Formula One experience. In both categories, programs offer different time frames, skill sets and, of course, vehicles. However, all of these offerings have at least one thing in common—the serious skills come before the serious thrills.
"We start where driver's ed leaves off," says Jim Clark, chief driving instructor at the BMW Performance Driving School, in Spartanburg, S.C. "While some of the techniques we teach can be used to get around a track quickly, all of them can—and should—be utilized to drive more safely on the street. It's all the stuff that gets talked about, but never practiced."
BMW's versatile two-mile driving course can be configured in several different ways, one more challenging than the next. There are plenty of hair-raising curves, of course, but drivers might also encounter walls of water and a skid pad. The "Other Roads Course" features steep inclines and deep-water crossings, and several obstacles made specifically for four-wheel wandering. There are one- and two-day standard schools plus the three-day Advanced M Schools, which take place at Virginia International Raceway for advanced lessons (and challenges). Parents take note: There are also one- or two-day Teen Schools.
The BMW Performance Driving School isn't just for BMW owners; it's open to anyone who wants to improve their driving skills. "There's little promotional propaganda," says Clark of their offerings. "Anyone who drives should have this kind of training. Besides that fact, it's just plain fun."
Audi addicts should pay a visit to the Audi Sportscar Experience at Sonoma's Infineon Raceway. Like most high-end auto programs, this one focuses on fundamentals such as steering, car control, braking, and accident avoidance. The most popular full-day program is the S-Model Plus ($1,395), but there's also a full-day R8 Advanced offering for $4,295. The S8 "Luxury Experience" can include five-star accommodations, dining at world-famous restaurants, and a reception at a private vineyard (prices vary). Fairmont Sonoma Mission Inn & Spa is the best place to stay.
For four-wheeler fanatics, the Land Rover Experience Driving Schools offer a wide range of high-end options and locations. Featuring an obstacle course and instruction tailored to interests and experience, the Land Rover Experience is held at top resorts (with value-packed accommodations and driving packages), including Equinox Resort, Fairmont Le Chateau Montebello, Quail Lodge and Biltmore (with packages starting at $1,895 that include a night at the swank Swag Inn nearby, gourmet meals, and on- and off-road driving).
On the racing side of the track, programs range from no-frills ride-along introductions to multi-day programs with plenty of time behind the wheel of a racecar.
For racing fans who grew up watching Richard Petty tear up the tracks, there's the Richard Petty Driving Experience, offering drive and ride programs in NASCAR-style stock cars at more than 20 tracks nationwide. Started in Australia in 1987 when NASCAR Australian champ Barry Graham founded a school for teaching racing fundamentals. Graham's long-time friend, Richard Petty then brought the concept to the U.S. in 1990. These days, more than 100,000 participants sign up each year.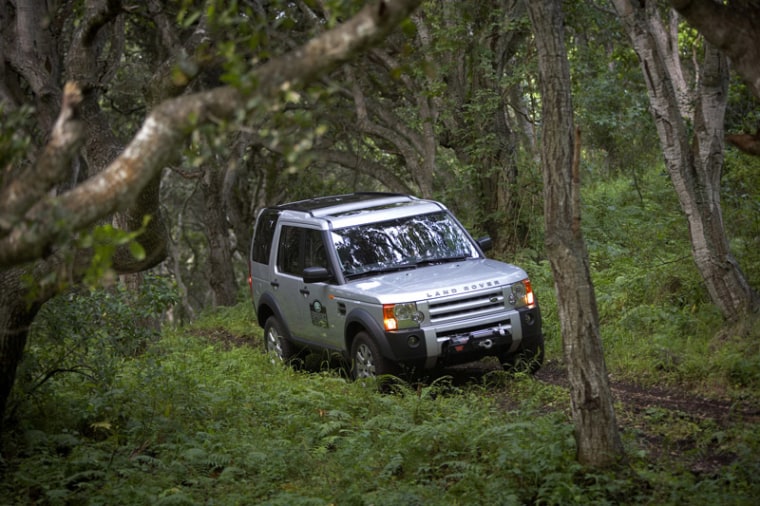 "I guess you can say it took us 15 years to become an overnight sensation," says Richard Petty himself, a seven-time NASCAR champ. The Ride-Along shotgun is a three-lap qualifying run driven by a professional instructor (starting at around $110), but $400 and more gets participants in the driver's seat for 8 to 80 laps. Program prices very depending on track location, dates, and times.
There are many other racing-oriented schools that enhance track and road driving skills. For instance, the Bridgestone Racing Academy in Canada features Formula cars, one-on-one coaching, and open lapping. Based on European rallies, Team O'Neil Rally School offers a six-and-a-half-mile road course and specific learning areas that teach real-world maneuvers.
From road-ready vehicles to racecars, this variety of choices means there's a driving school for everyone. Whether it's learning to handle that BMW on a country road or racing like Petty at Bristol, school's in session.