Not long ago, someone I know left her Kindle on an airplane — and never saw it again. Perhaps the person who eventually picked it up wanted to return it, but didn't know how because the gadget had no identification attached.
Enter SendMeHome, a free service that helps reunite people and their stuff. All you do is register an item—any item, really, from electronics to sports equipment to luggage—then print a specially coded label and tape or glue it on.
If someone finds your item, they just visit the SendMeHome site (the URL appears on the label, natch), enter the code, and send you a message. From there it's up to you to arrange the item's return.
That makes SendMeHome a bit different from StuffBak, a similar service that offers a toll-free phone number finders can call, covers their shipping costs, provides a reward (in the form of StuffBak labels), and so on.
Of course, you pay a few bucks (upwards of $30) for all those services, and you have to buy StuffBak's labels. SendMeHome costs nothing to use, though you can order a sheet of eight weather-proof vinyl labels, in varying sizes, for $3.99. Mine took about two weeks to arrive.
Obviously there are no guarantees that these labels will help you recover lost items—but I feel a lot more comfortable knowing that an honest person can easily return my iPhone, digital camera, and other gadgets.
If you own a smartphone and you'd rather not ruin its aesthetics with a pasted-on label, there's another way to aid its recovery: BlueRetriever, a new lost-gadget service that relies on wallpaper.
Yes, wallpaper. After signing up for the service and registering your device (BlueRetriever currently supports the iPhone, iPod Touch, Google G1, Palm Pre, and various BlackBerry models), you get a specially coded wallpaper that looks like this: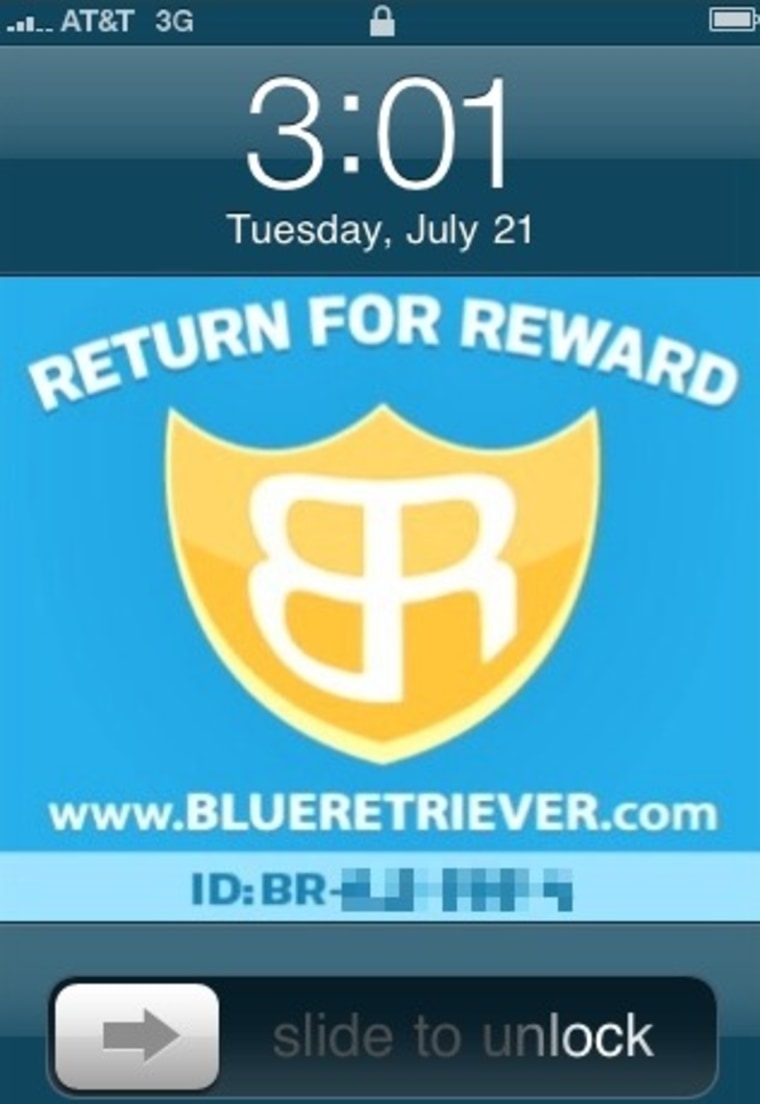 When someone finds your device and turns it on, that should be the first thing they see. Then they head to the BlueRetriever site, enter your code, and make contact so you can arrange for your phone's return.
The reward is up to you: $10, $25, $50, or even $100. This is given to the finder in the form of an e-gift card for a selected store. (If you're strapped for cash or think honesty is its own reward, you can choose "karma" instead.)
Other than that, BlueRetriever costs absolutely nothing. I find its Web interface way easier to use than SendMeHome's, and I like the all-digital, label-free approach.
However, what if your device has a dead battery? Then you're outta luck. For that reason alone, I think you're better off with a solution like SendMeHome. Of course, there's no law that says you can't use both!