/ Source: Discovery Channel
A new telescope on Spain's Canary Islands now holds the title as the world's largest, but contenders are gathering in the wings.
The Gran Telescopio Canarias, or GTC for short, has 10.4 meters (34 feet) of mirrors for collecting faint light from distant objects.
"Basically, a telescope mirror functions like a bucket in the rain: The larger the bucket, the faster you collect water," said Michael Richer, an astronomer with Mexico's Instituto de Astronomia Ensenada who serves as a scientific adviser for the GTC.
"Larger telescopes allow you to collect light faster. This permits the observation of fainter sources — either because they're farther away or because they're intrinsically fainter — or more detailed observations that require more precise manipulation of the light," Richer told Discovery News.
New team in the quest
GTC tops the 10-meter (32.8-foot) Keck Telescopes on Hawaii's Mauna Kea and folds new teams of astronomers into a heated quest for knowledge about how the universe formed and what it contains. The $180 million GTC is owned by Spain, Mexico and the University of Florida.
"When you're a partner in your own telescope, you have a competitive advantage," said Stan Dermott, chairman of the astronomy department at the University of Florida.
Like the twin Keck telescopes, GTC has a primary mirror made of 36 hexagonal segments that are meticulously aligned to serve as a single piece of reflective glass.
"Projects to see and to understand the early phases of stars and galaxy formation are ones of greatest interest," telescope director Pedro Alvarez Martin wrote in an e-mail to Discovery News.
The telescope already is in the business of discovering extrasolar planets. During its commissioning phase, astronomers using GTC discovered a planet transiting a distant star.
Inagurated by Spanish king
GTC was officially inaugurated by Spanish King Juan Carlos on Friday, but its reign as the world's biggest telescope is not expected to last long.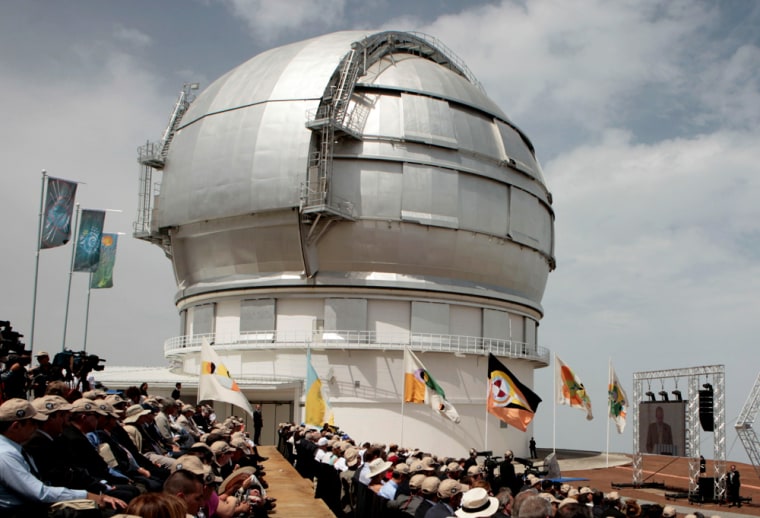 This week, astronomers announced that the site for a planned 30-meter (90-foot) telescope will be near the Keck Observatory in Hawaii.
The Thirty Meter Telescope, which is being built the University of California, the California Institute of Technology and the Association of Canadian Universities for Research in Astronomy, is expected to be completed by 2018.
Also in the works are a European-backed 42-meter (138-foot) observatory and the Giant Magellan Telescope, planned for Las Campanas, Chile, with a 24-meter (79-foot) primary mirror.
Europe hasn't yet decided on a site for the European Extremely Large Telescope and is reportedly considering locations in Argentina, Chile, Morocco and Spain.
This report was updated by msnbc.com.
More on |