/ Source: The Associated Press
The massive lobby, with its ornate trim, glittering Italian crystal chandeliers and mosaic floors, looks much as it did when Louisiana's Kingfish, Gov. Huey P. Long last strolled through. Some say a box full of kickbacks and shakedown money was tucked under his arm as he made his way to his regular suite in the 1930s.
The Roosevelt Hotel has finally reopened in downtown New Orleans four years after Hurricane Katrina. Thanks to a $145 million renovation, it's making an opulent return to its heyday, when the likes of Long, a parade of Hollywood stars and the country's movers and shakers held court there.
"The hotel was built in 1893, but the grandest period was from the 1920s and '30s," said general manager Tod Chambers. "We wanted to restore it to that era."
The Roosevelt's renaissance is also a milestone in the city's recovery from the August 2005 storm. Now only one major hotel, the Hyatt, remains shuttered, along with an adjacent shopping center attached to the Louisiana Superdome. The hurricane flooded 80 percent of New Orleans, crippling its vital tourist industry, but the French Quarter suffered minimal damage, and many hotels, restaurants and attractions, like the Audubon Zoo and Aquarium, reopened within months. Only a few major tourist sites remain closed, including the heavily damaged Six Flags amusement park.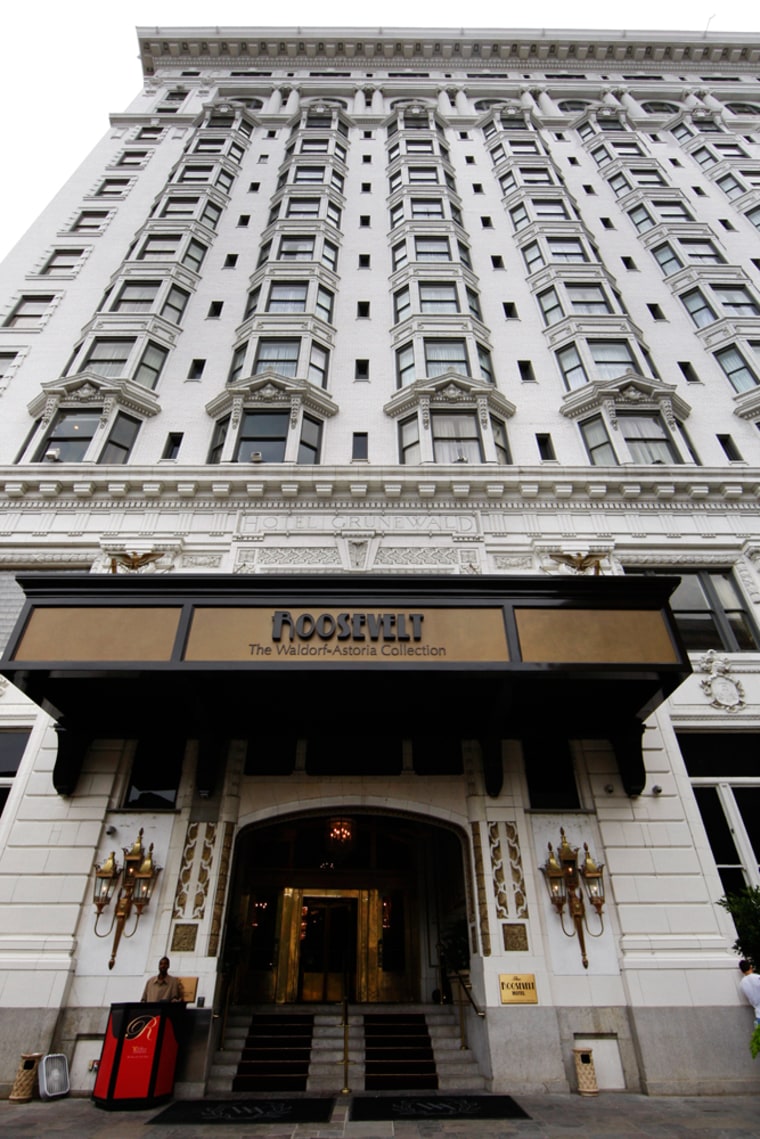 But Katrina left 10 feet of water in the Roosevelt's basement, destroying mechanical equipment, while wind-driven rain inundated most guest floors. As other hotels returned, the Roosevelt, owned by the Fairmont hotel chain, remained boarded up. Then in August 2007, the Roosevelt was bought by the Hilton Hotel Corp. for $19 million, and added to the company's upscale Waldorf-Astoria portfolio.
Hilton decided to reopen the property as a 504-room, 135-suite luxury hotel under the Roosevelt name. The hotel was originally called the Grunwald, but in 1923 it became the Roosevelt, in honor of President Theodore Roosevelt. It was during the hotel's grandest era that Long, the governor of Louisiana from 1928 to 1932 and as a U.S. senator from 1932 to 1935, was a regular guest.
Historians say every state employee who received a job from Long was expected to contribute to his campaign fund, which was kept in a locked box. Without a base of wealthy political contributors, Long reasoned this was an appropriate source of funds for his political activities.
After Long's assassination in September 1935, the box was believed to have been stolen by one of his associates. Although legend has it that the box accompanied him on trips to the Roosevelt, Chambers said it did not show up during the renovation. A replica of the box is planned for the lobby, however.
The reopening of the Roosevelt gives New Orleans about 34,000 hotel rooms, still shy of the 39,500 in use before Katrina struck, but plenty to serve major conventions and sporting events, said Mary Beth Romig, spokeswoman for the New Orleans Metropolitan Convention and Visitors Bureau.
"Another important point is the ballroom space they bring," Romig said. "That's important for conventions that want everything in one location — their delegates, meetings, displays and awards events."
The hotel has 60,000 square feet of meeting and event space, including the 20,000-square-foot Roosevelt Ballroom, 12,000-square-foot Crescent City Ballroom and the 7,000-square-foot Waldorf Astoria Ballroom.
As important, Romig said, is the return of the iconic Blue Room — Louis Armstrong, Cab Calloway, Rosemary Clooney, Marlene Dietrich and Sonny and Cher all performed there.
The Blue Room, which reopens in late July with a concert by jazz clarinetist Pete Fountain, and the Sazerac Bar, have been Roosevelt landmarks for decades.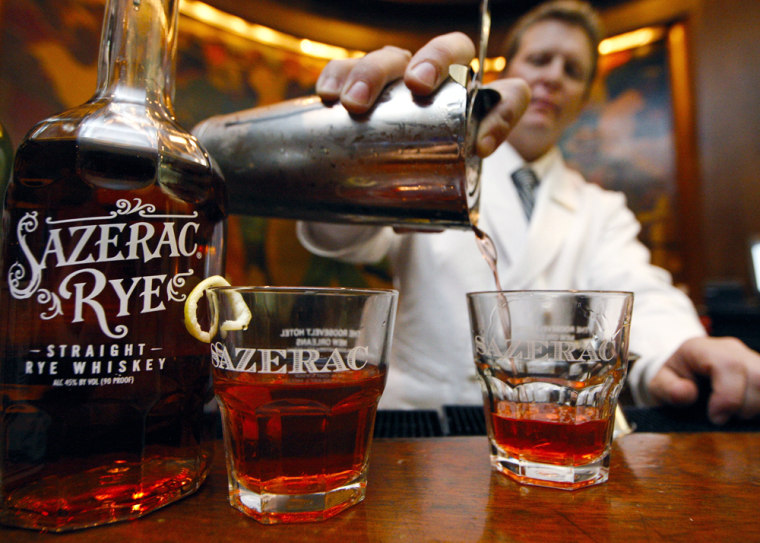 "We went there after my high school prom," Romig said. "There have been so many weddings there, so many special events. The hotel holds a very special place in local hearts."
A huge Christmas display, which fills the block-long lobby, is also going to return, complete with masses of trees, lights and choirs.
One of the delights of the restoration, Chambers said, was finding architectural details hidden by past renovations, including ornate plaster work under dropped ceilings and mosaic tile set in intricate patterns under heavy duty industrial blue carpeting.
And in the Sazerac Bar, the Art Deco murals by artist Paul Ninas are again on display.
Ninas, a pioneer modernist, moved to New Orleans in 1932 and painted the murals shortly thereafter.
"One of the great delights of New Orleans is to get a Sazerac cocktail, which was invented in New Orleans, and gaze at those paintings," said William Fagaly, curator of African art at the New Orleans Museum of Art. "Everybody in New Orleans is looking forward to doing that again."