What a relief.
According to the trendwatchers at Outside magazine, the great American road trip, which they declared DOA last year, has made a miraculous recovery.
In fact, the venerable vacation for millions of Americans is doing fine, thank you very much. Gas prices are reasonable ($2.50 per gallon nationwide last week vs. $3.90 a year ago); campground reservations and sales of outdoor gear are up (Amazon.com recently launched a dedicated outdoor-recreation store), and the last of the National Park Service's fee-free weekends (August 15-16) is fast approaching.
So, break out the maps, load up the kids and camping gear and make the most of summer's waning days. The items below can help you get where you're going and ensure you enjoy your stay.
There are countless GPS units out there, but for car campers and other outdoor adventurers, it's hard to beat the ($300), which comes pre-loaded with both U.S. street maps and topographic maps. (Maps of the nation's inland waters are also available for purchase.) Add custom points of interest (POIs); download geocaches from Geocaching.com, and geo-tag your photos — then show them off with the picture viewer.
Billed as the world's smallest auto/air power adapter, the from Innergie ($50) is barely bigger than a bar of hotel soap and weighs less than two ounces. Plug it into your car's DC power outlet (or airplane in-seat power port), and you can simultaneously charge two devices, including most laptops, via the seven included adapter tips. Retractable USB cables are available separately.
Want mobile broadband Internet access without having to hunt for a hotspot or sign up for one of those pesky annual contracts? The from Virgin Mobile USA ($150 at Best Buy) plugs into your laptop USB port and provides 3G wireless Internet access with no contract required. Plans start at $10 (100 MB) and can be replenished online or at Best Buy stores. One caveat: service can be spotty outside populated areas; click here for geographic coverage.
Originally designed for a Westin-United Airlines promotion, the ($60) can add a touch of comfort to car rides, too. Unfold it and it's big enough (50 x 72 inches) to cover a sleeping copilot or the kids in the backseat; fold it up and it tucks into a hidden pocket to form a pillow.
Details, details: carry the pocket-sized ($230) in your car, and its 16-channel GPS chip will record up to 100 hours of driving activity, including routes, places stopped and driving speeds. Afterward, plug it into your computer's USB port, and you can retrace your itinerary via digital street maps and Google Earth. Presumably, you could also use it to track others' driving habits on the sly — but that would be wrong.
You've driven all day, you've found your camp and you're ready to chill. Chances are, you're also ready for the ($60), which will make a pitcher of pina coladas or other frozen drinks in about 30 seconds. Equipped with AC and DC chargers, it'll make 20–30 pitchers per charge — although (hic!) that's not necessarily recommended.
When it's time to eat, break out the eminently portable, exceedingly stylish from Pro-Iroda ($160 at Amazon.com). Its clever clamshell design hides a 225-square-inch grilling surface; a standard 14.1-ounce propane cylinder will last for four hours, and its foldaway legs means it stores away easily. Big enough to cook eight to 10 burgers and available in six fashion-forward colors, it'll make you the envy of the campground.
If you want to continue the party after dark, the folks at Coleman offer another innovative product: the ($70), which features four detachable panels. As an integrated unit, its 24 LEDs will put out 190 lumens; pop off an individual panel, and you can use it to find your way to your tent (or the facilities) without leaving everybody else in the dark.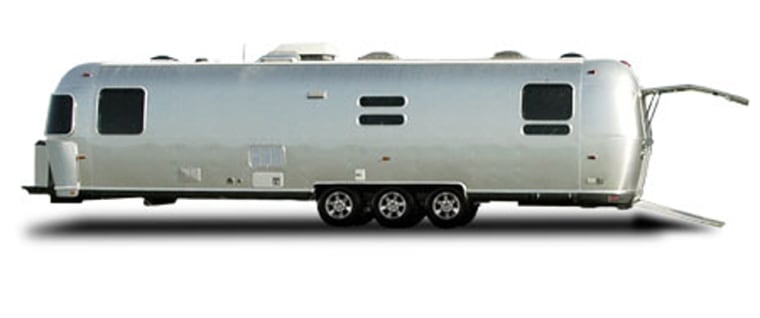 If you're going off the grid, go prepared with the from 4 Survival To Go ($99). This lunchbox-sized unit is jam-packed with, among other things, 2,400 calories of emergency food, 750 ml of drinking water, a poncho, bivy sack, first-aid kit, sewing kit, and flashlight/radio/siren/cell phone charger. There's even a deck of playing cards so you'll have something to do while you wait for help to arrive.
Finally, if you've got too much stuff to fit in the trunk, consider the ($80,000) from Airstream. Sporting the company's distinctive, retro-rounded styling, it features 23 feet of living space, along with an 11-foot storage compartment (think mobile garage) that can fit up to 2,500 pounds of motorcycles, ATVs or other gear. Roll down the ramp, load it up and fear not: with this baby, you can definitely take it with you.
Rob Lovitt is a frequent contributor to msnbc.com. If you'd like to respond to one of his columns or suggest a story idea, .